As Children's Theatre of Charlotte was opening its 2014-15 season with a spanking new musical adaptation of 101 Dalmatians, it's worth noting that Actor's Theatre of Charlotte was concluding a four-weekend run of another season opener, River City. You could say this represents a milestone for our local theatre scene, two homegrown professional-grade world premieres running at the same time. Not so very long ago, one such event was unusual — a rarity even when the playwright hailed from the near vicinity.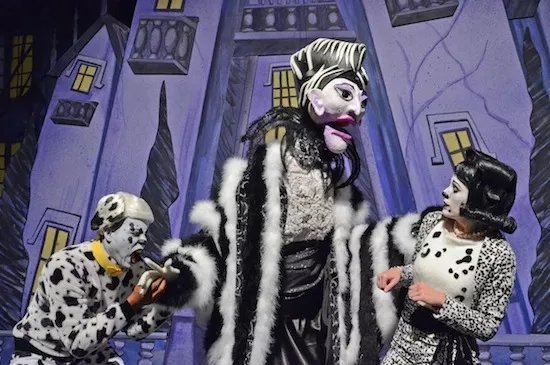 Although one of these premieres has run its course, both were excellent. The technical polish at ImaginOn is very much what we've come to expect when Children's Theatre launches its new seasons at their bigger McColl Family Theatre space. Whether you're eyeing the set designs of Milagros Ponce de Leon, the costumes by Connie Furr Soloman, or the puppets by Soloman and Matthew Pauli, the wow factor is definitely there for the entire family.
Yet I'm more satisfied with the purposefulness of the puppetry here than I was in another Joan Cushing musical early this year, Petite Rouge, or even the work done more recently on the title creature in The Reluctant Dragon. Our narrators and protagonists, Missis and Pongo, ostensibly belong to Mr. and Mrs. Dearly, but this is merely what the dalmatians allow the duller humans to think. Underscoring this viewpoint, it's the human Londoners who don the puppet suits and papier-mâché heads, straitjacketing their facial expressions and looming a preternatural eight feet tall.
Maria Buchanan and Bobby Tyson are far more adorable and expressive in their spotted doggie suits and makeup than the humans, but not as adorable as their five pups when Missis charmingly drops her litter — reduced from the prodigious 15 newborns in Dodie Smith's 1956 novel and the 1961 Disney animated feature. Actually, Buchanan and Tyson reminded me more of the mom and dad in Bambi, with Tyson reaching down for a bass baritone in his speaking voice that I'd never heard from him before.
The most pointed use of the puppetry is the incomparable Cruella de Ville. While the sheer size of the mammoth dragon inadvertently scared some of the small fry back in April, there was no mistaking the calculated intent of Cruella's gargoyle head. You could feet the tension rippling through the crowd each time Lucianne Hamilton entered from the wings as Cruella in her noisy red convertible, hell-bent on kidnapping the puppies and skinning them to make fur coats. If the adults weren't scared for themselves, they certainly had to be concerned about the effect of this black-and-white horror had on the kiddies nearby.
Recently seen in the title role of Mary Poppins at CPCC, Hamilton can certainly set up a cackle to sustain the frightening effect, and her "I've Got Plans for You" solo is power-packed. Sound design by Jason Romney and lighting by David Fillmore further enhance her menace. Remember that and you won't be surprised to discover that Dalmations turns out to be quite a thriller.
Counterbalancing the shock of the diabolical Cruella are the comedy of the frolicsome pups, the colorful mongrels in the "Twilight Barking" network who help track the villainess to her lair, and a softener that Hollywood and Disney have often used, the ineptitude of Cruella's henchmen, Jasper and Saul. Even as they ready themselves to kidnap the dear little puppies, they go into a vaudevillian song and dance with choreography by Ron Chisholm that Mark Sutton and Glenn T. Griffin are not quite in-sync on. Galumphing around with those papier-mâché heads, they can hardly be expected to.
That's not all the fun that Sutton and Griffin have. When Sutton isn't the upright and clueless Mr. Dearly, he's getting in additional comical licks as Colonel, the most eccentric of the mongrels. Griffin is reincarnated as two of the dogs, including an Irish Setter who is one of the Twilight howlers and Spot, an orphaned dalmatian who becomes a proxy for the 93 we never see.
Part of the fun for parents in the audience is tracking all the costume changes the nine actors go through in delivering 18 roles. Even Hamilton is kept busy backstage, donning the puppet rig of the Dearlys' Nanny before switching to Cruella and then reappearing in one very comical cameo, Clover, the cow who donates milk to the puppies after they've escaped from Haunted Hall.
In her Charlotte debut, director Janet Stanford has a marvelous eye and ear for detail, decreeing that every doggie we see has an individual way of barking and whipping up a wonderful cacophony when the puppies are kidnapped. The only serious reservation I have with the show is how it ends: Cruella's comeuppance deserves to be rendered in 3D technicolor. As it stands now, it reaches us second-hand from the Dearlys and the dogs huddled around the family telly. Otherwise, Dalmatians is a big woof and more.
Life imitated art as Fuddy Meers opened in Cornelius at Warehouse Performing Arts Center, directed by Marla Brown. The comedy about an amnesiac who wakes up every day having to learn everything all over again — including who she is and who she's living with — first came to the Q.C. in an Actor's Theatre of Charlotte production directed by April A. Jones - part of the reason Jones won Theatreperson of the Year honors in 2002.
But I'd forgotten almost everything about the show, except for how much I liked it and for Tommie Jones's performance as Claire's stroke-victim mom who speaks the title because she can't say "funny mirrors" - or much of anything else - clearly.
This time, I'm likely to remember Frances Bendert as Claire best. Or maybe Vito Abate as the scarred limping man who claims to be Claire's brother. Oddly enough, I reread my 2002 review and discovered that the super-hectic end of Act 1 had struck me exactly the way it did on Saturday night — as something like You Can't Take It With You, the old George S. Kaufman farce, on acid.
So much happens unexpectedly in this David Lindsey-Abaire comedy as Claire navigates a kaleidoscopic funhouse of liars, weirdoes, and a sock puppet, finally achieving a breakthrough. Yet it's so poignant and wrenching when her eventful day must end.