Going out in Charlotte doesn't have to be expensive. In fact, to prove that statement, we've compiled a list of cheap - $10 or less - things to do in the Q.C. this weekend. These events may vary, but they're all entertaining and they won't break your bank (piggy banks excluded).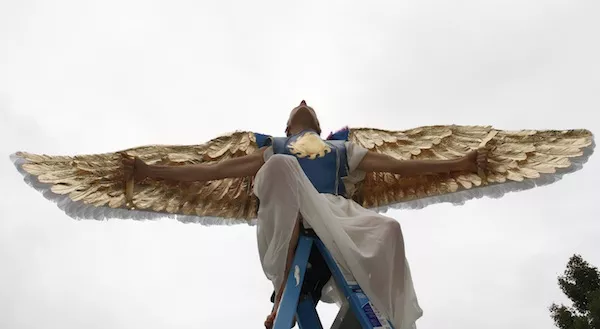 Icarus: An Exploration of the Human Urge to Fly at UNC-Charlotte Center City:
This exhibit isn't just for folks who've had the adrenline rush of skydiving — it's for everyone interested in the human mind and our continued interest in flying, both in realistic and imaginative senses.
Icarus
consists of varying mediums, from videos, poetry and photography to paintings, sculptures, installations and performance pieces. Free admission. Oct. 10-Nov. 23. UNC Charlotte Center City, 320 East 9th St.
coaa.uncc.edu/news/projective-eye-gallery-explores-urge-fly
.
Party Like A Pin-Up, Calendar Search Finals at Automatic Slims: It's the final round in this series where ladies are competing for a spot on a 1940s-style pin-up calendar. Tonight the final selection of 12 ladies (to represent 12 months) will be revealed. This is also the official after-party for Charlotte Fashion Week. Free admission. Oct. 10, 8 p.m. to 2 a.m. Automatic Slims at N.C. Music Factory, 820 Hamilton St. facebook.com/automaticslimsclt.
Fall Finale at U.S. National Whitewater Center: The U.S. National Whitewater Center's fifth annual Fall Finale is an all-day festival that kicks off with the Dirty Dozen Trail Race, a 12k race that features 12 obstacles. Following the race, there will be live music (Desert Noises, Jamie McLean Band and The Duhks) and an oyster roast and the Dynomite Bouldering Competition. Free admission. Oct. 11, 4 p.m. to 10 p.m. U.S. National Whitewater Center, 5000 Whitewater Center Parkway. 704-391-3900. usnwc.org.
Made in 1984 Movies From 30 Years Ago Series at Beattie's Ford Road Branch Library: The Main Library film series screens Places in the Heart. Free admission. Oct. 11, 2 p.m. Beattie's Ford Road Branch Library, 2412 Beatties Ford Road.
24th Annual Latin American Festival at Symphony Park at SouthPark Mall:
The annual festival celebrates Latin American culture with art, food and merch vendors, swag, dancing and live music. Of the later, which features acts from all over, there's always an impressive roster of headliners. This year's performers include Las Cafeteras, a lively band fusing Afro-Mexican styles with folk, as well as La Quilombera and Mirella Cesa. $5, free for children under 8. Oct. 12, 12-8 p.m. Symphony Park at SouthPark Mall, 4400 Sharon Road.
latinamericancoalition.org/festivallatinoamericano
.