It's time to welcome the latest and greatest commercial venture to Plaza Midwood: The Penguin Swim Shop. Located at the restaurant formerly known as The Penguin Drive-In, its recommended pairing is the new Old Chatham Swim Club. As a side venture, located inside the shop will be Penguin's Pizza, where shoppers can buy by-the-slice while perusing swimwear to wear at the community's upcoming new pool.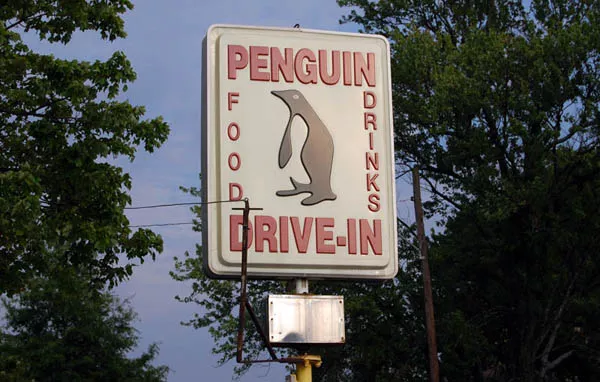 Creative Commons/James Willamor
OK, OK, we're just pushing buttons. The Charlotte Business Journal
reported last month
that a restaurant operator has purchased the spot, but what does the neighborhood actually want to see in the iconic space on the corner of Thomas Street and Commonwealth Avenue? We reached out to a few Midwood residents and business owners to find out.
I joke with my friends that we need a Midwood Mom Spot. After living in the neighborhood for 15 years, I've developed a great crew of Mom friends. When our kids were younger, we'd hang out at Midwood Park while the kids ran amok. Now that our kids are older, we need a spot to hang that has wine, beer, salty meat and cheese, and couches. Basically our living rooms but not our living rooms because we like to think we're adventurous. Did I just describe the Common Market but for 35 - 50 year old women? I think I did. I love our funky, eclectic neighborhood, and how there are options for everyone. Fingers crossed that the Penguin becomes another killer spot that fits the 'hood!
- Molly Carroll, PM resident for almost 15 years
Rumor has it that a chain restaurant has been looking at it. No idea if true or who it is. What we could use is a Thai restaurant or a Middle Eastern spot. I imagine the rent will be sky high as the soulless big boys are all over the business district trying to cash in. I'd hope something fresh and not represented will get on there. Who knows. A burger joint would be stupid!
- Blake Barnes, owner of The Common Market
I think that what this neighborhood needs is nothing more than MORE PARKING! That's what it's being used for now and if the building is gone it would make a useless space useful.
- Angie Courtney, PM resident for more than a decade
Like Lloyd Dobler, I'm looking for a "dare to be great" situation, I hope the new owner will give us a fresh idea, while respecting the building and our business district. Don't tear it down, don't build apartments or condos. Don't stick us with a "soon to be franchised" restaurant idea that you want us to validate. No pizza places, no smoke shops, no watering holes (we're already good at that). Give us something that reminds us why this corner of Plaza Midwood is important, a place we can come together again. Give us back our heart, or at the very least, just don't piss us off.
- Lesa Kastanas, co-owner of The Diamond and Soul Gastrolounge
Whether it's a Thai restaurant or a Mom joint, whoever moves in will no doubt have some big shoes to fill after The Penguin Drive-In's famous, and later infamous, place in the community. And while the suggestions are different, a common theme resonates: The neighborhood doesn't want more of the same.
If no one else has any big ideas, Creative Loafing's Pat Moran (and a Midwood resident for more than a decade), certainly has a unique one: "The Penguin Nunnery. Your place for nun-stop shopping and all your habitual needs - Vestments, collars, rosaries, crucifixes, 'stations of the cross trading cards' and more! Try the holy water and wafers - they're sacrilicious!"