On Thursday, Discovery Place officials invited media members to preview its newest installation,
Body Worlds
; perhaps the only experience you'll ever have in which dead people body shame you.
Body Worlds & The Cycle of Life
uses German anatomist Gunther von Hagens' world-renowned plastination process, in which a hardening plastic is injected into usually pliable bodily fluids to form a permanently preservable organ or, in some cases, complete body from a deceased human.
Each of the bodies featured in
Body Worlds
was donated for plastination by its former owner. There are currently 16,000 people on the international waiting list to be immortalized in one of van Hagen's exclusive exhibits, including 25 in North Carolina and six in Charlotte. I, for one, am
not
one of them. Though I find the idea highly respectable in the name of education, I'd rather not live out eternity looking out on people from an exhibit telling them how their liver shouldn't look. 
Body Worlds
first premiered at Discovery Place in 2008, and this is its first time back. This time around, von Hagens' wife, Dr. Angelina Whalley, developed the exhibit. It focuses more on health and what a human faces through his or her life as opposed to the emphasis on anatomy seen at the exhibit seven years ago.
"Where it was more anatomical before, I tried to be more relevant here," Whalley, a licensed physician, said. "I focused on how a body evolves through a lifetime."
This includes a new "Heartbreaking Work of Staggering Genius" feature, in which plastinated embryos and fetuses show each stage of prenatal development; a place where arguments over abortion will be sure to break out weekly. Coming full circle, the exhibit also features "Centennial Village," a hallway describing research of and comparisons between communities throughout the globe in which large clusters of people living well over their life expectancies can be found.
Whalley's focus on health and taking care of one's own body is apparent and hard to hide from. As I smugly passed a blackened lung and comforted myself with the old, cliché notion that I'm just a social smoker at certain times on the weekends, the next case over featured a display about the risk of "passive smoking" that sent me reeling back into a realm of self-hatred.
It's not all about diseased organs, however, as the most beautiful displays show healthy bodies in action; muscles, organs, nerves and blood vessels in clear sight. It's enough to make a guy want to hit the gym hard and then quit in a month – you know, like everyone's going to do after New Year's anyway.
The 11,000-square-foot exhibition, featuring more than 100 human specimens, is something you need to see for yourself to get the full gist of, but I thought I'd push you along with some photos of the exhibit's funnest features.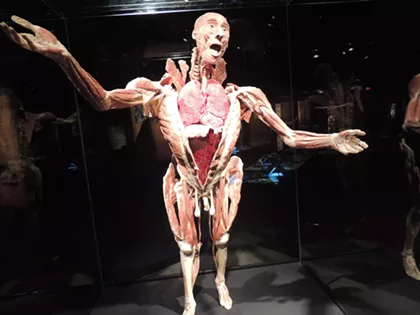 6 slides