The Southeastern Film Critics Association (SEFCA) yesterday named Spotlight the Best Picture of 2015 in its 24th annual voting. Writer-director Tom McCarthy's drama about the Boston Globe's investigation into widespread child molestation within the Catholic Church earned a total of three awards, with its other victories coming in the categories of Best Ensemble and Best Original Screenplay (McCarthy and Josh Singer).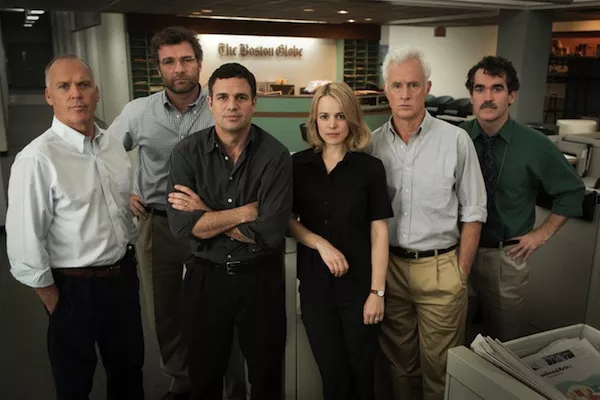 Mad Max: Fury Road and Room, which respectively placed second and third in the tallying for Best Picture, were the only other movies to score multiple wins, each winning two prizes apiece.
In the acting categories, Bryan Cranston won Best Actor for Trumbo, Brie Larson was named Best Actress for Room, Sylvester Stallone nabbed Best Supporting Actor for Creed, and Alicia Vikander scored Best Supporting Actress for Ex Machina.
The Wyatt Award, given annually to the "film that best evokes the spirit of the South" (past winners have included Beasts of the Southern Wild, Winter's Bone and Selma), this year went to the North Carolina-set Finders Keepers.
The Southeastern Film Critics Association is comprised of film journalists from nine states representing the Southeastern section of the United States. This year, 55 members participated in the voting, including Charlotte critics Lawrence Toppman, Sean O'Connell, Harvey Burgess and me.
In addition to naming its Best Picture, SEFCA also releases its Top 10 for the year. The complete list of winners and runners-up in all categories is below.
BEST PICTURE
1. Spotlight
2. Mad Max: Fury Road
3. Room
4. Brooklyn
5. Carol
6. The Big Short
7. The Martian
8. Inside Out
9. Bridge of Spies
10. Trumbo
BEST ACTOR
Winner: Bryan Cranston, Trumbo
Runner-up: Michael Fassbender, Steve Jobs
BEST ACTRESS
Winner: Brie Larson, Room
Runner-up: Saoirse Ronan, Brooklyn
BEST SUPPORTING ACTOR
Winner: Sylvester Stallone, Creed
Runner-up: Mark Rylance, Bridge of Spies
A24
Alicia Vikander in Ex Machina
BEST SUPPORTING ACTRESS
Winner: Alicia Vikander, Ex Machina
Runner-up: Kate Winslet, Steve Jobs
BEST ENSEMBLE
Winner: Spotlight
Runner-up: The Big Short
BEST DIRECTOR
George Miller, Mad Max: Fury Road
Runner-up: Tom McCarthy, Spotlight
BEST ORIGINAL SCREENPLAY
Winner: Tom McCarthy, Josh Singer for Spotlight
Runner-up: Bob Petersen, Pete Docter for Inside Out
BEST ADAPTED SCREENPLAY
Winner: Emma Donoghue for Room
Runner-up: Charles Randolph and Adam McKay for The Big Short
BEST DOCUMENTARY
Winner: Amy
Runner-up: Best of Enemies
BEST FOREIGN LANGUAGE FILM
Winner: Son of Saul
Runner-up: The Assassin
BEST ANIMATED FILM
Winner: Inside Out
Runner-up: Anomalisa
BEST CINEMATOGRAPHY
Winner: John Seale for Mad Max: Fury Road
Runner-up: Luca Bigazzi for Youth
THE GENE WYATT AWARD FOR THE FILM THAT BEST EVOKES THE SPIRIT OF THE SOUTH
Winner: Finders Keepers
Runner-up: 99 Homes