click to enlarge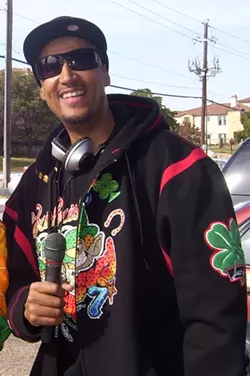 Former WPEG Power 98 on-air personality, Nate Quick, passed away late Wednesday night from apparent liver complications.
Quick was currently the program director at KRNB and was the marketing director at K104-FM, both in Dallas, Texas.
An obviously emotional No Limit Larry and Tone took the airwaves at 5:50 a.m. with the announcement during the first break of their show, The Morning Maddhouse. No Limit calling him "the greatest radio personality ever," and the reason he's on radio today. No Limit flew down to Dallas on Monday to see Quick and said, he was at peace with that.
I personally grew up listening to Quick, along with personalities like Eddie Owens, B.J. Murphy and No Limit Larry on Power 98, all of whom I took things from indirectly, when I started doing radio in college. The way I said things, came in and out of breaks was me going trying to do what I'd heard other jocks do, which meant the guys I grew up with, like Nate Quick on the Breakfast Brothers.
I can remember hearing Nate Quick camping out on the roof of the radio station for what seemed live forever, raising money for charity until the Carolina Panthers won a game one season.
I can remember how excited kids would be, whether it was the park or the projects or even your school when they'd pull up in that Coca-Cola truck ready to spend some time in the community. No Limit said it best, "community works, nobody could top him ... a genuine person."
On Tuesday, Brian Watts, former DJ Eazy Ice on Power 98, left a post on radiofacts.com commenting on Quick's health at the time, saying: " Nate has complications with his liver which has caused other organs to malfunction and shut down. They are keeping him heavily sedated and he's on a ventilator."
Watts spoke about the Quick's condition when he got to the hospital and how it seemed to be improving, with his skin going from very pale to almost normal and his vitals slowly getting back in check. "At times he can respond to voices and tries to to move his mouth and open his eyes. If you hold his hand and talk to him, he'll try to squeeze your hand to respond to you," said Watts.
Before his passing, he was able to recognize familiar voices and was attempting to open his eyes, with Watts posting, "No Limit Larry from WPEG flew in to visit Nate today and was very responsive to Larry. He also responded to voices of coworkers that visited from K-104 and KRNB."
During the show on Monday, No Limit Larry and Tone recanted some of their fondest memories of Quick, which seemed to helped both personalities get through the show, with No Limit talking about how Quick paid him out of his own pocket and gave him a platform to get better, and Tone talking about Quick's hand in his stand-up comedy career.
They even allowed fans to share their thoughts and memories on air.
Quick's passing was a shock to the Dallas, Texas and Charlotte radio communities but also received attention nationwide via Twitter where the #ripnatequick movement was gaining steam in Thursday's early morning hours.
In May of this year, he was promoted from assistant program director and afternoon jock to Program Director at Service Broadcasting's KRNB in Dallas while still holding down the marketing director position at K104.
UPDATE: Memorial Service is planned for Monday, August 24, 2009 at 10 a.m. at IBOC Church, located on 7710 South Westmoreland Rd., in Dallas, Texas.