click to enlarge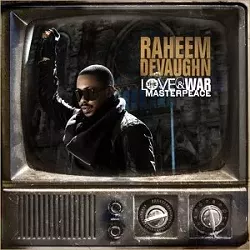 The Deal: R&B love machine releases his third studio album on the pursuit of internal happiness.
The Good: This is just straight up, good R&B. From the hooks to the melodies, even the sometimes cheesy, get in her draws lyrics, it all shapes up into a very well done album. "Nobody Wins A War" is a protest supertrack with big names, (Jill Scott, Chrisette Michele & Citizen Cope), North Carolina ties (Anthony Hamilton & Shelby Johnson) and even Chico DeBarge. It's what "We Are The World 25" should've been. "The Greatness" with Wale is a good DC collaboration. "B.O.B." will surely have guys actually named Bob ready to kick his ass. "Black & Blue" and "Mr. Right" are both worth multiple listens as well.
The Bad: Hearing Dr. Cornell West spit on beat was dope and out of left field at the beginning but by the third interlude it was like, 'we get it, you know Cornell West.." "Revelations 2010" uses Jay-Z "Can I Live" but comes off preachy and mixtape-y. Would be easy to pigeonhole this album as soulfully generic but what R&B isn't?
The Verdict: Has a little bit of everything. Standard issue babymaking tracks, the ever-popular women's empowerment joints, of course the I'm apologize record and the song that sounds like something at a wedding too. Radio Rah succeeded in substituting some of the sexiness of his last albums for commercial viability (and for a few bucks more, you can get the deluxe edition which brings the total tracks up to 28 tracks, that's a whole lot of lovin').
INFO
Jive; Release date: March 2, 2010