Diplo
Neighborhood Theatre
April 5, 2012
Boom! Just as my interest began to wane late Thursday after stellar opening-act performances on Diplo's "One Night Only" tour stop at the Neighborhood Theatre, the man himself jolted me back to rave reality. The theater - specially gutted out to be dance-friendly - was abuzz with excitement (and possibly some excitement-inducing "helpers") as fans crushed forward for the headliner's free last-minute show.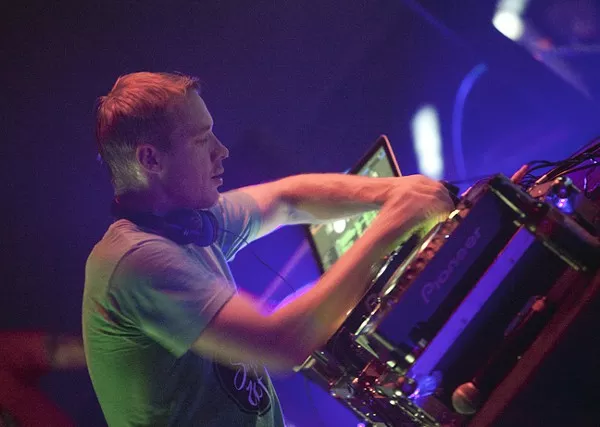 Diplo making his magic at the Neighborhood Theatre
Diplo, the production wunderkind who's brought his special brand of electronic dynamite to artists ranging from M.I.A. and Snoop Dogg to my personal favorite, Beck, seized the stage as foam glowsticks were hurled into the crowd. Hype men from the show's sponsors donned grotesque masks and went - as the youngin's like to say - totally HAM. (That's "hard as a mutherfucker, for those in need of a glossary.)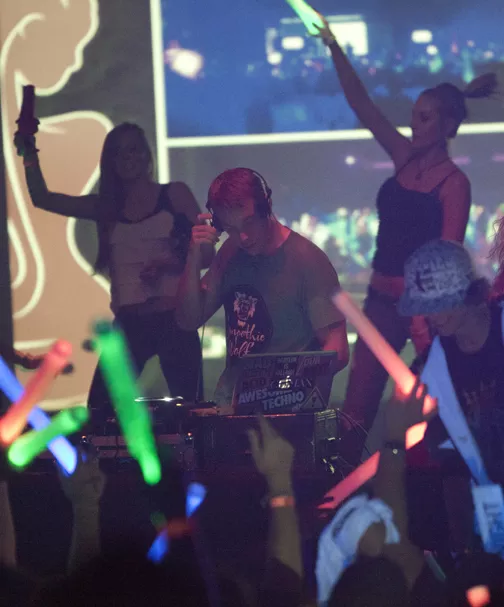 Diplo, his glow girls and his (note the laptop bumper sticker) "awesome techno."
I was initially thrown off by the techno vibe, but couldn't help bouncing along with a crowd that seemed to be conducting its own orchestral movement with multicolored batons. It was fairly amazing to watch. After that "warm up," as Diplo called it, he launched into an hour-plus mix, throwing everything at the crowd from the buzzes and dings of PacMan to drumline-driven dance hall to Waka Flocka Flame to the Police. Diplo's creativity and complexity seem to know no bounds. But then, neither did the creativity of Diplo's strong supporting acts.
Opening Thursday night's extravaganza were electronica sensation Lunice and the über-refreshing alternative hip-hop band Chiddy Bang. Straight out the gate, Lunice declared his swag to an electro-mutilation of Chopin's classic funeral dirge, getting the crowd - undergrads peppered with a few elder music aficionados - rocking. The 23-year-old producer from Vancouver, Canada, engaged the audience in a style reminiscent of golden-age hip-hop - you know, back when the DJ was king. But this king ruled with a drum machine and laptop as opposed to a turntable and head phones, stepping out intermittently to get crunk and projectile-launch CDs of his music into the crowd. With his swag unequivocally confirmed, Lunice left the undulating mass in want of more.
The alternative hip-hop duo Chiddy Bang offered a delicious mix of all the things we love about hip-hop (witty, well-delivered rhyme schemes), electronica (quirky rhythms with thumping basslines), and alternative (riotous, youthful rebellion). The duo - Drexel alum Chidera "Chiddy" Anamege (MC) and Noah "Xaphoon Jones" Beresin (producer) - got plagued by a few technical difficulties at first, but once things got underway the Chidsters moved the crowd with tracks such as "Heat Wave" and "Ray Charles," which showcased Anamege's lyrical niceness as well as Beresin's dopeness on the producing side. The youngsters were all in.
Raves are not just for tweaked-out, undergrad ecstasy-heads anymore, but after Diplo's set ended well into Friday morning, this 36-year-old mother - who loves her some ass-thumping bass and got her fair share - was also fairly over the zzzt-zzzt, flash-flash, impromptu, magic-lightglove yadda-yadda-yadda. What's more, my wallet had been stolen. (Hello, Creative Loafing - can I expense that? Ahem. I didn't think so.)
Shine on, you glow-stick diamonds