Moogfest
Asheville, N.C.
Oct. 26-27, 2012
Last weekend, Asheville played host to Moogfest, a musical celebration honoring the accomplishments of the late synthesizer pioneer Robert Moog. The two-day event followed a pair of three-day iterations in previous years, but even though its size was reduced, the latest Moogfest boasted a bounty of world-class talent. These five acts stood out above the rest: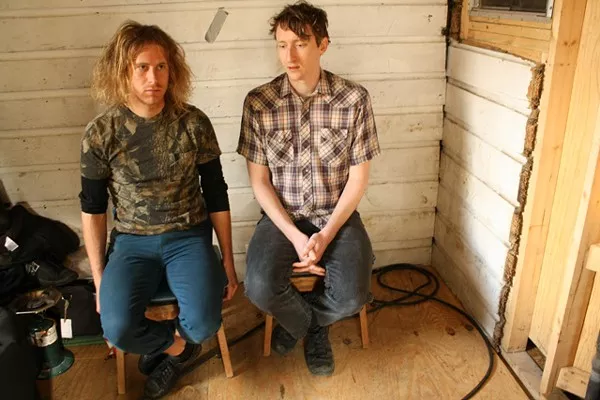 1. Ahleuchatistas
Amid a diverse line-up of international talent, Moogfest's best set came from its only Asheville act. Sourcing its art-rock from a staggering array of styles — free jazz, psych rock, Oriental music and on and on — the duo's execution was mesmerizing. Shane Perlowin's relentlessly shape-shifting guitar lines were driven into tightly controlled chaos by the tenacious rhythms of drummer Ryan Oslance. Of all the sets at Moogfest, Ahleuchatistas' presented the greatest challenge. It also offered the most exhilarating rewards.
2. Death Grips
Sacramento hip-hop trio Death Grips caught a lot of buzz this month for No Love Deep Web, its second 2012 release. Much of the attention was spurred by the album's X-rated art work — the album's title written on an unsettlingly pink penis. The outfit's intense live show was equally uncompromising. Violent synthesizer abrasions collided with ferocious live drumming as Stefan "MC Ride" Burnett assaulted the crowd with his snarling flow. It was vicious, loud and concussive, more physical than most bands of any ilk can manage. Hip-hop is rarely more forceful or fascinating.
3. GZA
For his set at Moogfest, the Wu-Tang Clan member was slated to perform Liquid Swords, his seminal 1995 offering, front-to-back. It didn't turn out that way, but what he did instead may have been even better. Starting out with the first few songs from Liquid Swords, GZA then took the crowd on a tour through the Wu's rich history, showcasing a flow that was simultaneously rough and smooth. But most impressive was his charisma, charming the audience with remarkable ease and displaying an effortless connection with his DJ, allowing him to improvise more than most rappers can manage. It wasn't the set Moogers were promised, but GZA proved to be a master of his craft.
4. Divine Fits
Comprised of Britt Daniel (Spoon), Dan Boeckner (Wolf Parade, Handsome Furs) and Sam Brown (New Bomb Turks), Divine Fits are a supergroup by any measure. And unlike many of their hastily assembled peers, they have a sound as impressive as their collective resumes. During their Moogfest set, the trio (aided by a keyboardist) elongated the tenacious grooves that power Spoon's best offerings, pushing towards krautrock intensity while retaining a fleet sense of rock 'n' roll melody. Cutting guitar fills and pleasantly throaty vocals augmented their songs, filling their set with time-honed confidence. Super, indeed.
5. Tim Hecker & Daniel Lopatin
This collaboration matched veteran ambient specialist Tim Hecker with Daniel Lopatin, who has helped endear such noise to the indie rock crowd with his Ford & Lopatin and Oneohtrix Point Never projects. Their enchanting performance likely won a few new converts. Delicate synth lines merged marvelously with waves of calming noise, luring listeners into a space where time moved slowly and outside concerns seemed miles away. Manipulating minds with their subtle constructions, Hecker and Lopatin offered fitting tribute to Moog's history of sonic innovation.