Carolina Rebellion 
Charlotte Motor Speedway, Concord
May 6-8, 2016

One of the most interesting things about Carolina Rebellion is just how much the festival has changed since it started. What began as a single-day event at Metrolina Expo Fairgrounds in 2011 has now become three days filled with metal mayhem at Charlotte Motor Speedway. 
A good number of the acts return to perform on a regular basis, but festival organizers have worked to diversify it a bit, as well. I doubt anyone would have expected acts including Lynyrd Skynyrd and Collective Soul to be included on the bill when Carolina Rebellion first started.
For the festivals sixth year, fans were treated to a wide range of performers as well as fantastic weather and a handful of standout moments. Among the more memorable:
*
TRY A LITTLE TENDERNESS (Part 1)
12-year-old Allison Hodge joined Five Finger Death Punch on stage during their headlining set on Saturday night. Hodge, who is battling leukemia, got a warm hug from one of her favorite singers, Ivan Moody. 
*
TRY A LITTLE TENDERNESS (Part 2)
During the second song of their set, Sevendust tore into "Shine," which singer Lajon Witherspoon dedicated to his deceased brother. From the onset of the dedication to the song's final notes, tears streamed down Witherspoon's face. Passion and power combined into one of the festival's most memorable performances. 
*
WHAT THE...?!
The "WTF am I watching?" award goes to Babymetal. Points for originality not included, seeing a trio of teenage girls singing in a pop style as a quartet of musicians hammers away on metal riffs and double-bass fury is beyond definition, really.  
*
AGE IS JUST A NUMBER
The old-school acts brought the energy just as much as the younger generation of bands. Alice Cooper, Cypress Hill, Rob Zombie and Anthrax all offered memorable sets. 
*
THE OLD COLLEGE TRY
Pennywise tried their best to get the crowd up and moving, but the crowd remained relatively lifeless. Three songs in, a decent amount of crowdsurfing could be seen, but having the band berate you for not dancing is probably not the motivation the audience was seeking.
*
FRIZZLE FRIDAY
The lineup on Friday was solid, but the attendance seemed to be the lowest of the weekend. Probably because many people had to work. Sunday's early attendance seemed weak as well; Mother's Day could have been one reason. Three days is a great idea, but let's face it, it's exhausting and a bit of metal overload. I'd rather see organizers cut back on the relatively unknown undercards and nostalgia acts in favor of the two-day stacked bills of the past.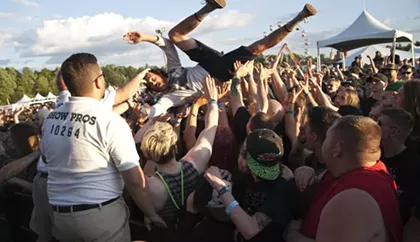 24 slides