Live Reviews
Wednesday, August 16, 2017
Posted

By

Jeff Hahne on

Wed, Aug 16, 2017

at

9:55 PM

The Magpie Salute
Neighborhood Theatre
Aug. 16, 2017



If you walked into the Neighborhood Theatre on Tuesday night expecting to simply hear a Black Crowes cover band playing hit after hit, you were in for a rude, yet exciting, awakening. Sure, the former members of the Black Crowes played a good number of cover songs, but they were mostly off-the-radar tracks. Their set also included originals, a couple of Rich Robinson covers and a Marc Ford song. The end result was a sonically charged-up band that's forging down a path of its own. It's partly thanks to three talented guitarists, including Rich Robinson and Marc Ford, a trio of backup singers adding fantastic depth and the vocal lead of John Hogg (Moke, Hookah Brown). The 10-piece rock band cruised through a rock-heavy set that enticed the crowd with hints of Southern soul and blues. Sure, the Crowes songs are always nice to hear, but this outfit might just have solid footing on its own.

Setlist
No Speak No Slave
A Conspiracy
Cosmic Friend
Omission
Idle Time
Which Way Your Wind Blows
I Don't Know Why
Don't Say You Love Me
Better When You're Not Alone
Go Tell the Congregation
Walk Believer Walk
Rebel Music
Badge of Descension
Gone Away
Black Cloud
Josephine
Grows a Rose
Thorn in My Pride
Thick 'n Thin
Remedy

Sunday, August 6, 2017
Posted

By

Brian Twitty on

Sun, Aug 6, 2017

at

9:56 PM

Descendents, The Bronx, Late Bloomer

The Fillmore

Aug. 4, 2017

Skate rats (like me) and punk music fans (also like me) have been waiting a long time for legendary punk rockers Descendents to descend on the Queen City. Needless to say, they didn't disappoint while playing plenty of crowd favorites. They were the icing on the cake for a night that was started with Charlotte trio Late Bloomer, a group that adds excitement to any bill they're on. The Bronx held up their end of the bargain in the middle. Singer Matt Caughthran is incessantly energetic and has a paradoxically shit-eating-yet-genuine smile which permeates the crowd into celebration.




16 slides
Wednesday, August 2, 2017
Posted

By

Alison Angel on

Wed, Aug 2, 2017

at

9:46 PM

Logic w/ Joey Bada$$, Big Lenbo

Charlotte Metro Credit Union Amphitheatre

Aug. 1, 2017
14 slides
"Peace. Love. Positivity. But also, no fuckboys allowed." Those hard and fast rules were set by Logic the moment he came onstage Tuesday night at the Charlotte Metro Credit Union Amphitheater. It was a beautiful and odd sentiment. Beautiful, because there was such a nice vibe to the crowd. Odd, because most of his crowd consisted of underage white guys. Several times throughout the set, Logic would ask the crowd if they were ready to go home — and, in a call-and- response facilitated by Logic himself, they would scream back "Fuck no!" Interesting considering 80 percent of the audience appeared to be there with their parents.
Logic's two-hour set consisted of a variety of songs from his mixtapes,
Under Pressure
and
The Incredible True Story
and his latest release,
Everybody
. Sir Robert Bryson Hall II, otherwise known as Logic, has created a rap legacy at just 27 years old. He released his first mixtape in 2009 before signing with Visionary Music Group, eventually landing a contract with Def Jam Recordings.
Tuesday, July 18, 2017
Posted

By

Jeff Hahne on

Tue, Jul 18, 2017

at

9:54 PM

Primus w/ Clutch
Charlotte Metro Credit Union Amphitheatre
July 17, 2017



Kicking off their summer run right here in the Queen City, Primus and Clutch appeared like a great matchup of energetic tour mates. However, the balance just wasn't there. Clutch hit the stage running thanks to energetic frontman Neil Fallon. Fallon's vocals were spot-on and the singer commanded attention for the duration of the blues-rock band's 75-minute set. Primus followed with a 90-minute set of its own and while the alt-rockers extended jams and enthralled fans with a hit-heavy set, the overall performance felt flat. There was a time when the hits were hard to come by as bassist Les Claypool focused on a solo career. These days, with the reunited lineup, even Claypool's effortless bass playing feels a bit soulless at times. Guitarist Larry LaLonde continues to push the boundaries, but one new song isn't enough to entice longtime fans. While the band remains sonically solid, they need to breathe more joy into it and not look like they're in it for the paycheck.


Sunday, July 16, 2017
Posted

By

Jeff Hahne on

Sun, Jul 16, 2017

at

10:13 PM

Elonzo Wesley

U.S. National Whitewater Center

July 15, 2017



While a passing thunderstorm might have scared some people away, those who showed up for Elonzo Wesley's Saturday night River Jam session were in for a treat. While it was plenty humid, the rain was gone and the weather was cooler by the time the band took the stage. Not only that, the Charlotte band sounded fantastic. What started out as an indie-rock band called Elonzo some years ago has developed into more of a solo project by that band's singer/guitarist, Jeremy Davis. Davis still performs solo, but there's gorgeous musical and lyrical depth when the string band is present. A stand-up bass, fiddle and mandolin create solid sonic layers, while four-part harmonies only enhance Davis' personal and emotional lyrics. Cover songs blended in seamlessly with the band's originals providing an outstanding backdrop for the outdoor, riverside setting.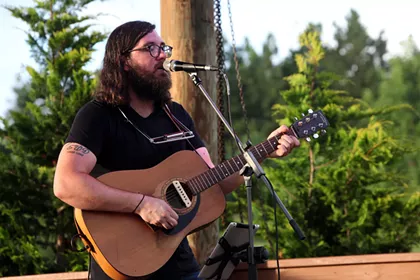 10 slides
Sunday, July 9, 2017
Posted

By

Jeff Hahne on

Sun, Jul 9, 2017

at

10:33 PM

My Morning Jacket w/ Gary Clark Jr.
Charlotte Metro Credit Union Amphitheatre
July 8, 2017

Whenever My Morning Jacket comes to town, the rain finds a way to try and dampen the night's events. Once again, however, the crowd and the Kentucky rock band were undeterred. Sure, the show might have been delayed by 30 minutes, but everyone present was as energetic as ever throughout the night's performances. The night was started by a shortened, soulful set by Texas blues-rocker Gary Clark Jr. The guitar slinger was stunning in his Queen City debut, hammering the crowd with heartfelt riffs and lyrics. The headliners sparked the crowd from the first notes with fan favorite after fan favorite. A set-closing "Victory Dance" was followed by a five-song encore that left the crowd satisfied but always wanting more.



My Morning Jacket setlist
Mahgeetah
Compound Fracture
Off the Record
Spring (Among the Living)
I'm Amazed
Circuital
Golden
Tropics (Erase Traces)
Steam Engine
In Its Infancy (The Waterfall)
State of the Art (A.E.I.O.U.)
Victory Dance

Encore
Wordless Chorus
Evil Urges
Lay Low
Touch Me I'm Going to Scream Pt. 2
One Big Holiday

Gary Clark Jr. setlist
Bright Lights
Ain't Messin 'Round
When My Train Pulls In
Our Love
Travis County
Numb
Shake

Sunday, June 25, 2017
Posted

By

Jeff Hahne on

Sun, Jun 25, 2017

at

9:21 PM

Dispatch w/ Guster, Jake Shimabukuro
Charlotte Metro Credit Union Amphitheatre
June 23, 2017

While it typically takes bands a few songs to get warmed up, Dispatch had no problem hitting its stride just moments into the band's first song. With an audience full of backup singers, the indie-roots band fed off the crowd and cruised through a lengthy set of 18 songs. Look, we can't tell you why Dispatch isn't a household name, but a large Charlotte crowd could give you plenty of reasons to give them a listen. The band found plenty of moments to let loose for jams, spurring on the summer night. It was one that started with a short set by ukulele master Jake Shimabukuro. Guster's lackluster set was satisfying for fans and spotlighted by the band's efforts to get the crowd involved - including a brief jaunt into the crowd to take some selfies and swig some beer. The night, however, belonged to Dispatch.



Dispatch setlist
Here We Go
Be Gone
Open Up
Skin the Rabbit
Passerby
Painted Yellow Lines
Beto
Bang Bang
Flag
Flying Horses
Rice Water
Elias
Only the Wild Ones
Circles Around the Sun
Curse + Crush
The General
Bats in the Belfry
Out loud >Time (Pink Floyd) > Out loud

Guster setlist
The Captain
Happier
Doin' It By Myself
Come Downstairs and Say Hello
Amsterdam
Airport Song
Long Night
Satellite
Demons
This Could All Be Yours

Sunday, June 11, 2017
Posted

By

Jeff Hahne on

Sun, Jun 11, 2017

at

9:45 PM

Banks, Toulouse

The Fillmore

June 9, 2017

From the moment singer Banks hit the stage until the last notes rang out, the Fillmore crowd was completely enthralled. From the electropop tunes to the stellar vocals to the hypnotic visuals, Banks captivated everyone in attendance from the moment she walked on stage. Her dances were choreographed, yet artistic. The music had pop-sensibilities and poetic phrasing. The stage setup was simple, but enchanting. For all of the simplicity of the bare stage, Banks proved she didn't need anything flashy to impress. Those in attendance danced, stared and never, ever got enough.
7 slides
Setlist
Intro
Poltergeist
Fuck With Myself
Gemini Feed
Trainwreck
Waiting Game
This is What
Mind Games
Better
Weaker Girl
Mother Earth
Drowning
Judas
Begging for Thread
Haunt
Thursday, June 8, 2017
Posted

By

Jeff Hahne on

Thu, Jun 8, 2017

at

11:56 PM

Chance the Rapper
PNC Music Pavilion
June 8, 2017

Five years ago, Chance the Rapper opened for Childish Gambino at the then Uptown Amphitheatre. What a difference five years makes. On Thursday night, throngs of fans crammed into PNC Music Pavilion and watched a nearly two-hour DJ set in anticipation of one of this year's hottest rap artists. When Chance hit the stage, that long wait was forgotten instantly. Fresh of his multiple Grammy wins, Chance the Rapper hit the Charlotte stage and offered a quick-paced set filled with nearly 20 songs. The crowd rapped along to every line as Chance paced back and forth on the stage. A massive LED screen behind him, Chance's stage performance was a reminder of his life right now - full-on in the spotlight.



Wednesday, June 7, 2017
Posted

By

Jeff Hahne on

Wed, Jun 7, 2017

at

8:58 PM

Paul Simon
Charlotte Metro Credit Union Amphitheatre
June 6, 2017

It had been nearly 20 years since Paul Simon performed in Charlotte, but those in attendance on Tuesday night at the Charlotte Metro Credit Union Amphitheatre didn't leave disappointed. The 75-year-old singer/songwriter not only sounded fantastic, but he and a talented band opened up the catalog for a 25-song setlist. The crowd was appreciative of moments of banter, sat back and absorbed every folk tune new and old and danced through every rhythmic beat.

From the opening notes of "The Boy in the Bubble," all in attendance knew it would be a special night. Minor changes to the arrangements of classic songs made them sound fresh. Newer tunes fit in right along memorable Simon & Garfunkel songs. For more than two hours, Simon's voice never faltered. Perhaps perfectly, the night wrapped up with Simon standing alone, with only his acoustic guitar, to sing "Sound of Silence." For everyone in attendance, 1999 was a long time ago, but Simon's return to the Queen City was worth the wait.



Setlist
The Boy in the Bubble
50 Ways to Leave Your Lover
Dazzling Blue
That Was Your Mother
Rewrite
America
Mother and Child Reunion
Me and Julio Down by the Schoolyard
Spirit Voices
The Obvious Child
Stranger to Stranger
Homeward Bound
Duncan
Hearts and Bones
The Cool, Cool River
Diamonds on the Soles of Her Shoes
You Can Call Me Al

Encore
Wristband
Graceland
Still Crazy After All These Years

Encore 2
Questions for the Angels
The Boxer
One Man's Ceiling Is Another Man's Floor
Late in the Evening
The Sound of Silence