Live Reviews
Monday, April 30, 2018
Posted

By

Jeff Hahne on

Mon, Apr 30, 2018

at

9:29 PM

Kate Nash w/ Miya Folick
The Underground
April 29, 2018

Indie-pop singer Kate Nash teased the audience on Sunday night with a quick glimpse of her hit single, "Foundations." It quickly energized the crowd before she cut song short and cruised into the rest of her set. If you only wanted to hear the hit single, you'd have to wait until the end of the night to hear the rest. In the meantime, you were given a dose of her songs, old and new, while Nash danced around the stage and kept the small crowd entertained. Sure, Beck was playing out back at the Amphitheatre, but Nash captivated her own audience just the same. Opener Miya Folick belted out her own set of tunes and impressed with her vocal range. Don't miss this dynamic duo's next tour stop.



Kate Nash setlist
Play
Foundations Tease
Mouthwash
Life in Pink
Sister Acoustic
Dickhead
Agenda
We Get On
Mariella
Twisted Up
Musical Theatre
Nicest Thing
Always Shining
Hate You
Foundations
Merry Happy

Encore
Today
Birds

Posted

By

Jeff Hahne on

Mon, Apr 30, 2018

at

9:08 PM

Twiddle w/ Midnight North

The Underground

April 28, 2018



For Twiddle's Mihali Savoulidis, the guitar isn't just a musical instrument. It's an extension of his body. Twiddle may be new on the jam scene but Savoulidis offers effortless playing that's impressive to watch and hear. Intricate melodies and intense emotions come through in every note. Sure, there's occasional noodling, but it's few and far between. Most often, he's serving the band's catchy rock songs. The band's Charlotte debut was impressive - though they should be playing bigger venues. The night's opener, Midnight North, offered solid rock vibes. The band is fronted by the son of the Grateful Dead's Phil Lesh, Grahame Lesh. Catch either or both the next time they're in town.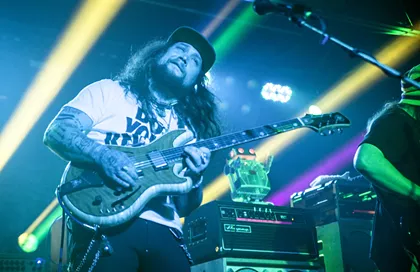 18 slides
Wednesday, April 18, 2018
Posted

By

Jeff Hahne on

Wed, Apr 18, 2018

at

10:23 PM

Wolf Alice, The Big Pink
Visulite Theatre
April 17, 2018

British rock quartet Wolf Alice rolled into Charlotte with little fanfare but a whole lot of heart. It took a few songs to get warmed up, but once they did, singer/guitarist Ellie Rowsell and company thrilled the packed Elizabeth venue. Not much for banter, the band let their songs do all the talking, conjuring up elements of '90s alt-rock while driving emotions with vocals. It didn't matter if you heard the songs before or not, Wolf Alice's music commands attention and conjures up feelings without the emo umbrella. I'm not sure if the band's played Charlotte before, but it's a band you don't want to miss the next time you get a chance.



Setlist
Heavenward
Yuk Foo
You're a Germ
Your Love's Whore
St. Purple and Green
Don't Delete the Kisses
Planet Hunter
Bros
Lisbon
Silk
Beautifully Unconventional
Formidable Cool
Sadboy
Space & Time
Moaning Lisa Smile
Victims of a Life
Fluffy

Encore
Blush
Giant Peach

Sunday, March 25, 2018
Posted

By

Jeff Hahne on

Sun, Mar 25, 2018

at

11:14 PM

K. Flay, Yungblud

The Underground

March 23, 2018

While K. Flay's brand of hip-pop fuses pop sensibilities with hip-hop cadences, it's her energetic live performance that had the sold-out Underground crowd singing and cheering for the duration of her set. The 32-year-old singer finds the right balance of stage stalking and freestyle dancing that commands attention from the opening notes. She needed to put forth a strong performance after the stellar opening set from Yungblud. Fresh off his U.S. television debut the night before on

Seth Myers

, Yungblud exudes the same raw energy of Cage the Elephant's Matt Schultz. It won't be long before he's on a sold-out headlining run of his own.
10 slides
Wednesday, March 7, 2018
Posted

By

Jeff Hahne on

Wed, Mar 7, 2018

at

10:47 PM

Missio, Welshly Arms

The Underground

March 6, 2018



"That's why they call me temple priest, motherfucker!" Missio hit the stage with the chorus of the song "Temple Priest" as singer Matthew Brue, clad in a white robe, danced around the stage. From there, the band's set was one relentless ball of energy. Missio has plenty of depth with only a drummer and keyboardist, letting Brue command all the attention with the sonic boom going on behind him. I wouldn't expect Missio to play venues this small for much longer. The night got started with the raw rock 'n' soul of Cleveland's Welshly Arms - keep your ears out for more from them in the future, too.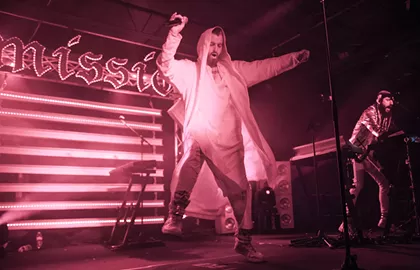 13 slides
Setlist
Temple Priest
Twisted
I Do What I Want
KDV
West Coast
I Don't Even Care About You
DWI
Bottom of the Deep Blue Sea
Animal
Everybody Gets High
Can I Exist
I Don't Give A...
Middle Fingers
Kamikazee
Encore
Black Roses
Sunday, February 11, 2018
Posted

By

Jeff Hahne on

Sun, Feb 11, 2018

at

10:48 PM

George Clinton & Parliament-Funkadelic, Miss Velvet and the Blue Wolf
The Fillmore
Feb. 10, 2018

When George Clinton comes to town, you expect him to tear the roof off the sucker. Never one to disappoint, the Godfather of Funk and his typically massive entourage had the packed Fillmore grooving all night. While Clinton's four-hour marathon concerts are a thing of the past, the band didn't disappoint with two packed hours of funkin' music. Mixing in newer songs with classics, the entire crowd wanted the funk and got the funk. While Clinton found time to relax on a swivel chair on stage from time to time, he also had the energy to jump around and dance his ass off. May all of us have as much enthusiasm in our mid-70s.



Sunday, January 28, 2018
Posted

By

Jeff Hahne on

Sun, Jan 28, 2018

at

10:20 PM

The Sibling Rivalry Tour f. Hannah Wicklund and The Steppin Stones, The High Divers
The Evening Muse
Jan. 25, 2018

Hannah Wicklund's long, curly locks flow as freely as her guitar riffs. The 20-year-old singer/guitarist showcased talent beyond her years at the Charlotte stop of the sibling rivalry tour. Hannah Wicklund and The Steppin Stones opened the night with a blistering set of blues rock. Performing on the eve of the band's fifth album release (a self-titled album produced by Sadler Vaden of Jason Isbell and the 400 Unit), the trio gave the packed NoDa venue an earful of tunes from the record. The Steppin Stones ended their set joined by The High Divers for a rousing rendition of Tom Petty's, "Don't Come Around Here No More." The High Divers features Hannah's brother, Luke Mitchell. Giving off similar vibes of The Band, The High Divers were a solid compliment for the evening. Either band would have been worthy of catching, those at the Muse on Thursday night got a solid two-for-one bill.





Monday, December 11, 2017
Posted

By

Jeff Hahne on

Mon, Dec 11, 2017

at

11:08 PM

The Revivalists, Muddy Magnolias
The Fillmore
Dec. 10, 2017

Horns. Percussionists. Pedal steel. With a band full of rhythm and soul, it's no surprise that The Revivalists are quickly building a fan base around the country. The band's pop-infused rock 'n' soul had the sold-out Fillmore rockin' and rollin' for the duration of its 90-minute set. Credit that in part to opening act Muddy Magnolias who belted out plenty of soul of their own. The night's one-two punch proved that Sunday nights aren't always for staying in.



Wednesday, November 29, 2017
Posted

By

Jeff Hahne on

Wed, Nov 29, 2017

at

10:18 PM

1065 The End Not So Acoustic Christmas f. Bleachers, J. Roddy Walston & The Business

The Fillmore

Nov. 28, 2017

Fresh off of multiple Grammy nominations for his work as a producer and singer, three-time winner Jack Antonoff's group Bleachers hit the Fillmore as part of 1065 The End's two-night Not So Acoustic Christmas series. While the band rocked a sold-out performance at The Underground back in June, the crowd seemed a bit less enthusiastic this time around. Perhaps we can blame it on a Tuesday night? While the half-packed Fillmore found moments of energetic sing-alongs for Bleachers, they were far less excited about J. Roddy Walston and the Business. The band played a fantastic one-hour opening set, but many in the crowd weren't familiar with their rock songs. Night two of NSAX featured X Ambassadors and The Aces. 1065 The End's Not So Acoustic Christmas continues to collect unwrapped gifts for Kids First of the Carolinas.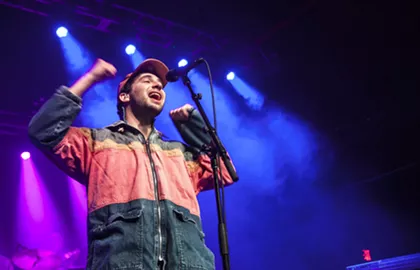 13 slides
Bleachers setlist
Mickey Mantle
Good Morning
Shadow
Wild Heart
Everybody Lost Somebody
Hate That You Know Me
Wake Me
I Miss Those Days
Let's Get Married
Heroes
Rollercoaster
River
Foreign Girls
Mystery
I Wanna Get Better
Don't Take the Money
J. Roddy Walston & The Business setlist

Don't Break the Needle
I Don't Want to Hear It
Numbers
Take It As It Comes
Marigold
Same Days
Bad Habits
Brave Man's Death
The Wanting
Bleed Out
Sweat Shock
You Know Me
Heavy Bells
Thursday, November 9, 2017
Posted

By

Jeff Hahne on

Thu, Nov 9, 2017

at

10:12 PM

Imagine Dragons, Grouplove, K. Flay
Nov. 8, 2017
Spectrum Center

Pop-rock outfit Imagine Dragons had only performed one song, "I Don't Know Why," before singer Dan Reynolds addressed the crowd. "There are people in this world who don't want us to be here right now," he said. "I'm not going to live my life in fear. And everyone here has chosen to enjoy music instead of living in fear." He thumped his chest as the crowd roared. As he held up a peace sign with two fingers, everyone in attendance was instantly reminded of recent tragedies at music events and the power we have as humans and music fans to create positive energy. From that point on, it was a night of sing-alongs and radio-friendly rock. The band even found a moment to pay tribute to Tom Petty with a cover of "I Won't Back Down." The night started with a short set by K. Flay and a thunderous performance from Grouplove, who included covers of Beastie Boys and David Bowie.



Imagine Dragons setlist
I Don't Know Why
It's Time
Gold
Whatever It Takes
I'll Make It Up to You
Mouth of the River
Yesterday
Start Over
Demons
Rise Up
I'm So Sorry
On Top of the World
I Won't Back Down
Shots (acoustic)
Amsterdam (acoustic)
Thunder
I Bet My Life
Believer
Walking the Wire
The Fall
Radioactive

Grouplove setlist
Welcome to Your Life
Itchin' on a Photograph
I'm With You
Remember That Night
Shark Attack
Ways To Go
Tongue Tied
Space Oddity
Sabotage
Colours