Live Reviews
Sunday, July 16, 2017
Posted

By

Jeff Hahne on

Sun, Jul 16, 2017

at

10:13 PM

Elonzo Wesley

U.S. National Whitewater Center

July 15, 2017



While a passing thunderstorm might have scared some people away, those who showed up for Elonzo Wesley's Saturday night River Jam session were in for a treat. While it was plenty humid, the rain was gone and the weather was cooler by the time the band took the stage. Not only that, the Charlotte band sounded fantastic. What started out as an indie-rock band called Elonzo some years ago has developed into more of a solo project by that band's singer/guitarist, Jeremy Davis. Davis still performs solo, but there's gorgeous musical and lyrical depth when the string band is present. A stand-up bass, fiddle and mandolin create solid sonic layers, while four-part harmonies only enhance Davis' personal and emotional lyrics. Cover songs blended in seamlessly with the band's originals providing an outstanding backdrop for the outdoor, riverside setting.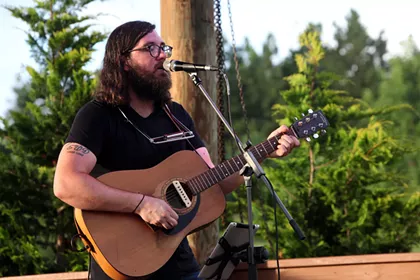 10 slides
Sunday, July 9, 2017
Posted

By

Jeff Hahne on

Sun, Jul 9, 2017

at

10:33 PM

My Morning Jacket w/ Gary Clark Jr.
Charlotte Metro Credit Union Amphitheatre
July 8, 2017

Whenever My Morning Jacket comes to town, the rain finds a way to try and dampen the night's events. Once again, however, the crowd and the Kentucky rock band were undeterred. Sure, the show might have been delayed by 30 minutes, but everyone present was as energetic as ever throughout the night's performances. The night was started by a shortened, soulful set by Texas blues-rocker Gary Clark Jr. The guitar slinger was stunning in his Queen City debut, hammering the crowd with heartfelt riffs and lyrics. The headliners sparked the crowd from the first notes with fan favorite after fan favorite. A set-closing "Victory Dance" was followed by a five-song encore that left the crowd satisfied but always wanting more.



My Morning Jacket setlist
Mahgeetah
Compound Fracture
Off the Record
Spring (Among the Living)
I'm Amazed
Circuital
Golden
Tropics (Erase Traces)
Steam Engine
In Its Infancy (The Waterfall)
State of the Art (A.E.I.O.U.)
Victory Dance

Encore
Wordless Chorus
Evil Urges
Lay Low
Touch Me I'm Going to Scream Pt. 2
One Big Holiday

Gary Clark Jr. setlist
Bright Lights
Ain't Messin 'Round
When My Train Pulls In
Our Love
Travis County
Numb
Shake

Sunday, June 25, 2017
Posted

By

Jeff Hahne on

Sun, Jun 25, 2017

at

9:21 PM

Dispatch w/ Guster, Jake Shimabukuro
Charlotte Metro Credit Union Amphitheatre
June 23, 2017

While it typically takes bands a few songs to get warmed up, Dispatch had no problem hitting its stride just moments into the band's first song. With an audience full of backup singers, the indie-roots band fed off the crowd and cruised through a lengthy set of 18 songs. Look, we can't tell you why Dispatch isn't a household name, but a large Charlotte crowd could give you plenty of reasons to give them a listen. The band found plenty of moments to let loose for jams, spurring on the summer night. It was one that started with a short set by ukulele master Jake Shimabukuro. Guster's lackluster set was satisfying for fans and spotlighted by the band's efforts to get the crowd involved - including a brief jaunt into the crowd to take some selfies and swig some beer. The night, however, belonged to Dispatch.



Dispatch setlist
Here We Go
Be Gone
Open Up
Skin the Rabbit
Passerby
Painted Yellow Lines
Beto
Bang Bang
Flag
Flying Horses
Rice Water
Elias
Only the Wild Ones
Circles Around the Sun
Curse + Crush
The General
Bats in the Belfry
Out loud >Time (Pink Floyd) > Out loud

Guster setlist
The Captain
Happier
Doin' It By Myself
Come Downstairs and Say Hello
Amsterdam
Airport Song
Long Night
Satellite
Demons
This Could All Be Yours

Sunday, June 11, 2017
Posted

By

Jeff Hahne on

Sun, Jun 11, 2017

at

9:45 PM

Banks, Toulouse

The Fillmore

June 9, 2017

From the moment singer Banks hit the stage until the last notes rang out, the Fillmore crowd was completely enthralled. From the electropop tunes to the stellar vocals to the hypnotic visuals, Banks captivated everyone in attendance from the moment she walked on stage. Her dances were choreographed, yet artistic. The music had pop-sensibilities and poetic phrasing. The stage setup was simple, but enchanting. For all of the simplicity of the bare stage, Banks proved she didn't need anything flashy to impress. Those in attendance danced, stared and never, ever got enough.
7 slides
Setlist
Intro
Poltergeist
Fuck With Myself
Gemini Feed
Trainwreck
Waiting Game
This is What
Mind Games
Better
Weaker Girl
Mother Earth
Drowning
Judas
Begging for Thread
Haunt
Thursday, June 8, 2017
Posted

By

Jeff Hahne on

Thu, Jun 8, 2017

at

11:56 PM

Chance the Rapper
PNC Music Pavilion
June 8, 2017

Five years ago, Chance the Rapper opened for Childish Gambino at the then Uptown Amphitheatre. What a difference five years makes. On Thursday night, throngs of fans crammed into PNC Music Pavilion and watched a nearly two-hour DJ set in anticipation of one of this year's hottest rap artists. When Chance hit the stage, that long wait was forgotten instantly. Fresh of his multiple Grammy wins, Chance the Rapper hit the Charlotte stage and offered a quick-paced set filled with nearly 20 songs. The crowd rapped along to every line as Chance paced back and forth on the stage. A massive LED screen behind him, Chance's stage performance was a reminder of his life right now - full-on in the spotlight.



Wednesday, June 7, 2017
Posted

By

Jeff Hahne on

Wed, Jun 7, 2017

at

8:58 PM

Paul Simon
Charlotte Metro Credit Union Amphitheatre
June 6, 2017

It had been nearly 20 years since Paul Simon performed in Charlotte, but those in attendance on Tuesday night at the Charlotte Metro Credit Union Amphitheatre didn't leave disappointed. The 75-year-old singer/songwriter not only sounded fantastic, but he and a talented band opened up the catalog for a 25-song setlist. The crowd was appreciative of moments of banter, sat back and absorbed every folk tune new and old and danced through every rhythmic beat.

From the opening notes of "The Boy in the Bubble," all in attendance knew it would be a special night. Minor changes to the arrangements of classic songs made them sound fresh. Newer tunes fit in right along memorable Simon & Garfunkel songs. For more than two hours, Simon's voice never faltered. Perhaps perfectly, the night wrapped up with Simon standing alone, with only his acoustic guitar, to sing "Sound of Silence." For everyone in attendance, 1999 was a long time ago, but Simon's return to the Queen City was worth the wait.



Setlist
The Boy in the Bubble
50 Ways to Leave Your Lover
Dazzling Blue
That Was Your Mother
Rewrite
America
Mother and Child Reunion
Me and Julio Down by the Schoolyard
Spirit Voices
The Obvious Child
Stranger to Stranger
Homeward Bound
Duncan
Hearts and Bones
The Cool, Cool River
Diamonds on the Soles of Her Shoes
You Can Call Me Al

Encore
Wristband
Graceland
Still Crazy After All These Years

Encore 2
Questions for the Angels
The Boxer
One Man's Ceiling Is Another Man's Floor
Late in the Evening
The Sound of Silence

Tuesday, May 23, 2017
Posted

By

Jeff Hahne on

Tue, May 23, 2017

at

9:24 PM

BJ Barham
May 11, 2017
Visulite Theatre

American Aquarium frontman BJ Barham performed at the Visulite Theatre on May 11, 2017 as part of his The Great 48 Tour. The North Carolina native's tour will take him to 48 contiguous states this summer as he performs 53 shows in 59 days. If the Charlotte stop was any indication, the United States is in for a treat. Thankfully, this was only his fourth show on the tour. Hopefully, exhaustion won't set in by the time he hits Baltimore, Maryland in July. It's a solo performance in the truest sense of the words — just Barham and his guitar touring in support of his 2016 solo album, Rockingham.



Monday, May 22, 2017
Posted

By

Grey Revell on

Mon, May 22, 2017

at

11:15 AM

The Sonics, Dex Romweber

Neighborhood Theatre

May 19, 2017

On Saturday, May 19,

The Sonics

schooled an adoring crowd at the Neighborhood Theate on just who penned the manual on high-octane '60s scuzz rock, punk and grunge. The band, formed in 1960 in Tacoma, Wash., is responsible for such classic nuggets of mid-'60s photo-punk as "Psycho," "The Witch," and "Have Love, Will Travel." Sole original member, saxophonist Rob Lind, who now lives in Huntersville, was all old-school charm as front man, engaging the crowd with the flair of a classic big band leader, while the rest of the group took turns at the mic, bringing their take on the frantic, shriek-heavy, freaked-out rock 'n' roll. With diamond precision, the set was a short, sweet, relentless barrage of glorious noise, of course culminating in the immortal

"Psycho,"

and an excellent encore performance of their first hit,

"The Witch."

Highlights included their blistering cover of

Eddie Cochran's "C'mon Everybody,"

and a song especially written for the band by Australia's Hoodoo Gurus,

"Be A Woman." The Sonics setlist

Cinderella

Shot Down

Cmon Everybody

Sugaree

Have Love

Be a Woman

Back in the Car

Head on Backwards

Bad Betty

Keep on Knockin

Louie Louie

Hard Way

Boss Hoss

Money

Little Sister

He's Waiting

Lucille

Psycho

Doctor

Strychnine

Witch
Monday, May 15, 2017
Posted

By

Jeff Hahne on

Mon, May 15, 2017

at

10:12 PM

Sylvan Esso w/ Lucy Dacus

The Fillmore

May 14, 2017

Indie-pop duo Sylvan Esso took the stage on Sunday night and provided a relentless party from the opening notes. Two years ago, the band

played the Neighborhood Theatre

with a short setlist filled with every song they knew. This time around, the packed crowd at the Fillmore sang along, danced and loved every minute of the band's set. The vibe felt more like a dance club than a rock concert. Singer Amelia Meath has increased her dance moves significantly, while producer Nick Sanborn continues bobbing and weaving behind the decks. The duo is far more of a cohesive unit these days. A fun side note of the evening was white tape on Sanborn's table spelling out "F the NC GOP." Let's hope the duo returns to Charlotte before another two years goes by.

Setlist

Sound

The Glow

Kick Jump Twist

Dress

Signal

Die Young

Song

Coffee

Just Dancing

Slack Jaw

Uncatena

H.S.K.T.

Hey Mami

Radio

Encore

Rewind

Play It Right
Thursday, May 11, 2017
Posted

By

Jeff Hahne on

Thu, May 11, 2017

at

10:00 AM

Three days of rock, metal and mayhem have finally subsided and the dust is starting to settle. The Charlotte area's largest music festival made it through another year with plenty of surprises and stellar performances. Here are nine takeaways from the weekend:

•

Eagles of Death Metal

know how to party. From the opening chords to the final notes, singer Jesse Hughes was all smiles as he conjured up a rock 'n' roll revival. The band hit the ground running thanks to being joined by Mastodon guitarist Brent Hinds.

*

Taking Back Sunday

continues to mature and take their music to new places. While they could have been relegated to a Warped Tour headliner, the band showed its worth on the biggest side stage, proving they deserve a spot on one of the main stages the next time around.

• French metal quartet

Gojira

and English punk rockers

Frank Carter and the Rattlesnakes

led me to two conclusions. One, that Europe is clearly more innovative and interesting when it comes to breaking out of the metal mold. Two, that some of the bands on the smallest stages should have had a bigger spotlight.

•

Nothing More

continues to take drum solos to new heights, literally. During the band's previous tour, they used drum sticks on a bass guitar to create a rhythmic wall of sound. This time around, they played a "Scorpion tail" attached to the drum kit that lifted singer Jonny Hawkins up toward the lighting rigs. From there, the band played a heavy metal cover of Skrillex — but, surprisingly, it worked.

•

In This Moment

put on the most complete performance. From start to finish, the band went through costume changes and involved theatrical elements to keep the crowd hypnotized. Check them out at the Fillmore in June.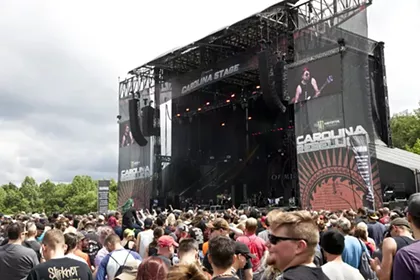 68 slides