Photos
Tuesday, June 12, 2018
Posted

By

Jeff Hahne on

Tue, Jun 12, 2018

at

11:05 PM

Hayley Kiyoko, Gavin Turek
The Underground
June 11, 2018

From the moment she walked out on stage until the final notes ringing out, Hayley Kiyoko brought a party to The Underground on Monday night. Recent hit "Girls Like Girls" played like an anthem in the early part of the set before Kiyoko recognized that it's Pride Month and time to celebrate. The sold-out Avidxchange Music Factory venue danced and sang the night away while the rain fell outside. Dancing whirlwind and pop-diva-in-training Gavin Turek got the party started with a 40-minute set full of pop music and dance grooves. You never would have guessed it was a Monday night.


Posted

By

Jeff Hahne on

Tue, Jun 12, 2018

at

10:58 PM

Japanese Breakfast w/ Dollhands, Faye
Neighborhood Theatre
June 9, 2018

With light-up shoes and non-stop energy, Japanese Breakfast's Michelle Zauner hit the stage on Saturday night and rarely stopped moving. Performing in front of a sold-out crowd on the Neighborhood Theatre's bar side stage, the quartet quickly got the crowd moving and didn't hold anything back. Zauner was all smiles for the duration of the set which drew from the group's two albums, 2016's Psychopomp and 2017's Soft Sounds from Another Planet, as well as a closing cover of The Cranberries' "Dreams." The night got started with short sets from two Charlotte indie rock outfits, Faye and Dollhands. Each quickly won over the crowd and set an upbeat tone for the night.



Japanese Breakfast setlist
In Heaven
Road Head
2042
Machinist
The Body Is a Blade
Diving Woman
Rugged Country
Boyish
Heft
This House
Till Death
Everybody Wants to Love You
Dreams
Monday, May 28, 2018
Posted

By

Jeff Hahne on

Mon, May 28, 2018

at

10:15 PM

Bishop Briggs w/ Foreign Air

May 25, 2018

The Underground The first time Bishop Briggs played in Charlotte

, she was warming up for Kaleo at The Underground. "This show is

so much

better than the last time," Briggs joked with the sold-out crowd.

Aside from being the headliner this time around, Briggs also had a studio album under her belt. The effortless power of her vocals and unending energy on stage had the crowd singing along for the duration of her 70-minute set.

Sandwiched between hit singles, "White Flag" and "River" were an array of songs to showcase her style and vocals. She won't be playing venues of this size for long.

Charlotte's own Foreign Air, featuring Jesse Clasen (HRVRD, The Bear Romantic), opened the night and got the entire crowd moving with their indie brand of electro rock.

The band is often on tour, but I can't imagine them holding opening slots much longer. Don't miss either act the next time they're in town.

Bishop Briggs setlist


White Flag

Wild Horses

Tempt My Trouble

The Way I Do

Be Your Love

Lyin'

Water

The Fire

Hallowed Ground

Dream

Hi Lo (Hollow)

Encore

River
Posted

By

Jeff Hahne on

Mon, May 28, 2018

at

10:02 PM

2018 Outlaw Music Festival
May 26, 2018
PNC Music Pavilion

Brandi Carlile dropped off the lineup. Then Elvis Costello dropped off. The Outlaw Music Festival at PNC Music Pavilion was holding on by the strength of its headliners — Sturgill Simpson and Willie Nelson.

So, when the set times were announced, it's no surprise the crowd was sparse for the day's opening acts, including Lee Mitchell, Horse Feathers and Old Crow Medicine Show.

As the night went on, the crowd got bigger as anticipation grew. Sturgill Simpson rocked through his set, winning over countless fans. More jam than country, his quartet pushed the boundaries of every song.


Sunday, May 20, 2018
Posted

By

Jeff Hahne on

Sun, May 20, 2018

at

11:45 PM

Carolina Rebellion
May 4-6, 2018
Rock City Campground at Charlotte Motor Speedway

For the 8th year, Carolina Rebellion rolled into the Charlotte, NC area (one year at Metrolina Expo, one year in Rockingham, NC and the last six years at Charlotte Motor Speedway) with a multi-day metal extravaganza.

While numerous bands have played the festival multiple times, each year brings forth moments that stand above the rest. If you weren't at this year's three-day event, here's the top 5 moments you missed:


1. The Fever 333 brought the politics of Rage Against the Machine with the energy of a F5 tornado to Carolina Rebellion. Singer Jason Aalon Butler made a name for himself with his previous band, letlive, but The Fever 333 brings the fury to a new level. The band performed from the middle of the circle pit, did their best to tear up the stage (literally) and Butler even dragged the entire drum riser a few feet on his own. The band's 30-minute set on Sunday was the highlight of the entire festival.


Sunday, May 13, 2018
Posted

By

Jeff Hahne on

Sun, May 13, 2018

at

6:57 PM

Odesza, Kimbra, Kasbo

Charlotte Metro Credit Union Amphitheatre

May 10, 2018

While there are plenty of big-name DJs playing smaller clubs around Charlotte, few can sell out one of the Queen City's larger music venues. Odesza packed the Charlotte Metro Credit Union Amphitheatre on Thursday night for a packed house of 5,000. It was a great night - for music, for weather, for having a great time. Fans danced all over the venue as the EDM duo brought plenty of lights and energy to make it memorable. Strong sets by openers Kasbo and Kimbra set the tone early. Kimbra, whose style and singing are reminiscent of Bjork, is quickly making a name for herself and should be watched closely. As for Odesza, they were mostly silhouettes against an intense lighting backdrop — but the visuals were no less stunning.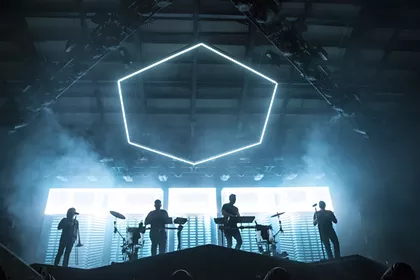 21 slides
Monday, April 30, 2018
Posted

By

Jeff Hahne on

Mon, Apr 30, 2018

at

9:29 PM

Kate Nash w/ Miya Folick
The Underground
April 29, 2018

Indie-pop singer Kate Nash teased the audience on Sunday night with a quick glimpse of her hit single, "Foundations." It quickly energized the crowd before she cut song short and cruised into the rest of her set. If you only wanted to hear the hit single, you'd have to wait until the end of the night to hear the rest. In the meantime, you were given a dose of her songs, old and new, while Nash danced around the stage and kept the small crowd entertained. Sure, Beck was playing out back at the Amphitheatre, but Nash captivated her own audience just the same. Opener Miya Folick belted out her own set of tunes and impressed with her vocal range. Don't miss this dynamic duo's next tour stop.



Kate Nash setlist
Play
Foundations Tease
Mouthwash
Life in Pink
Sister Acoustic
Dickhead
Agenda
We Get On
Mariella
Twisted Up
Musical Theatre
Nicest Thing
Always Shining
Hate You
Foundations
Merry Happy

Encore
Today
Birds

Posted

By

Jeff Hahne on

Mon, Apr 30, 2018

at

9:08 PM

Twiddle w/ Midnight North

The Underground

April 28, 2018



For Twiddle's Mihali Savoulidis, the guitar isn't just a musical instrument. It's an extension of his body. Twiddle may be new on the jam scene but Savoulidis offers effortless playing that's impressive to watch and hear. Intricate melodies and intense emotions come through in every note. Sure, there's occasional noodling, but it's few and far between. Most often, he's serving the band's catchy rock songs. The band's Charlotte debut was impressive - though they should be playing bigger venues. The night's opener, Midnight North, offered solid rock vibes. The band is fronted by the son of the Grateful Dead's Phil Lesh, Grahame Lesh. Catch either or both the next time they're in town.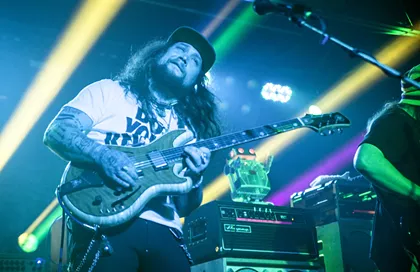 18 slides
Wednesday, April 18, 2018
Posted

By

Jeff Hahne on

Wed, Apr 18, 2018

at

10:23 PM

Wolf Alice, The Big Pink
Visulite Theatre
April 17, 2018

British rock quartet Wolf Alice rolled into Charlotte with little fanfare but a whole lot of heart. It took a few songs to get warmed up, but once they did, singer/guitarist Ellie Rowsell and company thrilled the packed Elizabeth venue. Not much for banter, the band let their songs do all the talking, conjuring up elements of '90s alt-rock while driving emotions with vocals. It didn't matter if you heard the songs before or not, Wolf Alice's music commands attention and conjures up feelings without the emo umbrella. I'm not sure if the band's played Charlotte before, but it's a band you don't want to miss the next time you get a chance.



Setlist
Heavenward
Yuk Foo
You're a Germ
Your Love's Whore
St. Purple and Green
Don't Delete the Kisses
Planet Hunter
Bros
Lisbon
Silk
Beautifully Unconventional
Formidable Cool
Sadboy
Space & Time
Moaning Lisa Smile
Victims of a Life
Fluffy

Encore
Blush
Giant Peach

Sunday, March 25, 2018
Posted

By

Jeff Hahne on

Sun, Mar 25, 2018

at

11:14 PM

K. Flay, Yungblud

The Underground

March 23, 2018

While K. Flay's brand of hip-pop fuses pop sensibilities with hip-hop cadences, it's her energetic live performance that had the sold-out Underground crowd singing and cheering for the duration of her set. The 32-year-old singer finds the right balance of stage stalking and freestyle dancing that commands attention from the opening notes. She needed to put forth a strong performance after the stellar opening set from Yungblud. Fresh off his U.S. television debut the night before on

Seth Myers

, Yungblud exudes the same raw energy of Cage the Elephant's Matt Schultz. It won't be long before he's on a sold-out headlining run of his own.
10 slides