setlist
Tuesday, July 18, 2017
Posted

By

Jeff Hahne on

Tue, Jul 18, 2017

at

9:54 PM

Primus w/ Clutch
Charlotte Metro Credit Union Amphitheatre
July 17, 2017



Kicking off their summer run right here in the Queen City, Primus and Clutch appeared like a great matchup of energetic tour mates. However, the balance just wasn't there. Clutch hit the stage running thanks to energetic frontman Neil Fallon. Fallon's vocals were spot-on and the singer commanded attention for the duration of the blues-rock band's 75-minute set. Primus followed with a 90-minute set of its own and while the alt-rockers extended jams and enthralled fans with a hit-heavy set, the overall performance felt flat. There was a time when the hits were hard to come by as bassist Les Claypool focused on a solo career. These days, with the reunited lineup, even Claypool's effortless bass playing feels a bit soulless at times. Guitarist Larry LaLonde continues to push the boundaries, but one new song isn't enough to entice longtime fans. While the band remains sonically solid, they need to breathe more joy into it and not look like they're in it for the paycheck.


Sunday, July 9, 2017
Posted

By

Jeff Hahne on

Sun, Jul 9, 2017

at

10:33 PM

My Morning Jacket w/ Gary Clark Jr.
Charlotte Metro Credit Union Amphitheatre
July 8, 2017

Whenever My Morning Jacket comes to town, the rain finds a way to try and dampen the night's events. Once again, however, the crowd and the Kentucky rock band were undeterred. Sure, the show might have been delayed by 30 minutes, but everyone present was as energetic as ever throughout the night's performances. The night was started by a shortened, soulful set by Texas blues-rocker Gary Clark Jr. The guitar slinger was stunning in his Queen City debut, hammering the crowd with heartfelt riffs and lyrics. The headliners sparked the crowd from the first notes with fan favorite after fan favorite. A set-closing "Victory Dance" was followed by a five-song encore that left the crowd satisfied but always wanting more.



My Morning Jacket setlist
Mahgeetah
Compound Fracture
Off the Record
Spring (Among the Living)
I'm Amazed
Circuital
Golden
Tropics (Erase Traces)
Steam Engine
In Its Infancy (The Waterfall)
State of the Art (A.E.I.O.U.)
Victory Dance

Encore
Wordless Chorus
Evil Urges
Lay Low
Touch Me I'm Going to Scream Pt. 2
One Big Holiday

Gary Clark Jr. setlist
Bright Lights
Ain't Messin 'Round
When My Train Pulls In
Our Love
Travis County
Numb
Shake

Sunday, June 25, 2017
Posted

By

Jeff Hahne on

Sun, Jun 25, 2017

at

9:21 PM

Dispatch w/ Guster, Jake Shimabukuro
Charlotte Metro Credit Union Amphitheatre
June 23, 2017

While it typically takes bands a few songs to get warmed up, Dispatch had no problem hitting its stride just moments into the band's first song. With an audience full of backup singers, the indie-roots band fed off the crowd and cruised through a lengthy set of 18 songs. Look, we can't tell you why Dispatch isn't a household name, but a large Charlotte crowd could give you plenty of reasons to give them a listen. The band found plenty of moments to let loose for jams, spurring on the summer night. It was one that started with a short set by ukulele master Jake Shimabukuro. Guster's lackluster set was satisfying for fans and spotlighted by the band's efforts to get the crowd involved - including a brief jaunt into the crowd to take some selfies and swig some beer. The night, however, belonged to Dispatch.



Dispatch setlist
Here We Go
Be Gone
Open Up
Skin the Rabbit
Passerby
Painted Yellow Lines
Beto
Bang Bang
Flag
Flying Horses
Rice Water
Elias
Only the Wild Ones
Circles Around the Sun
Curse + Crush
The General
Bats in the Belfry
Out loud >Time (Pink Floyd) > Out loud

Guster setlist
The Captain
Happier
Doin' It By Myself
Come Downstairs and Say Hello
Amsterdam
Airport Song
Long Night
Satellite
Demons
This Could All Be Yours

Sunday, June 11, 2017
Posted

By

Jeff Hahne on

Sun, Jun 11, 2017

at

9:45 PM

Banks, Toulouse

The Fillmore

June 9, 2017

From the moment singer Banks hit the stage until the last notes rang out, the Fillmore crowd was completely enthralled. From the electropop tunes to the stellar vocals to the hypnotic visuals, Banks captivated everyone in attendance from the moment she walked on stage. Her dances were choreographed, yet artistic. The music had pop-sensibilities and poetic phrasing. The stage setup was simple, but enchanting. For all of the simplicity of the bare stage, Banks proved she didn't need anything flashy to impress. Those in attendance danced, stared and never, ever got enough.
7 slides
Setlist
Intro
Poltergeist
Fuck With Myself
Gemini Feed
Trainwreck
Waiting Game
This is What
Mind Games
Better
Weaker Girl
Mother Earth
Drowning
Judas
Begging for Thread
Haunt
Thursday, June 8, 2017
Posted

By

Jeff Hahne on

Thu, Jun 8, 2017

at

11:56 PM

Chance the Rapper
PNC Music Pavilion
June 8, 2017

Five years ago, Chance the Rapper opened for Childish Gambino at the then Uptown Amphitheatre. What a difference five years makes. On Thursday night, throngs of fans crammed into PNC Music Pavilion and watched a nearly two-hour DJ set in anticipation of one of this year's hottest rap artists. When Chance hit the stage, that long wait was forgotten instantly. Fresh of his multiple Grammy wins, Chance the Rapper hit the Charlotte stage and offered a quick-paced set filled with nearly 20 songs. The crowd rapped along to every line as Chance paced back and forth on the stage. A massive LED screen behind him, Chance's stage performance was a reminder of his life right now - full-on in the spotlight.



Wednesday, June 7, 2017
Posted

By

Jeff Hahne on

Wed, Jun 7, 2017

at

8:58 PM

Paul Simon
Charlotte Metro Credit Union Amphitheatre
June 6, 2017

It had been nearly 20 years since Paul Simon performed in Charlotte, but those in attendance on Tuesday night at the Charlotte Metro Credit Union Amphitheatre didn't leave disappointed. The 75-year-old singer/songwriter not only sounded fantastic, but he and a talented band opened up the catalog for a 25-song setlist. The crowd was appreciative of moments of banter, sat back and absorbed every folk tune new and old and danced through every rhythmic beat.

From the opening notes of "The Boy in the Bubble," all in attendance knew it would be a special night. Minor changes to the arrangements of classic songs made them sound fresh. Newer tunes fit in right along memorable Simon & Garfunkel songs. For more than two hours, Simon's voice never faltered. Perhaps perfectly, the night wrapped up with Simon standing alone, with only his acoustic guitar, to sing "Sound of Silence." For everyone in attendance, 1999 was a long time ago, but Simon's return to the Queen City was worth the wait.



Setlist
The Boy in the Bubble
50 Ways to Leave Your Lover
Dazzling Blue
That Was Your Mother
Rewrite
America
Mother and Child Reunion
Me and Julio Down by the Schoolyard
Spirit Voices
The Obvious Child
Stranger to Stranger
Homeward Bound
Duncan
Hearts and Bones
The Cool, Cool River
Diamonds on the Soles of Her Shoes
You Can Call Me Al

Encore
Wristband
Graceland
Still Crazy After All These Years

Encore 2
Questions for the Angels
The Boxer
One Man's Ceiling Is Another Man's Floor
Late in the Evening
The Sound of Silence

Monday, May 22, 2017
Posted

By

Grey Revell on

Mon, May 22, 2017

at

11:15 AM

The Sonics, Dex Romweber

Neighborhood Theatre

May 19, 2017

On Saturday, May 19,

The Sonics

schooled an adoring crowd at the Neighborhood Theate on just who penned the manual on high-octane '60s scuzz rock, punk and grunge. The band, formed in 1960 in Tacoma, Wash., is responsible for such classic nuggets of mid-'60s photo-punk as "Psycho," "The Witch," and "Have Love, Will Travel." Sole original member, saxophonist Rob Lind, who now lives in Huntersville, was all old-school charm as front man, engaging the crowd with the flair of a classic big band leader, while the rest of the group took turns at the mic, bringing their take on the frantic, shriek-heavy, freaked-out rock 'n' roll. With diamond precision, the set was a short, sweet, relentless barrage of glorious noise, of course culminating in the immortal

"Psycho,"

and an excellent encore performance of their first hit,

"The Witch."

Highlights included their blistering cover of

Eddie Cochran's "C'mon Everybody,"

and a song especially written for the band by Australia's Hoodoo Gurus,

"Be A Woman." The Sonics setlist

Cinderella

Shot Down

Cmon Everybody

Sugaree

Have Love

Be a Woman

Back in the Car

Head on Backwards

Bad Betty

Keep on Knockin

Louie Louie

Hard Way

Boss Hoss

Money

Little Sister

He's Waiting

Lucille

Psycho

Doctor

Strychnine

Witch
Monday, May 15, 2017
Posted

By

Jeff Hahne on

Mon, May 15, 2017

at

10:12 PM

Sylvan Esso w/ Lucy Dacus

The Fillmore

May 14, 2017

Indie-pop duo Sylvan Esso took the stage on Sunday night and provided a relentless party from the opening notes. Two years ago, the band

played the Neighborhood Theatre

with a short setlist filled with every song they knew. This time around, the packed crowd at the Fillmore sang along, danced and loved every minute of the band's set. The vibe felt more like a dance club than a rock concert. Singer Amelia Meath has increased her dance moves significantly, while producer Nick Sanborn continues bobbing and weaving behind the decks. The duo is far more of a cohesive unit these days. A fun side note of the evening was white tape on Sanborn's table spelling out "F the NC GOP." Let's hope the duo returns to Charlotte before another two years goes by.

Setlist

Sound

The Glow

Kick Jump Twist

Dress

Signal

Die Young

Song

Coffee

Just Dancing

Slack Jaw

Uncatena

H.S.K.T.

Hey Mami

Radio

Encore

Rewind

Play It Right
Tuesday, April 18, 2017
Posted

By

Alison Angel on

Tue, Apr 18, 2017

at

12:08 AM

Red Hot Chili Peppers, Babymetal, Jack Irons

Spectrum Center

April 17, 2017

The Red Hot Chili Peppers brought their legendary brand of punk rock and funk to Charlotte's Spectrum Center Monday night as part of their 2017 North American Tour. The quartet has been going strong (with a few lineup changes) since its formation in 1983 and managed to pack every seat in the arena. The RHCP have a way of bridging the generation gap, as evidenced by the wide age ranges in attendance on Monday night. There were parents introducing their 10-year olds to the band that defined their young adulthood, older folks rocking out as hard as they did in their youth and high schoolers just discovering their discography.

With half of Charlotte seemingly in attendance for the big show, there was a lot to be heard:

One of the hundreds of concert goers swarming the concessions stands in an effort to escape Babymetal, the opening band's, performance: "You guys in line for beer?...FUCK!"

A man in awe of the apparent uniform worn by a good portion of the crowd: "There's flannel everywhere…"

Older man at the concessions stand, referring to all of the tweens and teens attending the show: "It's like Disney World in here."

Two millenials in their Target RHCP gear, greeting each other across the crowd: "Bro?!" "BRO!!"

A parent as they grudgingly coughed up the dough for their child's souvenir: "$80 for a hoodie? Who do they think they are, The Beatles?"

A wide-eyed young man grabbing pizza at the concession stand "I feel like I'm in a white man's Narnia."

Man on a beer run: "Yup, that's about right…four hundred dollars for one ticket and two beers."

A mom talking about her children's induction into the RHCP tradition: "We're in the nosebleeds, but they won't care. It's their first concert."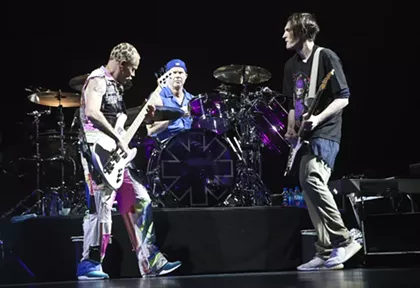 15 slides
Setlist
Can't Stop
Snow ((Hey Oh))
The Zephyr Song
Dark Necessities
She's Only 18
Me & My Friends
Go Robot
Parallel Universe
The Power of Equality
The Getaway
Higher Ground
Californication
What Is Soul?
Under the Bridge
By the Way
Encore

Goodbye Angels
Give It Away
Sunday, April 16, 2017
Posted

By

Jeff Hahne on

Sun, Apr 16, 2017

at

11:15 PM

Big Sean, MadeinTYO, Neisha Ne'shae

The Fillmore

April 14, 2017



There's a common theme running through live reviews of Big Sean's

I Decided

Tour — he should be performing in bigger venues. The excitement for the Detroit rapper started early and rarely waned once he hit the Fillmore's stage. Even openers MadeinTYO and Neisha Ne'shae got the sold-out venue's crowd quickly into the show. It could have been because of a Friday night concert, but it's more likely because Big Sean has had commercial success while maintaining a balance between moments of humility and bravado. His recent single "Bounce Back" has gone double platinum and he continues to earn the respect of fellow rappers. I wouldn't expect him to play in venues of this size for much longer.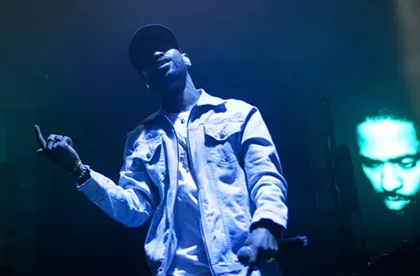 13 slides