click to enlarge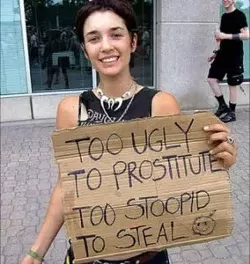 It was only a matter of time before the sex workers using Craigslist in Charlotte got caught.
Last night was that night.
According to WCNC, 15 people were arrested in a sting on Monday.
I just wonder what ad caught the attention of the police. Since the "Craigslist murder" outside of Boston, the site has changed it's focus, dropping erotic service and promising to police the adult service listings.
Still, getting sex is just as easy to do on Craigslist as it ever was and sometimes you don't have to pay for it.
Take this guy for instance, he's willing to give his married dick away:
Hi, This is going to sound bad but what the hell. I am married but my wife has cheated on me to many times. I'm not looking to leave her yet because of the kids ( I have to see them every day ). I was wondering if there is any woman out there who knows what Im going through and knows what its like to have your heart stepped on so many times. Short and sweet, I want to have my own affair. I am a good looking guy, White, 6 foot 3 and 230lbs. I am a decent Man who has always tried to do the right thing but know I want to this for me. Anyone interested?
Two words for this man, Steve McNair.
And then there is this guy, a visitor to Charlotte looking for some fun:
Hi there. Thanks for looking at my post.

So I am going to be coming to Charlotte this week and find myself with a free night on Thursday. I'd love to find a kind, interesting and outgoing woman to share the evening with. I'm a fit, 6 foot tall, professional, educated, open-minded guy who likes to have thoughtful conversations, but also loves to pamper the woman I'm with and make her feel like she's the most important person in the world. That's true, even if it would just be for the evening. I'd prefer you be pretty fit (since I try to take care of myself) and probably be in the 25-40ish range. Oh, and you don't smoke -- or at least I can't tell you do!

E-mail me if you want to discuss this further. But I think we could have a really fun night!

Thanks!
Women are on the site trying to give it away as well. Check out this 19 year old:
Hey! i work hard in a nursing home. i love it. Well sometimes. LOL.

I love the country and the big city..

I am fun loving,outgoing, and I like to smile and laugh.

Really just looking to meet someone for some summer fun if u know what i mean. lol.

If you have problems with someone because of their sexual nature, hobbies, talents, then you should not be here.

Any who you wanna know more ask me.

Looking forward to hearing from you soon.

Meet me at sexfinderlocals.com/i65vv , my username is wildexoticgoddess38
She's probably a spambot.
And then there is this woman:
Yeah, so ... my situation is somewhat complicated. I'm technically with someone but we're always fighting and I've been getting hardly any attention for the last few months . And I'm feeling the itch if you know what I mean and it's been a ridiculously long time since the last time. Sleeping with guys I found on the internet isn't ordinarily what I would do, but it's good enough for something like this I guess. A girl still has needs that have to be taken care of once in a while. . . I'm 20 , thin but not skinny, 5'7" with black hair and brown eyes, tanned with 36C breasts and a navel piercing. I've got an insatiable appetite (what brought me here LOL) so you'll have to be able to go over and over. I like to be a little bit submissive, and if you can make me comfortable I like to explore , but nothing too crazy. Write to me with a description or myspace or something so I can get a sense of what you look like. If I like what I see I'll reply back with photos and my contact info. I'll respond to all emails that catch my interest. I can keep it discreet if you can. I'm available today after about 4pm and almost all day Wednesday.
Two words for her as well, O.J. Simpson.
With all the free sex floating around bars, the internet and even Craigslist, why in the hell do people still pay for sex?