click to enlarge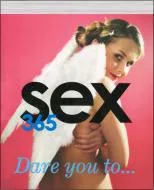 If you've been with your partner for a while,  your sex life is probably, surely boring. Want to spice things up, but you don't know where to start? Sex 365: Dare You To... is the guide for you.
It's a small and simple book that is more about the pictures than some opus about sexuality and things of that nature. If you're already an outgoing sex-olympic participant, beware: There's no BDSM — just a little light and flirty role play best designed for couples who are in a rut.
The book is written in a "him and her" style: the "her" side. for example, instructs the man on what he should do to get her off and vice versa. The book ends with a list of websites where you can buy some of the things suggested in the book as well as a "dare selector."
The dare selector is one of the more interesting things in the book because you close your eyes, pick a number and then do those things that night. This book is great conversation starter and bedside companion.