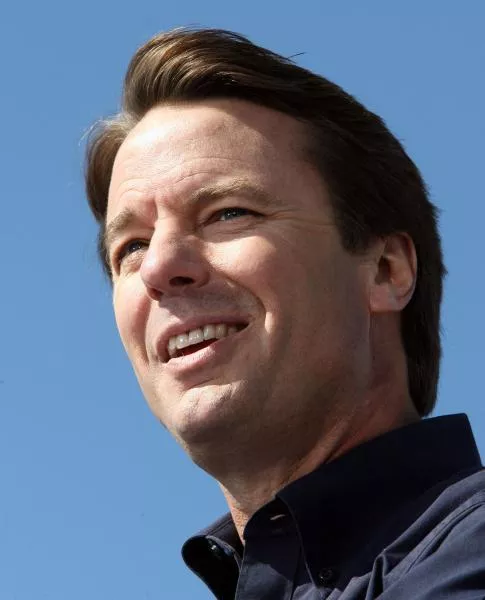 If you've been following the
John Edwards
case with us, then you know I'm interested in nothing more than a leak of the sex tape. All of the ethical issues surrounding pretty boy John are pretty much to be expected in this era of political sexcapdes.
Here's what's going on now:
Lawyers for ex-U.S. Sen. John Edwards say the case against him should be dropped because politics influenced the Republican attorney general who indicted him.

At a federal court hearing Wednesday, Politico reported, Edwards' lawyers were expected to argue politics so influenced former Republican U.S. Attorney George Holding in his decision to indict Edwards, a Democrat, that the case should be thrown out.

Holding indicted Edwards, the former North Carolina senator, in June on charges of campaign finance law violations, then announced weeks later he was resigning and running for Congress as a Republican.
Sex and politics make strange bedfellows and the crux of this case is really that Edwards nearly fooled the world into thinking that he was a good husband and family man. Is it political? I'm sure it is partly, but this is America and sex is so dirty here.
Edwards, 58, faces charges he violated campaign finance laws for using funds from his unsuccessful 2008 presidential campaign from two wealthy supporters to conceal his pregnant mistress from the public. Prosecutors say the donations exceeded legal limits and amounted to campaign contributions because they were intended to keep the affair secret to preserve his presidential bid.

The payments went toward living, medical and other expenses for videographer Reille Hunter, with whom Edwards had an extramarital affair and a child.

His lawyers say he wanted to hide the affair and Hunter's pregnancy from his wife, Elizabeth Edwards, and that hundreds of thousands of dollars from his wealthy friends went to others, not him, and were gifts.
I'm willing to stand on a shaky limb and say if Edwards had used this money to finance his family's home, he wouldn't have been charged. But the fact that he cheated on his beloved wife, Elizabeth, with Hunter — who some say is the basis for the character Allison Poole in Story of My Life by Jay McInerney—plays a role in this investigation. It's naive to think otherwise.
So, when will the Kim Kardashian-esque leak happen? We continue to wait.