F. Scott Fitzgerald said there were no second acts in American life. I think it's safe to say his pronouncement would particularly apply to rock stars. Grace Slick begs to differ.
click to enlarge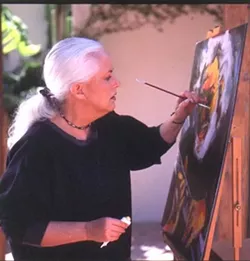 As high priestess of the psychedelic '60s magical merry-go-round, Slick lived the tawdry Tinkerbelle lifestyle guided by the instructive signposts of sex, drugs and rock 'n' roll. At 67 years old, Slick appears to be running full-throttle -- working, playing, eating right (sometimes), smoking and joking. She's happily avoided the cruel destiny of those aging rocksters on the Depends Tour milking the memory machine down Mercenary Lane. More importantly, she's not joined her old friends Jimi and Janis on the Rock and Roll Eternity Tour.
So what do you do when you jump off the stage and land on your feet?
Slick is a visual artist now -- a painter. This is her Act II. ("Act II" is also the name of her art exhibition, which swings into Charlotte's South Park Mall Friday, Nov. 17.) She quit the stage in 1989, after beginning to feel silly doing at 49 what she was great at when she was 29. She says, "If I were still singing 'White Rabbit' now, I would be like one of those old women with red lipstick and blonde wigs you see on Hollywood Boulevard."
Her musical expressions are behind her, but her rock 'n' roll mark remains with us, forever embedded, and continually resurfacing, in our popular culture. Her musical fame, which blossomed with her stint with Jefferson Airplane in 1967, still breathes among us in "White Rabbit," a watershed song regularly culled up in movies, commercials, plays, TV shows and digital downloads. Grace Slick left a mesmerizing, iconic song, and a media-perpetuated legacy, that will live beyond her, beyond me, beyond my boomer buddies and their children's children.
One pill makes you larger
Ms. Slick described her art as "having many of the same qualities as rock 'n' roll: blunt, simple and in your face." She's been quoted as saying "I'll draw bunnies, I'll draw rocks stars, I'll draw whatever you want ... You can tell me what to draw, just don't tell me how to draw it."
The woman appears to know who she is.
She says she's no Picasso, and I think Picasso would agree. Slick admires illustrators and cartoonists and animators. She doesn't consider herself in the mold of other artists she greatly admires -- she mentioned Degas, Monet and Manet. She applauds the animators of The Lion King and Fantasia, advertising illustrators and fantasy cartoonists. She sees these men and women as talents worthy of praise, who work their magic under the shroud of anonymity.
In her own art, Slick explores three visual paths: portraits, Alice in Wonderland illustrations and line drawings -- both brush and pencil.
Her portraits are mostly of famous rockers; men and women she knew, or still knows, including Janis Joplin, Pete Townshend, Jim Morrison and Sting. Like her voice of yesterday, Slick's hand is self-taught. Like her tongue of yesterday and today, the portraits are direct, unflinching, and bear a close resemblance to the truth according to Grace. Each portrait carries a sentimental or caustic spin. Those qualities can be either revealing or maudlin, in an "Oh my" good way, or an "Oh man" bummer way.
The Wonderland Series illustrates the Alice story, circa 1865 and 1969 -- age of Lewis Carroll and Age of Aquarius. These pieces take turns being childishly charming and hallucinatory.
The line drawing and painting -- "Waiting," "Blue Nude" and "Slick" -- carry the visual whispers of a lyric and spontaneous hand. Slick is her most successful in these simple works. These one-offs are less fussed over and less contrived; they're her best pieces, and likely, her least sought after.
None of her paintings carry the pulsating resonance or the vulnerable, but defiant allure of the 28-year-old voice in "Somebody to Love" and "White Rabbit." And I don't think they're trying to.
One pill makes you small
The artist appears to reproduce the rabbits faster than the little beasts procreate in the wild.
"My agent calls me and tells me I need more rabbits, and I tell him I got rabbits. Rabbits I can do." The White Rabbit is a cottage industry. Through her visual ventures, Slick fuels the rabbit machine. And her public eats them up. Who is buying all these White Rabbits and why?
Slick's 1966 song "White Rabbit" is tie dyed into the fabric of our popular culture. The song has been covered by Homer Simpson, written into a suicide pact in Hunter S. Thompson's Fear and Loathing in Las Vegas, and was used as stoner mood music in Oliver Stone's movie Platoon. "White Rabbit" delivered lyric marching orders to Tony Soprano as he wrestled with the prospect of upping his Prozac dose. The song is a continuing touchstone for our times, and is too perfect a fit for our entertainment dream weavers to ignore. Slick tripped over Ravel's Bolero on her way to visit Alice in Wonderland and discovered an immortal three minutes she could hold forever; one hell of a rabbit hole, and one very clever girl.