click to enlarge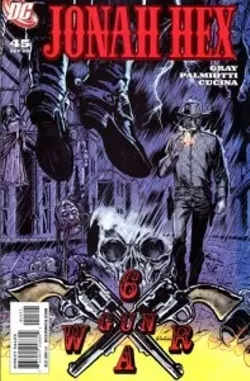 Jonah Hex No. 45
Published by DC Comics. Written by Jimmy Palmiotti and Justin Gray. Art by Cristiano Cucina.
The Deal: It's the newest issue of DC's only monthly Western comic: Jonah Hex. Hex tales are usually told in single-issue, done-in-one adventures. This issue, however, is part two in a six-part story arc called "The Six Gun War," which brings together some of the company's most famous Western characters — like Bat Lash and El Diablo.
The Good: My father used to watch Westerns films on TV all the time when I was a little kid. At the time, I was more into Star Wars, so I wasn't really interested in seeing cowboys and Indians ride horses and shit. Years later, however, I got into the genre and started to dig the gritty tales of lone gunmen battling ruthless bad guys on the prairie and such. And that's why I like DC Comics' Jonah Hex series: The comic perfectly captures the look and feel of a great Western movie. Writers Jimmy Palmiotti and Justin Gray are on the money when it comes to iconic cowboy-flavored dialogue, characterization and plots. And you gotta respect Palmiotti and Gray for having the balls to tell straight Western stories and not fall into the trap of adding aliens or monsters or some crap like that. I have to believe that this series is not doing good in terms of sales (just a feeling I have), but with a Hex movie on the way, maybe the monthly comic will stick around ... at least until the film disappears from theaters.
The Bad: I pretty much liked everything. I've got no complaints.
The Verdict: I suggest buying this book every month.
Reviewed materials provided by Heroes Aren't Hard to Find: www.heroesonline.com.