click to enlarge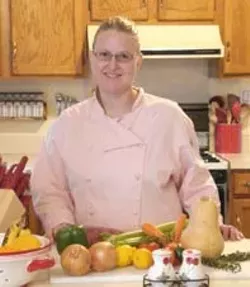 Do you remember waking up to your grandmother's cooking, and how the mouth-watering aroma filled the house? Chef Donna Cook, of Donna Cook's Personal Chef Services, seeks to rekindle that memory with her specialty cuisine that fuses the familiarity of comfort food with a healthy twist.
Creative Loafing: What would you consider your best recipe? Why?
Donna Cook: I think my best recipe is crab cakes with a roasted red pepper aioli. They're full of crab, which is unique or different from a lot of other crab cakes that you have. They also can be made very healthy for you. You can bake them in the oven, rather than frying. So it cuts out a lot of the fat. And the roasted red pepper aioli is just phenomenal with the crab cakes.
A lot of chefs are specializing in the healthier cuisine — what distinguishes your healthy cuisine from the rest?
I like healthy food, but I like healthy food that's familiar or comfort food. So, I like to take everyday foods and make them healthier. About 10 years ago I was diagnosed with diabetes, and if I was going to be successful in managing my diabetes, I had to take foods I was familiar with and make them work for me. I wasn't very happy with eating the boiled chicken and steamed broccoli.
What's your least favorite healthy food to work with?
Maybe tofu — I don't work with tofu very often. I have never acquired a taste for it on my own. So it's something I try to stay away from. When I do cook it for clients, it's always trial and error.
Visit her site at www.donnacooks.com.