When you go out for sushi and look at the menu, do Philly Roll, Rainbow Roll, and Bagel Roll ring a bell?
Well, if you have ever ordered one of these rolls or even thought about it, listen up. These rolls likely have one thing in common and I'll give you hint, the key ingredient comes from a farm... a big aquafarm loaded with antibiotics, dyes, toxic pesticides and other harmful chemicals. This is where most of the salmon in this country comes from and where most sushi restaurants get the fish for their famous rolls.
Farming salmon has become the most popular method of bringing this fatty fish to your table - but not without health and environmental risks. If you haven't already started to think about what kind of salmon you are consuming and spending your hard earned money on, it's time to eat with your dollars. Here are three reasons why:
1) Farmed salmon are less nutritious. In many cases, farmed salmon are not fed their typical diet of krill, shrimp and other fish, so it's very hard for them to get the same amount of healthy Omega 3 fatty acids that are crucial to protect you from heart disease, arthritis and depression, which is the whole reason to eat salmon in the first place! Farmed salmon is often fed a mixture of highly contaminated fish meal and fish oil mixed with corn and soy products, because it is cheap and helps fatten them up to produce more meat to be sold to you and me. This produces horrible side effects - it turns the salmon gray, because they are not eating creatures that make their flesh naturally pink. In order to fix this, salmon farmers are allowed to feed the fish supplements to help dye the salmon pink like the color of wild salmon. Corn and soy do not grow in the oceans for a reason. Wouldn't you think the color changing would be a huge sign of a malnourishment for the fish? Well, it's not only a sign but it's a proven fact. When you look at the level of nutrients that are left in farmed salmon as the Environmental Working Group reported, you'll realize their natural balance of Omega 3 fatty acids is disrupted, and you lose the benefits of eating this normally very nutritious fish.
2) Farming salmon is destroying the environment. It takes 3 pounds of fish to make only 1 pound salmon. The majority of farmed salmon are treated with antibiotics and pesticides to keep them "healthy" and prevent algae overgrowth. These antibiotics and pesticides are passed down to us, which is bad enough, but then they end up polluting the environment and nearby oceans, rivers and streams. The pesticides poison other creatures who maintain the seafloor for continued life. Then the antibiotics further disrupt the balance by killing beneficial bacteria which are crucial for the ecosystem.
3) Farmed salmon contains high level of toxins. Many species of farmed salmon are intentionally fattened allowing PCB or Polychlorinated Biphenyls, a toxic cancer-causing chemical to accumulate more rapidly in their tissues. To give you a sense of difference in fat content, Atlantic-farmed salmon has 12 grams of fat and wild coho typically only has 4 grams of fat per 100 grams.
OceansAlert.org states that it's not safe to eat farmed salmon more than once a month because of the high level PCBs. The Environmental Defense Fund echos that and states that farmed salmon is the worst possible choice you can make because of the impact on the environment.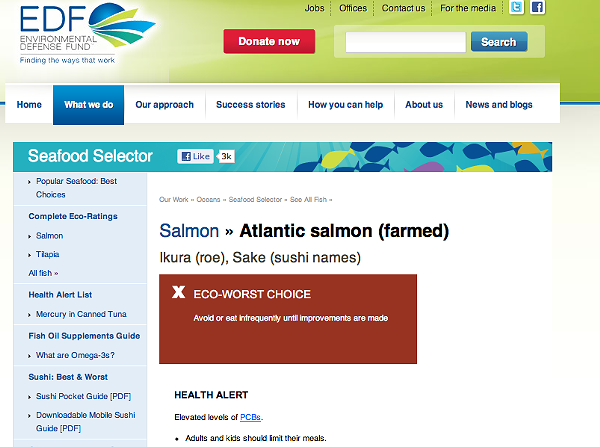 So how do you EAT with YOUR DOLLARS the next time you go out for sushi?
* Always inquire where your salmon comes from. The restaurant is required to know this information and share it with you. Don't be shy.
* Instead of farmed salmon, order a sustainable fish. The Monterrey Bay Aquarium has a great app that will help you choose a safe kind before you order.
* Check out New Zealand Cafe. To date it's the only sushi restaurant I know of in town that sources wild salmon. (If you know others, please share in the comments)
* When all else fails, go vegetarian. My favorite sushi chef Yasu at Nikko can make you the off the menu "Food Babe" roll - full of every kind of vegetable and made with no rice, served with garlic mayo and sriracha on the side.
Sayonara!
P.S. Check out more Eat With Your Dollars Sushi Secrets here.

A management consultant by day and food activist blogger by night, Vani Hari has been featured here on CL's 2012 Lust List, the Charlotte Observer, and the New York Times. She has made it her mission to spread as much information about what is in food as well as how to make the right purchasing decisions at the grocery store and how to live an organic lifestyle on her blog Foodbabe.com.