I like to think I'm an open-minded kind of guy. I listen to other people's viewpoints; I try damn near any food I can put near my mouth; I even let people get through the whole YouTube song they wanted to play for me before I tell them their musical taste is complete shit.
I'm a downright egalitarian.
But there are a few things that I absolutely, positively will not budge on, and this is one of them: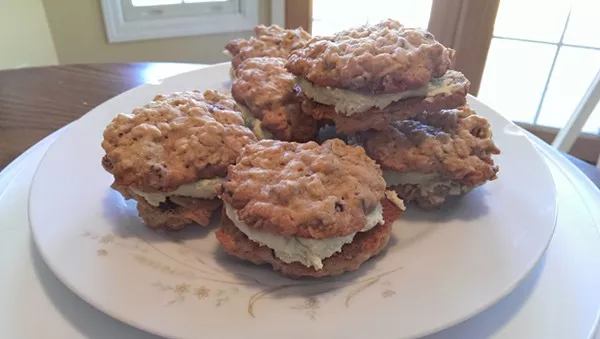 Oatmeal chocolate chip cookies are far superior to oatmeal raisin cookies.
I will go to war on this point. There'll be knives flying through the air and Anderson Cooper will be there rescuing refugees from my kitchen. We're talking full, nationwide coverage, people.
And here's the reason: Oatmeal cookies are already chewy. That's the whole point, and that's what makes them so delicious. It's all the warmth and softness of a bowl of oatmeal in your hand. Raisins are ALSO chewy. They're chewy as SHIT. So when you put two and two together, you get the goddamned chewpocalypse in your mouth. It's boring, uni-textual cookie snores. Yawn.
Chocolate, on the other hand, breaks up your cookie experience, both literally and figuratively. You get that nice, gooey pull-apart effect you see on those excessively food-porny close-ups on the Nestle Toll House commercials, and you get the silky texture of chocolate to break up the rougher oats. It just works, people.
Plus, it's fucking chocolate. And green tea frosting. What more explanation could you possibly need?
Here's what you need:
Cookies
- 1 stick butter (room temp)
- ¾ cup packed light brown sugar
- 1 egg
- 1 tablespoon milk
- ½ tablespoon vanilla extract
- ¾ cup and 1 tablespoon AP flour
- ¼ teaspoon baking powder
- 1 large pinch sea salt
- ½ cup dark chocolate chips
- 1 ½ cups oatmeal (don't use the instant kind)
Frosting
- 2 tablespoons matcha powder (otherwise known as green tea powder, Trader Joe's or any Asian market has it)
- ¾ stick butter (room temp)
- 1 ½ cups powdered sugar
- 1 ½ tablespoons heavy cream
- 1 teaspoon vanilla extract
Directions:
First, preheat your oven to 350.
Cream together the butter and sugar in a stand mixer until fluffy, about 2-3 minutes on medium.
Add the milk, egg, and vanilla, and mix those in, too.
Mix in the flour, then gently mix in the oats and chocolate chips, just until combined.
Scoop the cookie dough onto a couple of baking sheets lined with parchment and stick them in the oven for around 12 minutes. Remember, you want these cookies to be nice and chewy, so take them out just when they start to look golden brown.
Let them rest on the sheets for 2 minutes, then let them cool down to room temperature on cooling racks while you do the frosting.
For the frosting, first cream the butter in your stand mixer. Again, medium speed, 2-3 minutes.
Add the powdered sugar, and mix on low.
Add in the rest of the ingredients and mix on high for 3 minutes.
Spread the frosting on half the cookies, top with the other half, and top your mouth off with some flavor.
Here's some extra flavor from the sublime Nujabes (RIP). It's "Sea of Cloud":
All of you people who're (wrongly) on the side of the raisin: I get it. You want something vaguely healthy that your kid will eat after soccer practice, or you want to feel moderately less guilty for eating five cookies in a row. But trust me, and give it the 'ol Pepsi Challenge. Try the chocolate ones. And come over to the light side. Or dark, I guess, since it's dark chocolate. Just eat the fucking things, alright?
I'll see you next time.
When Scott Greenberg isn't baking - which is pretty much never - he likes to obsess over music, play Street Fighter and yell at kids to get off of his lawn. You can find more of his recipes at Fresh Beats, Fresh Eats.