I stopped by Savor Cafe and Catering on Morehead Street (across from Open Kitchen) for lunch today. The tiny restaurant was bustling with a big lunch crowd even past 1 pm. Artsy designer types along with quite a few older folks dined on BBQ Chicken, casseroles, and sandwiches.
With the desserts of the day winking at me from the big blackboard on which they were written in chalk, I spent my lunch trying to decide what dessert to order. Next time I just might skip lunch altogether and just go for dessert.
If you go, be sure to save room for dessert. Of the five desserts listed, I tried three – and they were all lick-the-plate delicious. Compared with desserts on the menu like "Kicked Up Key Lime Pie" and "Mile High Peanut Butter Pie" the banana pudding seemed like the humble dessert without a fancy name. Well, it was anything but. Assembled in a ramekin, it was chilled creamy goodness with a layer of caramelized meringue on top. Best banana pudding of my life, hands down.
Read Creative Loafing's Food Critic Tricia Childress' review of Savor Cafe here.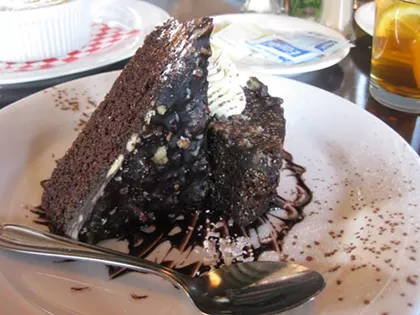 8 slides
Savor Cafe and Catering
1404 W Morehead Street
Charlotte, NC 28208
(704) 334-0098