After perusing the menus of all the restaurants participating in this summer's Charlotte Restaurant Week, which started last Friday, July 16, I decided to go back to The Liberty Gastropub again.
Their winter CRW menu was a hit, so why not go back to ol' faithful, I figured. The Liberty is comfortable, unpretentious, nice, yet not dressy, and always serves up interesting dishes that go beyond the ordinary. Check out their $30 restaurant week menu below.
Appetizer (choice of one)
Split Creek Farms Goat Cheese - heritage tomatoes, Vidalia onion salad

Sweet Maine Shrimp & Peeky-Toe Crab Cake - curry, new dug potatoes, English peas

Crispy Black Berkshire Pork Belly - radish, Puy lentils, local figs, Red Mountain honey

Salt-Roasted Heirloom Beets & Carrots - grilled Burrata, jamon serrano, aged balsamic
Main (choice of one)
Griddled Maine Diver Scallops - fresh field peas, Silver Queen corn, lomo embuchado

Roast Free Range Goosnargh Chicken - Benton's bacon, potato dumplings, baby carrots, young leaves

Roasted Wild Scottish Salmon - littleneck clams, melted leeks, "chowder" sauce

Roast Rib of Black Angus Beef - Yorkshire pudding, fingerling potatoes, rosemary, creamed spinach, horseradish, Coleman's English mustard
Hot & Cold Puddings (choice of one)
Raspberry, Bramley Apple & Almond Crumble - with Welsh custard

Bitter Valrhona Chocolate Pot - vanilla thin biscuit

Blueberry & Lemon Curd Tart - buttermilk ice cream

Potted Cheddar Cheese - with fig chutney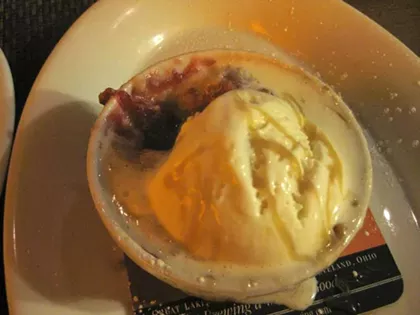 10 slides
What we ordered: Pork belly, crab cake, scallops, roast rib, apple and almond crumble and the blueberry and lemon curd tart.
Thoughts: The appetizers were both good, but the crab cake was probably better than the pork belly, which was extremly crispy, but a bit dry.
The three scallops were ginormous and were cooked to perfection, though the succotash-like corn/bean mix was heavy on the butter. The roast rib was decent and the Yorkshire pudding was interesting, but nothing memorable.
The blueberry and lemon curd tart was definitely not what I expected. I was hoping for a pastry dough tart crust filled with a lemon curd custard and fresh blueberries – what we got was an upside-down mini blueberry pie type thing with runny lemon filling between whole blueberries. I'd say pick the crumble dessert over the "tart"... it's served warm with a giant scoop of vanilla ice cream on top. Anything with ice cream makes me a happy camper.
Somethings to note: The online menu isn't exactly the same as the menu in the restaurant. The online menu lists potted cheddar cheese as a dessert option, but the item wasn't listed on the printed menu. Also, instead of the Bitter Valrhona Chocolate Pot, they offer a cake version instead.