Located in the old Charley's location in Cotswold Village Shops is the new restaurant Table 274. (Read Tricia Childress' review here.)
The restaurant features items from local farms and amongst its offerings are an assortment of starter salads, soups, cheese plates, small plates (seared pork belly, beet pasta ravioli, scallops, mussels, etc), burgers, flat breads, pastas, and larger protein-heavy entrees. As you can see, there is a bit of everything on the menu.
When I stopped by for dinner, the meal started with an overly buttery bun that bordered on being a biscuit. The service was spotty, but I could tell the server was earnestly trying.
For my meal, I went with a salad and mussels. The bib wedge salad was pretty standard - lettuce, bacon crumble, a few spiced pecans, red onion, and buttermilk blue cheese dressing ($7). Dressing was pretty tasty – my dining companions ended up dipping random pieces of toast into it throughout the meal.
The mussels come in three varieties – saffron, basil tomato, and white wine. I went with the mussels in white wine sauce ($10). Served with two large pieces of toasted bread, the sauce was flavorful and the dish was decent. My only wish was that the mussels be a bit meatier.
Dessert was the best part of the meal. The peach crisp was served warm with a heaping scoop of vanilla bean ice cream on top.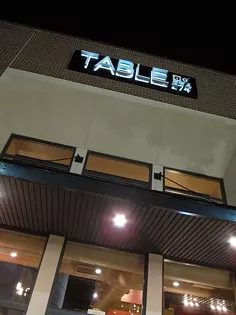 12 slides
Table 274
274 S. Sharon Amity Road
Charlotte, NC 28211
704-817-9721