Superfoods are "super" because they have an extraordinary ability to provide the body with huge amounts of nutrition in one packed punch and protect your body from free radicals and carcinogens. Including them in your diet is essential in this day and age due to our soil being depleted of key vitamins and minerals. Remember, eating a piece of broccoli now vs. 20 years ago does not yield the same amount of nutrition. It's crucial that we try to overcompensate this fact by consuming as many nutrient dense foods as possible!
Luckily, living in Charlotte gives you great access to some of my favorite superfoods. Add them to your diet now to see your health sky rocket.
Kale : This leafy green has powers in fighting cancer and is considered the world's No. 1 superfood. Kale has the ability to strip the liver of toxins and kick out carcinogens from your blood. Kale has twice as much Vitamin A than a carrot. I eat kale every day — it is the base of my everyday drink called the "Hari Shake."
Get it Local: Fern has the most decadent way to enjoy this superfood in town. The Warm Kale Salad consists of wilted kale, carrot ribbons, roasted beets, black sesames & beet vinaigrette warm herbed chevre cakes.
Raw Cacao: Eating raw cacao gives you a blast of serotonin, endorphins, phenylethylamine, tryptophan and anandamide, which all work together to give you an overall sense of well-being, bliss, pleasure and pure happiness. Eat it raw, and you'll be consuming one of the highest concentrated antioxidant on earth and flying high. I love to add it smoothies, cookies and trail mixes.
Get it Local: Healthy Home Market's Raw Food Chefs Ryan and Ami are always coming up with new raw desserts that are available in the grab and go section near the Juice Bar. Raw Cacao is a staple in many of their chocolatey treats including (my favorite) Coconut Congo Bar.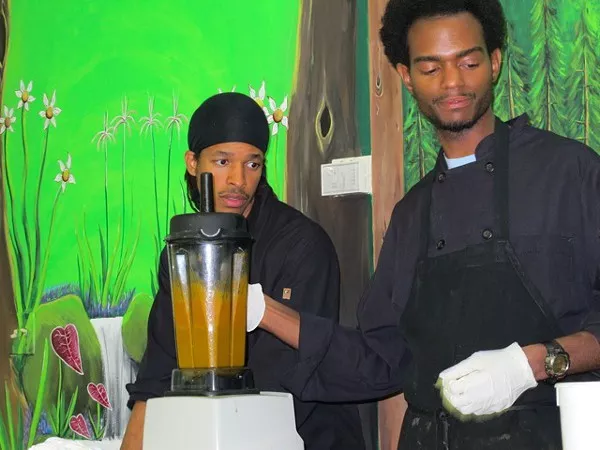 Goji Berries: Used traditionally in Chinese Medicine, goji berries can make your body glow by allowing your skin to absorb more oxygen. Goji berries help improve circulation in the body and moving bacteria and viruses out of the body by strengthening your immune system. These berries also contain more iron than spinach, more beta carotene than carrots, and more protein than whole wheat. I eat these dynamic berries instead of raisins in my Parfait Porridge, trail mix or straight up for chewy dessert.
Get it Local: Viva Raw has started to expand its offering beyond just selling juice. They have a very tasty Goji Granola made with a dehydrator set to 105 degrees, which preserves beneficial nutrients and live enzymes. The mix includes goji berries, oats, raisins, sunflower seeds, pumpkin seeds, coconut, dates, cinnamon and summer juice (orange, apple, carrot, cucumber, and ginger).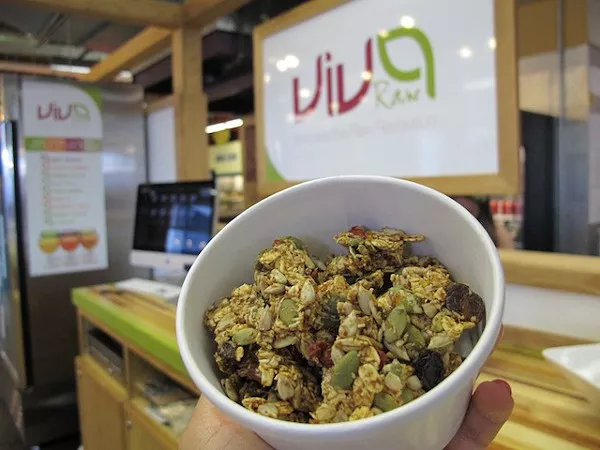 Chia Seeds: These seeds can grow 10 times their weight in size when combined with liquid, which helps the body stay hydrated. The word "chia" comes from the Aztec word that means "oily" — the oils found in this small little round seed is the secret to its health benefits. Having the most content of omega 3 fatty acids of any plant food, they fight inflammation in the body, reducing the chance for heart disease, Alzheimer's, and depression. I top off smoothies, salads, and bake with these mighty seeds.
Get it Local: Luna's Living Kitchen Chocolate Pudding puts JELLO to shame. Made with young coconut meat and natural sweeteners, you can enjoy this amazing dessert guilt free.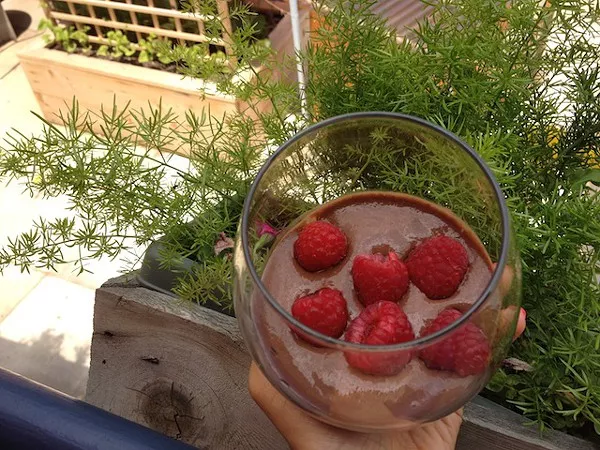 Want to try these superfoods at home? Check out Berrybrook Farms, Healthy Home Market, and Earth Fare.
A management consultant by day and food activist blogger by night, Vani Hari has been featured here on CL's 2012 Lust List, the Charlotte Observer, and the New York Times. She has made it her mission to spread as much information about what is in food as well as how to make the right purchasing decisions at the grocery store and how to live an organic lifestyle on her blog Foodbabe.com.