When I told a friend recently that my next post was going to be on avoiding genetically modified organisms (GMOs) at restaurants, he responded "good f*&*ing luck!'" It's nearly impossible to avoid GMOs if you are eating out, and my friend's reaction illustrates exactly how dire the situation has become here in America.
Since it's a serious feat to avoid genetically modified foods, I investigated all of my favorite restaurants here in Charlotte. Of course, I found GMOs being used at almost every single one. There were only two eateries that were 100-percent clean of GMOs:Luna's Living Kitchen and Viva Raw.
As I was echoed in the New York Times this week, Luna's Living Kitchen is one of my favorite restaurants. It's the most truly organic place in Charlotte and if you are visiting in town this week for the Democratic National Convention (DNC), having breakfast there is a must. My favorite option is the organic coconut milk iced coffee (the ice cubes are handily made from coffee, so your caffeine buzz doesn't get watered down) and the raw bagel with cashew cream cheese pictured below. They also have a coconut yogurt parfait that is to die for, if you are looking for something sweet to start your day.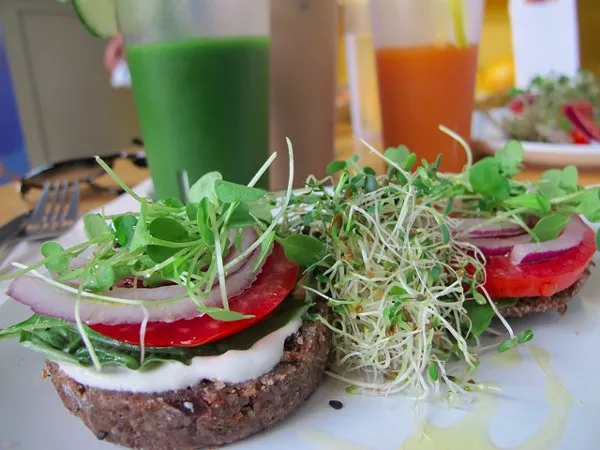 Viva Raw, located in 7th Street Public Market, is not an actual restaurant; however, they do have an awesome bar you can sit at and sip their fresh local and organic pressed juice. They also sell some pretty incredible raw snacks that are free of genetically modified ingredients. You can definitely get your fill of nutrients here, and it's a place I've been frequenting a lot lately. For me, the "Pure Green" juice and their Goji Berry Granola make a really terrific meal on the go. This week they are running a special menu item in honor of the DNC that I am dying to try — it's called the "Barackly," named after President Obama. It's got broccoli, cucumber, apple, green pepper, celery, onion, lemon, rosemary, garlic, and jalapeño. What a combo of ingredients, right?!
There are two places, also in 7th Street Public Market that deserve honorable mentions, as they are almost GMO-free. The local and mostly organic Pure Pizza right now uses a conventional soy oil-based spray on the bottom of their dough, but will be switching this to an olive oil-based spray in two weeks. And Not Just Coffee is hands down the cleanest place to get a cup of organic coffee in Charlotte. They use homeland creamery for their milk, which I wasn't able to verify if the soy/corn feed they mix with the hay & grass to feed the cows was GM or not.
In the meantime, I've got a busy week ahead here in Charlotte. As I mentioned, the DNC is in town and I'm not just partying. I am an elected delegate to the convention representing the 12th Congressional District of North Carolina. I plan on spending every waking moment talking to the political leaders who influence food policy here in America — especially Secretary Tom Vilsack, the head of the USDA. I'll be tweeting real time updates all week — follow me!
HOW TO AVOID CONSUMING GMO'S WHEN EATING OUT
1. Unless labeled or listed organic (or from a reputable local farm the restaurant can verify doesn't use GMO seeds or feed), I suggest avoiding these 8 genetically modified (GM) foods when dining out:
Corn
Soy
Sugar (beet sugar — i.e. refined sugar)
Papayas (from Hawaii)
Canola
Cotton (cottonseed oil)
Dairy (conventional American cow's milk and cheese)
Zucchini/Yellow Squash
Conventional Meat (They are fed GM corn & soy)
2. GM corn, soy and canola oil are the cheapest for restaurants to purchase. Ask your server about the oils they use to make your food — this is where GMOs are hidden in almost everything from salad dressings to soups to pan or deep fried items.
3. Know the exceptions: Ask if the cheese is imported. A cheese from France means you are safe from rbGH — genetically engineered growth hormone and genetically modified ingredients, as this country has banned GMOs all together.
4. Look out for these hidden GM ingredients: Amino Acids, Aspartame, Ascorbic Acid, Sodium Ascorbate, Vitamin C, Citric Acid, Sodium Citrate, Flavorings ("natural" and "artificial"), High Fructose Corn Syrup, Hydrolyzed Vegetable Protein, Lactic Acid, Maltodextrins, Molasses, Monosodium Glutamate, Sucrose, Textured Vegetable Protein (TVP), Xanthan Gum, Vitamins, Yeast Products.
5. Unless the sugar they use to make desserts is 100% pure cane, it's likely from GM sugar beets
6. Consider having the Non-GMO Shopping Guide in your purse or pocket that has a list of GM ingredients that you want to avoid and give it to your waiter or even call ahead. If more people did this, maybe restaurants would start to pay more attention to the products they buy.
(If you don't know why consuming GMOs creates serious health risks, please read this PDF from the Institute of Responsible Technology to get up to date. )
This post originally appeared on Vani's site Food Babe. Read more here.