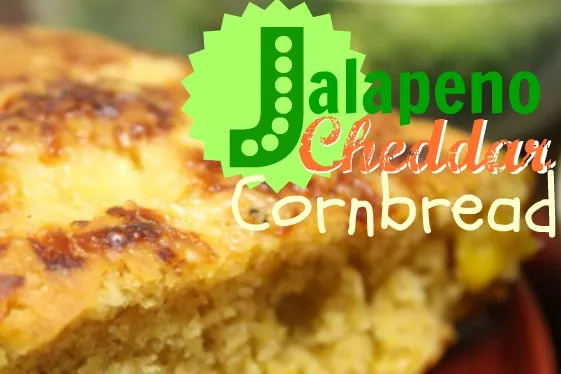 Jalapeño Cheddar Cornbread
I have a deep dark dirty secret to share with y'all. As Southern as I may be, I have something quite sacrilegious to reveal about myself.
I like sweet cornbread.
There. I said it.
While I prefer my chicken fried and my tea sweet, my preference for cornbread aligns with that of someone who has lived elsewhere. Not that of a tried-and-true North Carolinian, who loves mealy and savory cornbread.
Quick lesson in Southern cuisine for you transplants:
- sweet cornbread = Northern
- non-sweet cornbread = Southern
Bake in a cast iron skillet for best results
Not only do I like my cornbread sweet, I like it a bit on the cheesy and spicy side — a perfect marriage of complex flavors. I'm a simple girl, but my cornbread is not. It's crusty and crumbly with rich cheddar cheese and a kick from a jalapeño. It has just a touch of sweetness from agave, which you may sub with your sweetener of choice (honey, sugar, etc.).
No sir, my cornbread does not show my roots, but I'm not ashamed. Take one bite of it this sweet crumbly bread and you'll know why.

JALAPENO CHEDDAR CORNBREAD (serves 6-8)
1 cup cornmeal
1/2 cup whole wheat flour
1/4 cup unbleached all purpose flour
1/4 cup agave syrup
1 Tbsp. baking powder
1 tsp. sea salt
1 cup skim milk
3/4 cup grated cheddar cheese
1 egg
1 1/2 cups corn
1 jalapeno minced (de-seeded and membrane removed)
non-stick spray
Heat oven to 375 degrees F and place cast iron pan in oven to warm. Disregard if using another baking dish. Mix dry ingredients: cornmeal, flour, baking powder, and salt. Mix dry ingredients in a separate bowl: agave, milk, egg. Add wet ingredients to dry and mix well. Stir in minced jalapeno.
Remove cast iron pan from oven and spray with non-stick spray. Pour cornbread batter into pan. Sprinkle cheese on top. Cook for 25-27 minutes or until you can insert a knife in the center and it comes out clean.
If your fridge is full of corn like mine, check out my other recent recipe post using corn: Roasted Veggie Quinoa Salad.
Kelly Davis is a blogger, freelance writer, food enthusiast, and native North Carolinian. When she's not training for a race or cooking something delicious in the kitchen, she's writing, reading, snuggling her dachshund, or plotting her next project. You can keep up with Kelly's antics and recipes on her blog, Foodie Fresh.