Even though the weather in Charlotte has cooled down to a bearable 80-something degrees, I'm still loving smoothies for breakfast. They're especially wonderful those days that I do not have time to sit down and eat a proper breakfast at the kitchen table. They're so easy to sip in the car. I'm typically a sweet breakfast kind of girl. Even if I have eggs, I like to have some fruit alongside them. It would be great if I could get some vegetables into my breakfast. But how do I do that, when I wake up craving something cold and sweet every morning?
Green smoothies to the rescue!
A lot of people don't believe me when I say that you can add leafy green vegetables to your smoothie and can't taste a difference. I swear, it's like they're not even there. I don't have to tell you about the benefits of leafy greens, but here goes: They have a significant concentration of vitamins and minerals, are low in calories, and as my mama would say, "They make you pretty."
But let me assure you, one more time, because it bears repeating — if you add a cup of less of greens to your smoothie, you will not be able to taste them at all. Plus you'll reap all the benefits of eating a salad for breakfast.
And just to get you started, I'm giving you a two for one deal today — two recipes for the price of one blog post.
Check them out. They're incredibly delicious!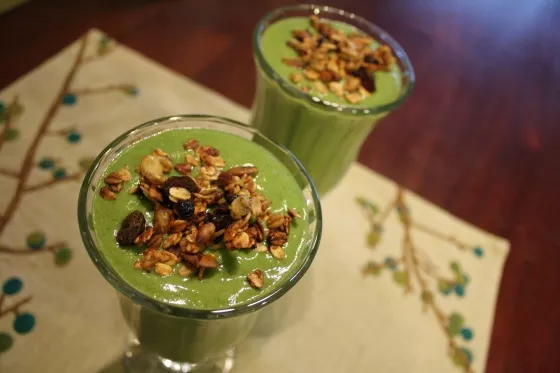 PUMPKIN PIE SMOOTHIE (serves 1)
1 cup unsweetened vanilla almond milk
1/2 banana*
1 cup spinach*
1/3 cup canned pumpkin
1/2 cup low fat vanilla yogurt
1/4 teaspoon real vanilla extract
1/8 tsp. pumpkin pie spice
1/8 tsp. cinnamon
sweetener to taste (optional)
Blend together and enjoy cold.
*Frozen is best.
Coffee & Coconut Smoothie

COFFEE AND COCONUT SMOOTHIE (serves 1)
1 cup vanilla unsweetened almond milk
1/2 banana*
1/4 cup unsweetened shredded coconut
1 scoop vanilla whey protein
1 heaping teaspoon instant coffee
3/4 cup frozen spinach*
sweetener to taste (optional)
Blend everything together and enjoy cold.
*Frozen is best.
I like to top this with my homemade almond coconut granola.
So why the "frozen is best" note at the end of every recipe? Because by using frozen fruit and spinach, you can avoid using ice. Ice helps bulk up the smoothie, making it thicker, but it also waters down the taste. By using frozen fruit and spinach, your smoothie will get so thick, you might have to eat it with a spoon.
I also make a note to use sweetener to taste because some people prefer their smoothies sweeter than others. I typically use a bit of stevia, but honey, agave, or just plain ol' sugar would work fine too.
And of course, you're always welcome to use the milk of your choice. Soy milk, rice milk, coconut milk, or cow's milk are great substitutions and won't change the consistency or taste of the smoothie. You will want to add a little extra vanilla extract (1/4 teaspoon) to get that vanilla flavor.
Obviously spinach is my favorite green (because it's easy to find in the frozen section of most grocery stores), but I've also tried kale and tatsoi (an Asian spinach-like leafy green). I recently heard through the grapevine that people are even putting broccoli in their smoothies. I'll have to try that and get back to you.
So here's my challenge to you: try one green smoothie this week. Start out by using only 1/4 cup and see if you notice a difference. Next time, add a bit more. Work your way up until you see what you've been missing — a frothy, creamy, thick smoothie that tastes like a milkshake and just happens to be bright green.
Kelly Davis is a blogger, freelance writer, food enthusiast, and native North Carolinian. When she's not training for a race or cooking something delicious in the kitchen, she's writing, reading, snuggling her dachshund, or plotting her next project. You can keep up with Kelly's antics and recipes on her blog, Foodie Fresh.