*Editor's Note: This event was originally slated for April 27 but has been rescheduled to May 18.
The folks at JJ's Red Hots (located at 1514 East Blvd.) know what makes a good hotdog. During March and April, though, they let a few beer connoisseurs come up with their own creative takes on the classic dog. These creations have alternated being featured on JJ's menu for the past few weeks. On May 18, from 4 p.m.-8 p.m., JJ's customers will choose the best dog at their SpringFest 2013.
The top three selling hot dogs from the past two months will compete against two surprise hotdogs created by JJ's. Customers can purchase tickets to judge the hotdogs and will be granted as many samples as they like to make their choice for best dog.
So far, the three dogs in the lead are:
* The Chips On Your Shoulder Dog, created by Jason Glunt from Salud Beer Shop, featuring pulled pork, slaw, crumbled chips.
Michael Newton Photography
The Chips On Your Shoulder Dog
* The Put That in Your Pipe Dog, created by Daniel Hartis from Charlotte Beer , featuring smoked cheddar, bacon, chipotle ketchup and red onion.
Michael Newton Photography
The Put That in Your Pipe Dog
* The Kaiser's Revenge, created by Ryan Self from Old Mecklenburg Brewery, featuring OMB Copper beer cheese, fried jalapenos, onion rings, and rocket sauce.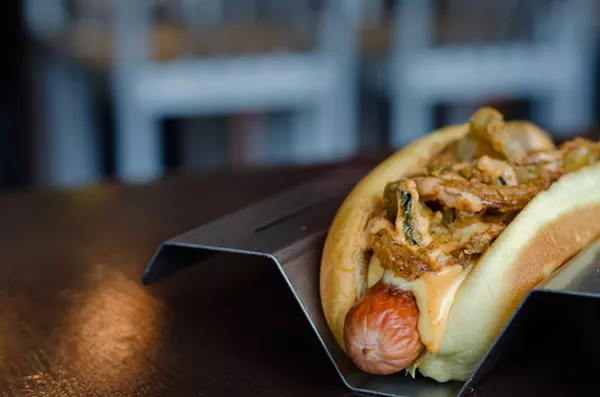 Michael Newton Photography
The Kaiser's Revenge Dog
Two more hotdogs will be showcased on the menu before the event, so two of these contenders may get knocked out of the running.
To be a part of the judging process, there are three different tickets that can be purchased on the event's Eventbrite website.
- All You Can Eat Hotdogs + Two Craft Beer Tickets: $20
- All You Can Eat Hotdogs (no beer): $15
- Kids 7 and under: $5
Tickets can also be purchased at JJ's Red Hots the day of the event. However, participants who purchase tickets ahead of time will receive a special gift. (Please note that although there is a fee incorporated into the ticket price on Eventbrite, JJ's is eating that cost - no pun intended.)
In addition to the hot dog competition, JJ's will also unveil its new rooftop deck complete with a full service menu (no waiting in line) and a beer bar. The new Frank the Tank hotdog cart will also debut in JJ's Red Hot's tented parking lot, where the event will be held, rain or shine.
For questions, please contact Brandy Newton at bnewton@jjsredhots.com or call JJ's Red Hots at 980-225-8880. For more information check out their SpringFest 2013 Facebook event page.