Funds to Farms, a grant program to fund local food programs that began last January in Durham, will hold its first event in Charlotte this Sunday.
Funds to Farms is the brainchild of Slow Money, a nonprofit that focuses on alternative financing for local food and agriculture projects. Organizations that focus on local food (like farms, restaurants and meal delivery services) are encouraged to apply for the grant to fund their "big idea." Judges then narrow down the eligible farms, ranking each "big idea" on the impact to the business (farm, restaurant, etc.), as well as their commitment to sustainability and sustainable agriculture.
"For $20, you get a great dinner, support these awesome farmers, and learn about all the innovative things they are doing in farming," says Amy Campbell of Slow Money. "We started this event series in conjunction with the Carolina Farm Steward Association, and it went so well that we started getting calls from people all over the state to know how they can get involved."

Three farms were selected to present their ideas at the May 12 event, which will be held at Triple C Brewing Company and catered by Roots Farm Food. These farms are:
- Birdsong Farms
- Cold Water Creek Farms
- Bountiful Harvest Farm
You can read more about the farms and their proposals here.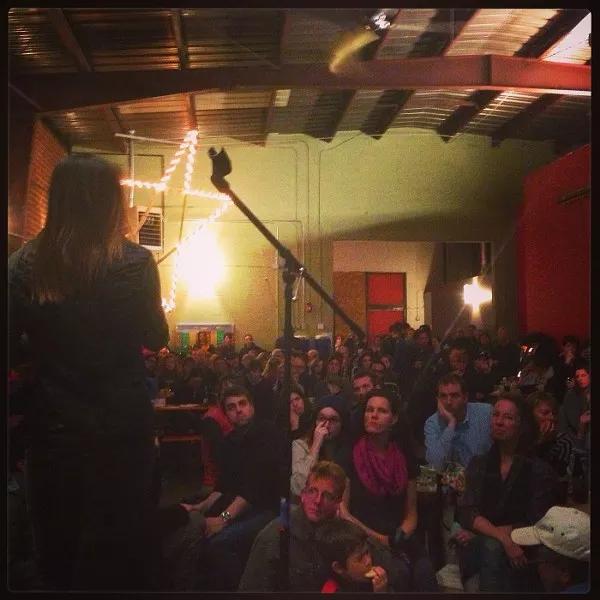 Funds to Farms
A farmer presents at the Durham Funds to Farm event held last January.
The farms' proposals are voted on by the event attendees and ranked first through third place. First place will receive the largest winnings. However, the winnings will be determined the night of the event based on the amount of money raised through ticket sales and donations. The first place winner of the Funds to Farm held in Durham last January took home $1,000 in winnings to purchase a a Komo small grain mill, seed cleaner, and seed sorting screens.
What: Funds to Farms Dinner
When: Sunday, May 12, 6:30 p.m. - 8:30 p.m.
Where: Triple C Brewing Company, 2900 Griffith St.
Cost: $20 for the public, $15 for farmers (limited amount)