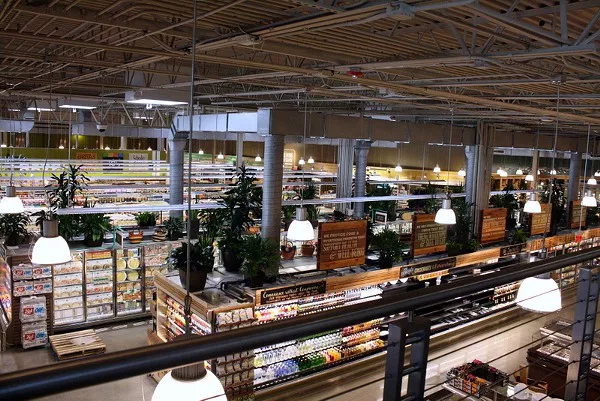 Bird's Eye View of the First Floor
On Wednesday, Aug. 29 (that's tomorrow!), the new Whole Foods Market will open at 8 a.m. with a FREE breakfast and an official bread breaking ceremony with Mayor Foxx at 8:30 a.m. The new store is located at 6610 Fairview Road, adjacent to Phillips Place in the SouthPark neighborhood.
I was invited to a special behind-the-scenes sneak preview yesterday and learned what makes this particular Whole Foods Market (WFM) so special. I've been a huge fan of WFM for years, making stops at their locations in Chapel Hill, Durham and Raleigh when possible, and am thrilled that Charlotte will now have its very own. It's about time!
Like a lot of groceries, WFM puts out samples throughout their store like this hatch chili salsa. Samples were out in full force yesterday for the enjoyment of those participating in the sneak preview tours.
Besides food, my tour group learned that WFM isn't just about whole foods, but whole living. They support this through their Whole Body section that has an apothecary style station for soaps and other products for the body and a gardening section.
One of the things I am most excited about with the opening of WFM is their huge assortment of bulk bins. For those of you who are not familiar, customers can purchase anything from dried beans to nuts, exotic dried fruit and mushrooms to quinoa, whole wheat flour to stone milled grits. Bulk bins are often cheaper than the exact same food in a prepackaged container, better for the environment (because you can bring in your own containers), and allow you to purchase only what you need.
Purveyors of WFM will find a cooking and learning station in the bulk department called "Cooking Charlotte." Here, a part-time Cooking Coach is available to give cooking tips and answer all of your probing cooking questions, like "What do I do with a Fava bean?" And, "Is Himalayan sea salt worth the extra expense?"

My heart skipped a beat a little when we wandered past their GIGANTIC display of chocolate bars. I'm a self proclaimed chocolate fiend and love to savor one really good dark chocolate bar a little at a time. New-to-me flavors combinations (like chili + chocolate) and different brands are one of my favorite grocery store splurges. The selection at this particular WFM is extensive.
My tour group also got a chance to sample some of the chocolate truffles from various artisan chocolate shops, carried by WFM such as sea salt dark chocolate caramels and smoke sea salt milk chocolate caramels. Amazing.
The typical Charlottean knows a thing or two about organic produce, but meat and seafood tend to be a bit trickier. The generic Charlotte grocery labels its organic produce, but the butcher typically has no idea about the origin of the meat or seafood. WFM does a much better job than the typical grocery store chain at educating customers about the quality and origins of their animal protein.
With seafood, it can be particularly confusing. Wild versus farmed isn't always black and white. Whether a fish is sustainably farmed/fished can depend on the origin of the fish (think Pacific versus Atlantic). WFM has taken a lot of the guesswork out of this with their relatively new adoption of the rating system of two well-known institutions that promote fishing sustainability. You can read more about that here.
To make a long story short, red is bad (not sustainable), yellow is OK (kind of sustainable), and green is best (sustainably raised). WFM doesn't carry red labeled seafood and all others are clearly marked yellow or green.
WFM audits its meat producers to rate them on a tiered system with a rating of step one being the lowest and step five being the highest. All of their beef, pork, and chicken's ratings are clearly displayed on its labels.
Farms that receive a step one rating have been audited to show that "animals live their lives with space to move around and stretch their legs." Step five rating (the highest) means that "the well-being of the animals is the primary focus; efficiency and economy are secondary." Technically, there is an even higher rating to which farms can aspire — a step five plus rating means that all the requirements have been met for the step five rating, but also, "animals must be born and live their entire lives on one farm." You can read more about the various steps here.
In addition, dairy products are also clearly labeled as organic, free range, cage free, and/or local. Artificial ingredients are a no-no, and WFM has created an unacceptable ingredient list, which you can find here. You will not find these ingredients in any product at WFM.
One of the things that sets the Charlotte WFM apart from other grocery stores and is unique to only a select number of other Whole Foods is an in-house cooking school. The Salud cooking school is open to the public and classes range in price from $15-$65.
Both cooking classes and demonstrations will be offered by their in-house chef, guest chefs, and cookbook authors. The options range from very hands-on cooking to more observation-type classes where participants can simply watch while sipping a glass of wine.

I count myself very lucky, not only to get the exclusive behind-the-scenes look, but also to get the opportunity to taste an example of what one might learn to make at a Salud cooking class. We sampled a classic French Claufouti, made Charlotte and seasonally appropriate with the addition of muscadine grapes, rather than the traditional cherries.

Cooking classes are customizable and can be arranged for special events like ladies' night out. Salud also offers "date night" cooking classes and kid-friendly classes.

The Queens Corner Bar was the most surprising and exciting part of the sneak preview of the new Whole Foods. Yes, this grocery store has a bar.

The bar will offer four rotating NC beers and several wines. Additionally, there is a second floor wine loft, featuring an enomatic wine machine. Customers can put money on a card for the wine machine at the bar downstairs, then head upstairs to sample the 24 featured wines (16 red and 8 whites/rosés). Additionally, the wine section of WFM features more than 600 wines.

If hunger strikes during your wine/beer detour while grocery shopping, you can grab cheeses and/or charcuterie, and other locally sourced specialties from their small plates menu. If you like what you eat, have the bartender point you in the right direction and you can purchase the ingredients to duplicate the dish at home.

If you're looking for heartier fare, check out the expansive prepared foods section featuring a salad bar, hot foods bar, and a long display case of everything from NC pulled pork (smoked in-house), customizable wraps, sushi, pizza, and 18 different flavors of gelato.
WFM will also house a juice bar. The juice bar will have a pre-set menu and many of the popular mixes will be pre-made.

The wine and beer bar might make you think WFM is so very adult, but let's not forget this is a grocery store and kids are often in tow. WFM has a special kid-friendly area so children can entertain themselves while their parents grab a bite. This area is still being thrown together but is expected to be ready tomorrow for the grand opening.
It's obvious that WFM has put a lot of thought into their new Charlotte location, considering what Charlotteans want in a store and going even beyond those expectations. One of the things I am curious to see is the amount of local products that will be offered. North Carolina has a lot to offer in produce, meats, seafood and prepared food products, but I'm hoping for a focus on the local Charlotte area.
Let's get real: WFM is not a farmers market. It cannot offer local goods exclusively. But they can put an emphasis on further supporting local farms and businesses by making local goods a priority. Check out their local foods profile for N.C. to see what local products you can find at the Charlotte location. However, please keep in mind that this has yet to be updated for all the local food you will find at the Charlotte location.
If you're interested in getting your own sneak peak, the general public can still participate in tours throughout today, which run every 10 minutes. Tours are $5 and 100 percent of proceeds go to a local charity.
Kelly Davis is a blogger, freelance writer, food enthusiast, and native North Carolinian. When she's not training for a race or cooking something delicious in the kitchen, she's writing, reading, snuggling her dachshund, or plotting her next project. You can keep up with Kelly's antics and recipes on her blog, Foodie Fresh.