The Democratic National Convention might be all about politics, schmoozing with big-wig leaders, and trying to catch a glimpse of a Hollywood celebrity, but that doesn't keep local Charlotte food purveyors from using this national spotlight to participate in the fun.
While you can be sure you won't find any price specials at restaurants around town (DNC'ers are more than happy to shell out big bucks for a meal), what you can find are special additions to menus in celebration of the DNC. These menu items may be sweet, savory, or thirst-quenching, but they all have one thing in common — they hope to draw the attention of all the new tastebuds in town.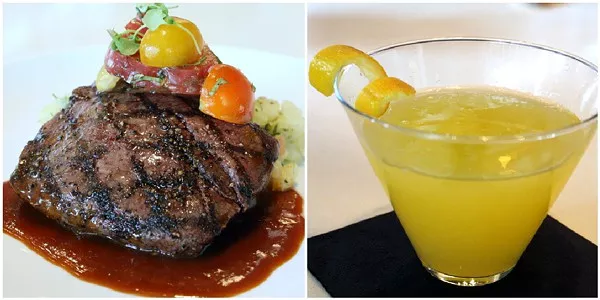 5 Church's American Kobe Flatiron Steak and Blue Moon Martini

Last week, 5Church in Uptown introduced a new menu item for the upcoming DNC — the American Kobe Flatiron Steak. The generous portion of juicy steak is served with heirloom tomatoes and crushed potatoes.
Blue Moon is being proudly served all over town since it is known as one of President Obama's favorite beers. But 5Church is putting their own chic spin on the summertime classic with a Blue Moon Martini.

If you have a sweet tooth, check out the DNC themed candy at The Boulevard at South End. Made by Curlicues and Confections, the boutique offers patriotic lollipops and tootsie rolls. But what's really impressive are the DNC marshmallows with DNC slogans as well as the President and First Lady's faces.
In the hub of DNC activity Uptown, Strike City is taking a genteel approach in welcoming DNC'ers to Charlotte. This week, they're featuring the southern classic Arnold Palmer, a mixture of lemonade, sweet tea, Jeremiah Weed Sweet Tea Vodka, and Barcardi Lemon Rum.
If a more patriotic drink is your thing, try the Star Spangled Martini, which is a layered red, white, and blue concoction of blue Curacao, Pinacle Whipped (whipped cream flavored vodka), and Three Olives Bubble Vokda, finished with a maraschino cherry and red, white, and blue sugared whim. The effect is quite impressive.

Besides these very American red, white, and blue DNC cookies, Kai's Cookies is paying homage to the whole Obama family with their Obama Family Cookies. The cookies come in a set and features the likeness of The President, The First Lady, Melia, Sasha, and even their dog, Bo.

Last year in Denver, the DNC spurred the cupcake wars at local bakeries and it has similarly affected local Charlotte bakeries. First up, The Southern Cake Queen, otherwise known as the lady with the pink cupcake truck, who brings cupcakes to the masses on four wheels. This week, she'll offer special DNC themed cupcakes in chocolate, vanilla, and blue velvet. Catch her around Charlotte or drop by Kai's Cookies (see above) where her cupcakes are also sold.

Polka Dot bake shop offers plenty of red, white, and blue confections. Whether it's cookies or cupcakes you crave, you can find them both at their Myers Park location.

Tizzerts specializes in beautiful cakes, so it's no surprise their donkey emblazoned patriotic cake is so eye-catching. Besides cakes, they'll also feature patriotic cupcakes and brownies for purchase at their Park Road Shopping Center location in the Suarez Bakery. Last but not least, this week will be the debut of "The Democat" which is as American as apple pie. In fact, it is apple pie — apple pie cupcake!