Beets are one of those vegetables that used to make me go "Blech!" I had only tried them boiled and let's face it, unless you're making mashed potatoes, you should never boil a vegetable. Boiling does nothing for food that doesn't have the most delicious reputation in picky circles. Boiling just adds insult to injury.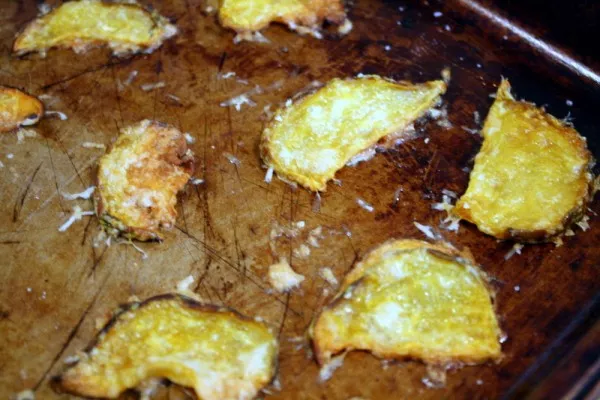 A healthier chip alternative
Beets and I have come a long way though. She went from a stranger that I avoided like the plague to a careful acquaintance I spoke to occasionally. And since discovering the deliciousness of baking or roasting beets, we're becoming good friends. Especially when she's sliced thinly and baked, all dressed up in parmesan cheese.
Yes, beets and I are getting along quite nicely.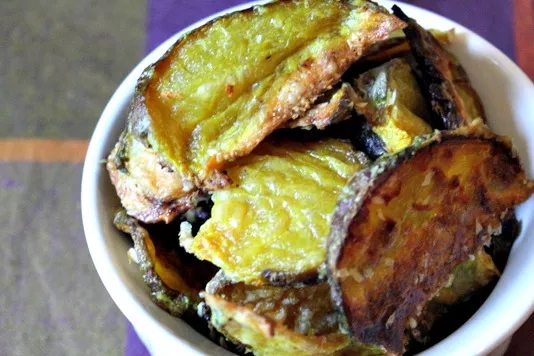 Crunchy and cheesy beet chips

PARMESAN BEET CHIPS (serves 2)
These chips give regular ol' potato chips a run for their money. They have all the crispy crunch you chip lovers crave with the very subtle tang of beets and a scrumptious cheesy finish.
2 medium golden beets
2 teaspoons extra virgin olive oil
1/4 teaspoon sea salt
1/2 cup egg whites
1/2 cup parmesan cheese
Non-stick spray (optional)
Preheat oven to 350 degrees F. Wash beets thoroughly and remove greens and stems. Slice beets thinly and uniformly, about 1/2 centimeter thick. Toss in a large bowl with olive oil. Place on a baking sheet so that none overlap and sprinkle evenly with salt. Bake for 30 minutes.
Remove from the oven and allow to cool for at least 10 minutes. Place egg whites and parmesan cheese into separate containers. Use a spatula to carefully remove beets from baking sheet. Spray baking sheet with non-stick spray or additional oil.
Dip beet chips into the egg whites, then the parmesan cheese, shaking off excess cheese each time. Place each chip back on the baking sheet with no overlap. Bake an additional 15-20 minutes.
Remove pan and allow to cool before serving.

Kelly Davis is a blogger, freelance writer, food enthusiast, and native North Carolinian. When she's not training for a race or cooking something delicious in the kitchen, she's writing, reading, snuggling her dachshund, or plotting her next project. You can keep up with Kelly's antics and recipes on her blog, Foodie Fresh.