Between returning emails, editing stories, updating our social media pages and website and a slew of other work-related duties, I somehow manage to squeeze in texting my best friend during the day. Today was no exception. (And here's the part where you, Eat My Charlotte readers, get interested.) We were discussing the potential restaurants we would visit during Queen's Feast - Charlotte Restaurant Week.
It's baaacccckkkkkkkk.
From Friday, Jan. 18 through Sunday, Jan. 27, you can dine at all those fancy-schmancy restaurants you've always wanted to check out but were too broke to do so: $30 per person gets you a three-course meal. (Reservations are strongly recommended.)
What my best friend and I weren't discussing, however, is how indulging in the fine dishes of these restaurants probably doesn't bode well for our "Sexy Beast Mode" resolutions. One dish, maybe. But a three-course meal, beginning with a savory app like the one pictured below and capped off with a chocolatey dessert? Hello, calories.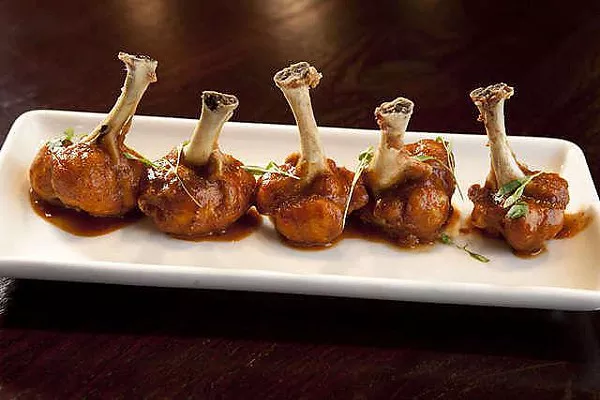 Terrace Cafe - Ballantyne Facebook
Chicken Lollipops are one of the choices for an appetizer at Terrace Cafe.
But can you blame us?
Peruse the prix-fixe menus of more than 100 restaurants in the Charlotte area, from Lake Norman all the way down to South Charlotte and Fort Mill, to help you decide which restaurants you will grace with your presence. For my friend, her top choice has a lot to do with the restaurant's offerings rather than its reputation or upscale factor.
So, where are you going for Charlotte Restaurant Week? And how in the world did you decide?