Stepping into Crispy Crepe on South Boulevard, you're first struck by the wafting sweet aromas coming from the kitchen.
The enormous jar of Nutella behind the counter has you salivating for chocolate, even if it is only 9 a.m. And although sweet dessert-like crepes are the first thing to come to mind when you walk into the South End restaurant, you'll be pleased to know that you can order a crepe stuffed with shrimp, chicken or eggs, to go along with your more decadent crepe.
The extensive menu at Crispy Crepe offers 19 different crepe choices, including nine savory and 10 sweet. The choices can be a bit overwhelming, but If you want to know what they think is the creme de la creme of their menu, chocolate-covered strawberries mark the Crispy Crepe "specialties." For savory crepes, they recommend the Chipotle Chicken, which includes cumin-crusted chicken slices topped with pico de gallo, jack cheese, sliced avocado and chipotle cream). As for sweet crepes, one of the two specialties is the Maple Creme Crepe, filled with pure organic maple cream (100 percent reduction of pure organic maple syrup) and served with pure maple syrup.
The restaurant is very casual. Patrons order from the counter where they're given a number, grab a drink from a self-serve soda fountain, and seat themselves at one of the inside or outside tables. Waiters bring out the food to the customers. During my visit, the waiters refilled our drinks, which was very nice, but made it a bit confusing whether we were supposed to tip and how much when it was time to leave.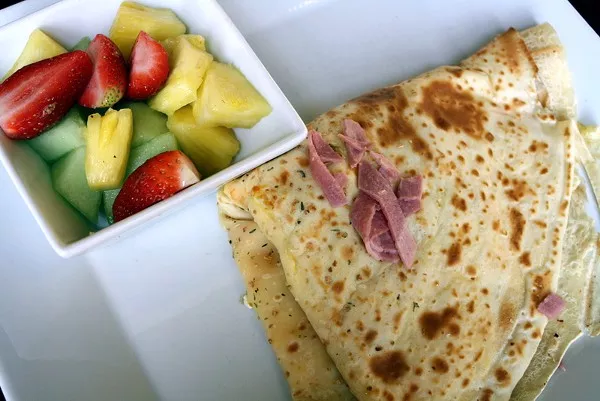 Egg, Cheese, and Turkey Bacon Crepe
Many of the savory crepes seem more appropriate for lunch (open for lunch and dinner), like the Gyro Crepe, but there are three different egg crepes, for those of you who like more traditional breakfast fare. These are served with a fresh fruit, cilantro hummus, side salad, or kettle chips.
The restaurant also offer sandwiches, salads, omelets, appetizers, croissants, muffins, Belgian Leige-style waffles, and a kids menu. Their coffee selection ranges from the basic to the sugary and complex, with drinks like maple syrup latte and cookie butter latte.
The real appeal here are the sweet crepes, perfect if you have a raging sweet tooth. The other sweet recommendation is the Banofie Crepe, containing caramelized bananas, butterscotch custard and topped with fresh creme.
All of the sweet crepes are served with a dollop of whipped creme and a chocolate-covered strawberry. For an extra $1, you can substitute the traditional crepe for a gluten-free crepe or a chocolate crepe.
Hours: Weekdays 7 a.m. - 9 p.m.; weekends 7 a.m. - 10 p.m.
Website: https://crispycrepe.com/Home.php
Address: 1436 South Blvd.
Phone: 704-332-4440
Parking: One-hour free parking in parking deck behind Crispy Crepe