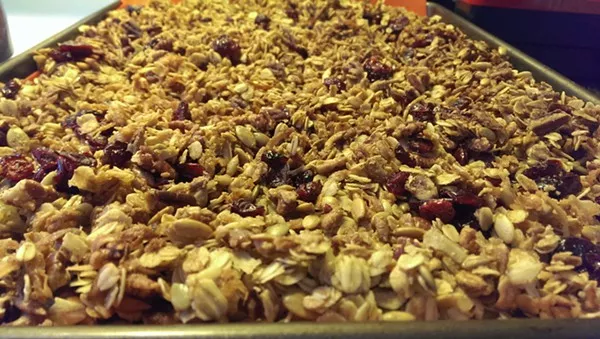 We've been down this route before, people. Rather than throw down another rant about granola-heads and their antioxidant-huffing ilk, let's brighten things up a bit. Let's talk about the good side of granola, the positive side.
Granola can be anything you damn well want it to be. Want to make it super-healthy and pump it full of flaxseed and dried superfruits? Do it! Want to cover your granola with chocolate and maple syrup and make it sugary and crunchy as the dickens? Do that, too.
The glory of granola is in its simplicity. You're pretty much just shitting a bunch of oats and sugar into a bowl, stirring it up, and toasting it in the oven for a few minutes. Mindless, brainless, but delicious.
And yet calorie-counters and soccer moms by the freaking thousands are buying $15 dollar bags of the stuff in droves, just because it's on a wire shelf at Dean & Deluca and has the word "organic" written on it in Helvetica roughly 4,000 times. Fuck that. Take an hour, put the power of granola back in your hands, and give those Williams-Sonoma type execu-chefs something else to rip you off with. Like that $80 French pastry sampler I'm totally not ordering right now.
Here's what you need:
- 3 cups rolled oats
- 1 cup hulled pumpkin seeds
- 1 cup hulled sunflower seeds
- 1 cup shredded coconut
- 1 1/4 cup coarsely chopped pecans
- 3/4 cup maple syrup
- 1/2 cup extra-virgin olive oil
- 1/2 cup packed light-brown sugar
- some salt
- 1 cup pomegranate craisins
- 1 1/2 teaspoons cinnamon
- 1 teaspoon ground ginger
- 1/4 teaspoon ground nutmeg
- 1/4 teaspoon ground cloves
Directions:
The other beauty of granola is that it's ridiculously easy to make. It's all of maybe ... three steps, so we're going to make this recipe nice and short and sweet.
First, preheat your oven to 300.
Next, put everything but the craisins in a giant bowl and mix them together. Yes, everything. I wasn't kidding, this really is stupidly easy.
Throw some parchment paper onto a rimmed baking sheet and pour the granola on there. Make sure you spread it out evenly.
Put the granola in the oven for 15 minutes, then take it out and stir it around a bit.
Put it back in for another 15, stir it again, then stir in the crasins.
Give it another 15, take it out, and let it cool. Then break up the granola with a giant wooden spoon or a mallet or a medieval-era flail or something.
See? Easy. And here's some easy listening to go with it, a selection from Yesterdays New Quintet. It's "Thinking of You":
Look: You're going to have a moment of weakness. I know it. You'll be bopping along at Whole Foods and see that tiny little brown paper bag with, oh my god, vanilla AND dried blueberries!
But don't do it. Don't be that guy. Because you could be the guy who makes a couple gallons of that stuff at home and wakes up every morning to swim in a sea of crunchy goodness. You could be the Scrooge McDuck of oat clusters.
Be that guy. And I'll see you next time.
When Scott Greenberg isn't baking - which is pretty much never - he likes to obsess over music, play Street Fighter and yell at kids to get off of his lawn. You can find more of his recipes at Fresh Beats, Fresh Eats.