I bought a cartload full of vegetables today. No meat. Nothing even resembling meat. And I was fine with it.
And the reason why I was fine with it wasn't because I'm counting calories, and it wasn't because Rachael Ray or whoever the hell's all over daytime TV these days told me I should. It was because vegetables taste goddamned delicious.
That's the only reason you should eat something. Yeah, it's nice that it'll let you live a little longer and probably make it so you can go out in a bathing suit that doesn't make you look like a couch covered in sunscreen. But that's all secondary. 
If you're a vegetarian or a vegan or a whatever-an because you don't like meat or killing things that make noises, good on you. I'm happy for you, I really am. But if the first thought on your mind when you sit down to a plate of roasted balsamic brussels sprouts is "BUT THE WHALES DIED TO MAKE THE PLASTIC BAG THESE CAME IN" and not "Holy hell this looks delicious," then you're not eating. You're preaching to yourself while you happen to be putting nutrients inside you, and that's far less satisfying to type, much less to actually do.
Which is exactly why I made Okanomiyaki this week. Because it tastes good, and that's all I need, damnit.
Here's what you need:
Pancakes:
- 1/2 head cabbage
- 4 carrots
- 5 kale leaves (try to get big ones if you can)
- 4 scallions
- 6 eggs
- 1/2 cup flour
- 1 teaspoon sea salt
- 1 teaspoon sesame oil
- 1 teaspoon soy sauce
- 1 tablespoon sesame seeds
- canola oil
Sauce:
- 1/2 cup mayonnaise
- 2 tablespoons soy sauce
- 2 teaspoons sriracha
Directions:
Essentially, all you're going to do with this recipe is chop up all your vegetables, throw them together with the egg and flour and other stuff, and make pancakes out of them. Sounds like a weird concept, but it works. Trust me.
You're going to want to chop up these vegetables all a little differently. If you have a mandoline, it'll work great for the cabbage; if not, just slice it nice and thin. For the carrots, use a vegetable peeler to peel them into thin ribbons. Chiffonade the kale (it's just a fancy French term for "roll all the leaves up into a big roll and cut them up"), and scut up the scallions like you normally would: chop off the white parts, slice the rest nice and thin.
Put all of those vegetables in a nice, big mixing bowl.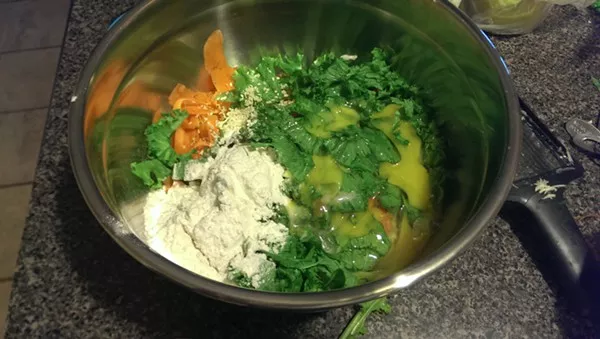 Whisk up the eggs just a little in a separate bowl, then fold them in with the vegetables along with the rest of the pancake ingredients: salt, soy sauce, sesame oil, flour and sesame seeds.
Once everything's mixed together, pour some of the canola oil in a large pan and heat it on medium-high until it's shimmering. You don't have to be exact with the oil; just make sure it's enough to cover the entire pan. As long as you're not an idiot and don't try to fill the whole damn pan with oil, you'll be fine.
Spoon the batter into the pan so it makes roughly 2-3 inch pancakes, and cook for about 3 minutes on each side. If it's nice and golden brown on the bottom, flip it - simple as that.
While that's going on, mix the three sauce ingredients together until they become ... well, sauce.
When the pancakes are done, all that's left is to spoon a little sauce on top and spoon those babies straight into your gullet.
Spoon some beats onto your plate, too, with this week's track from Danny Brown, Constantine and the late, greatest J Dilla. Check out Dilla Bot Vs. The Hybrid:
There's definitely some (wrong) people who disagree with me on this, but doing something good doesn't mean a damn thing if you're not feeling good doing it. I don't care if not eating a cow lets that cow live the happiest cow life in existence. If I gotta look down at a sad little plate of raw carrots to do it, what's the point? Feel good about the stuff that's going into you, people, not just the stuff that's not going in. Those cows can worry about themselves.
See you next time.
When Scott Greenberg isn't baking - which is pretty much never - he likes to obsess over music, play Street Fighter and yell at kids to get off of his lawn. You can find more of his recipes at Fresh Beats, Fresh Eats.