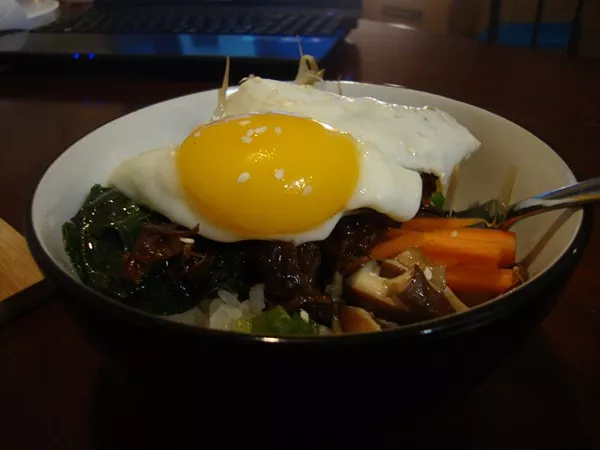 I'm torn on the whole slow-cooker thing.
On the one hand, it's amazing. You take a giant slab of dead animal, add some barbecue sauce and spices, and eight hours later you have sheer deliciousness for nearly zero effort. Or oatmeal. I hear you can make oatmeal in one of those things too.
On the other hand, it feels like cheating. All those Rachael Ray acolytes squeal their way through the grocery store magazine racks because they find recipes that are SO easy to do at home. It only takes minutes of prep! It's so easy! Just take out your fucking cerebral cortex and get cooking!
Ugh.
So yeah, it's a trade-off. Effort for glory. You get the tasty end result, but none of the credit. No, that goes to the slow cooker. Thank the chunk of porcelain with a coil heater under it, not the cook with years of (admittedly half-assed) experience. Luckily, I don't have a sense of pride, and this particular slab of dead animal is really good over rice and vegetables, so I think we're going to be just fine.
Here's what you need:
For the short ribs:
- 2 lbs beef short ribs (going a little over on the weight won't kill you)
- 2 cups roughly chopped onions (about 1 1/2 onions)
- 1 cup chicken broth
- 3 tablespoons hoisin sauce
- 2 tablespoons soy sauce
- 1 tablespoon balsamic vinegar
- 1 tablespoon sesame oil
- 2 tablespoons mirin
- 1 packed cup pitted prunes (yes, it's gross. But this is where 90 percent of the sweet flavor comes from, so quit complaining and add it in.)
For the bibimbap (a signature Korean dish):
- 2 cups sushi rice (if you can't find it it's fine, but sushi rice is stickier and goes with the rest of the ingredients better)
- 1 carrot
- 1 cup bean sprouts
- 1 bunch swiss chard
- 1 cup shittake mushrooms
- 4 eggs (or one egg for however many people are eating this goodness)
- 1 tablespoon sesame seeds
- 2 tablespoons sesame oil
- 2 or 3 green onions (it's a garnish, doesn't really matter how much you have)
- 1 tablespoon of hot pepper paste (or to taste)
Directions:
First, we're gonna do the short ribs because they're gonna be simmering for a long-ass time. You can do 'em a day ahead if you want.
Get the biggest pot you have and heat up a couple tablespoons of olive oil on medium-high. Go ahead and throw some salt and pepper on the ribs while that's heating.
Once the oil's ready, put the ribs in and sear them on both sides, about 3-4 minutes a side. That way all the delicious juices stay in the beef, and you get tenderness instead of a dry, jerky-like mess.
Take the seared ribs out of the pot and put them aside on a plate with some paper towels, then pour out everything from the pot except a tablespoon of fat-liquid-stuff.
Add another tablespoon of olive oil, then throw in your onions and saute them until they're not clear anymore.
Throw the ribs back in, followed by everything else in the ingredients list FOR THE RIBS. If I see you throwing uncooked rice in there, we're gonna have to have a little talk. It won't be a pleasant one. There may be yelling. Possibly tears.
Stir everything around a bit, then bring the whole pot to a boil. Cover it and let it simmer for 2 1/2 hours. As you should do with anything you leave near fire for that long, check it once in a while. You're gonna want to stir it, and mash up the prunes a bit when you check the pot, that way the prunes will dissolve, and you'll forget you're eating prunes.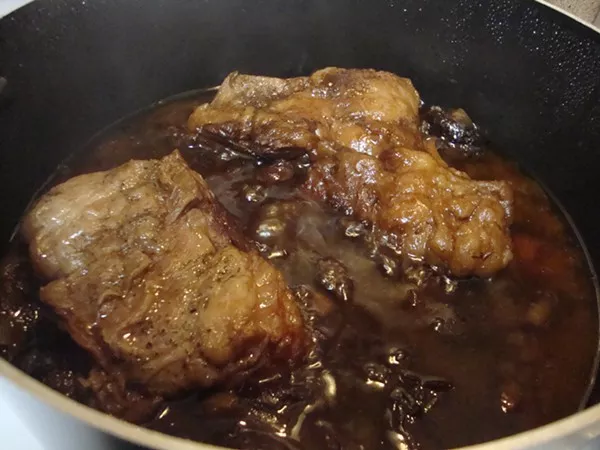 Once the ribs are done (and trust me, you'll know when they're done), turn off the heat and put the ribs in a bowl.
Take a couple of forks and shred those babies up (hooray for phrases that sound awful out of context!). You want the pieces to be a bit bigger than your standard pulled pork shred, so you'll have nice big pieces in the bibimbap. Just don't go too nuts with the forks, and you'll be fine.
After the ribs have been chunkified, add them back to the liquid and leave it on the lowest setting your burners have until the rest of the bibimbap's ready. You can't really slow-roast meat too long, but you definitely want the other parts to come out fresh, so do the ribs first. Nobody likes cold greens.
The actual "main" part of this recipe's pretty damn simple.
First, get the rice cooking.
Julienne the carrot, or if you have my knife skills, make crappy, embarrassing little strips out of the carrot. Also slice up the mushrooms and green onions.
If you can manage it (I couldn't, clearly), cook the bean sprouts, swiss chard and mushrooms together in a pan with the sesame oil at medium high. If you don't have room for all of it, do it in two batches. You want this all to come out at roughly the same time so they're all hot out of the pan. The bean sprouts and mushrooms should take about 5 or 6 minutes - all you need to do is keep them on the heat until they're tender. The chard might take a bit longer, just keep cooking until it's wilted.
The rice should just about be done now, so get those eggs frying so they're ready when the rice is.
Now. It's not often I say this (although I've said it before, if you've been paying attention): the presentation's important here. Yes, you're probably gonna end up mashing everything together the second you get your greasy, Cheeto-stained hands on a bowl of this stuff, and that's OK. But the beauty of bibimbap is the ingredients, so do it right, and do it in the right order. And wash your damn hands. Jesus, that's disgusting.
1. Put some rice in the bowl.
2. Arrange some of the carrots, swiss chard, mushrooms, and bean sprouts so they each have their own, nice little corner. I should mention here that you can use other vegetables, too, if you want. Wanna saute some red peppers or broccoli? Go for it. I ain't the food police. Not that I haven't applied for a position enough times.
3. Add some of that tasty beef you've been simmering for so very, very long.
4. Sprinkle some of the green onions on top.
5. Put a sweet, glorious egg in that bowl.
6. A dollop of hot pepper paste on top - don't get too crazy with it if you're not down with the spice.
7. Sesame seeds. Sprinkle.
See? See how nice that looks? Now go ahead and ruin it. You've earned it, or something.
You've earned a nice track to go with it, so here's Charles Kosei with "Que Sera Sera":
OK, so I might have embellished this one a tad. Yes, there's a bit more to it than just throwing some beef over heat for a while and kicking your lazy ass back while it cooks. And yes ... technically I didn't even use a slow cooker (hey, it cooked things, it's slow ... let's not split hairs). But the point still stands, people: you don't get a gold medal for sprinkling cumin on something and waiting for 8 hours. Unless you're in a barbecue contest.
And you're not.
Just make the damn food, and save the heroics for next time.
Till then, readers.
When Scott Greenberg isn't baking - which is pretty much never - he likes to obsess over music, play Street Fighter and yell at kids to get off of his lawn. You can find more of his recipes at Fresh Beats, Fresh Eats.