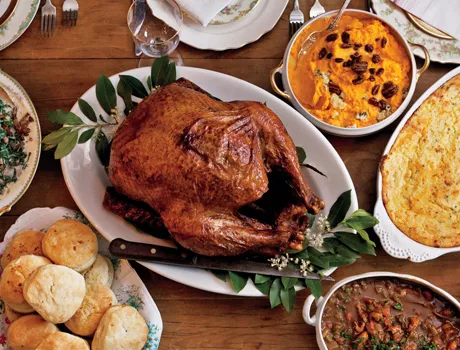 Are you tired of cleaning up your kitchen post-holiday cooking? Is the entertaining honeymoon over? Maybe you're not in the mood to field drunken daggers from passive-aggressive family members, or you just plain don't feel like cooking?
Whatever the reason, Charlotte has plenty of tables with open seats and incredible spreads to satisfy your appetite for Thanksgiving Day comfort. Here's a sampling of Thanksgiving dinners to join if cooking is off the menu this year.
The Liberty
This is the third year for the Thanksgiving prix fixe meal at the Liberty, which will feature three courses for $29.95 per person. Selections include an adventurous take on "Bacon and Eggs" with maple and orange glazed pork belly, brioche french toast, farm egg, apple butter and a sorghum-fig glaze. Choose from Bell & Evans heritage turkey, slow-roasted prime rib, Duroc pork and wild Scottish salmon for the entree course and finish with one of four dessert options. The restaurant will be open from 11 a.m. to 6 p.m. Call 704-332-8830 for reservations. The Liberty is located at 1812 South Blvd.
The Peculiar Rabbit
The Peculiar Rabbit is covering all bases on Thanksgiving Day beginning with brunch and followed by the mid-day menu chock-full of burgers and bar bites. A special Thanksgiving dinner will be served all day as the "Blue Plate Special" featuring your choice of sweet tea brined turkey or root beer basted spiral ham and an assortment of comforting sides including corn pudding, orange-scented sweet potatoes, cider-braised greens, herb-roasted winter vegetables and more. The Thanksgiving plate is $19.95 for adults and $9.95 for children. Brunch is served 11 a.m.-3 p.m., mid-day menu begins at 3 p.m. and Thanksgiving dinner is served all day from 11 a.m.-9 p.m. Call 704-333-9197 to make a reservation. The Peculiar Rabbit is located at 1212 Pecan Ave.
5Church
5Church is bringing four courses to the table this Thanksgiving and a limited a la carte menu featuring some 5Church favorites. The prix fixe menu begins with creamy cauliflower soup garnished with crispy mushrooms and truffle oil, followed by a Bibb salad and your choice of Ashley Farms turkey breast and leg confit, Nueske's smoked ham or pan seared scallops. Choose from four desserts including a decadent apple golden raisin butterscotch cake with cinnamon whipped cream. Adults are $37 and children eat for $14. . Call 704-919-1322 for reservations. 5Church is located on the corner of 5th and Church streets
Harvest Moon Grille
Executive chef Patty Greene has created a family-style menu for Thanksgiving dinner this year. The dinner dubbed Emma Sue's Blue Ridge Thanksgiving Dinner features oven-roasted local turkey from Baucom's Best in Monroe, cider-brined and smoked ham, giblet gravy, sweet potato casserole, cranberry salad and more. Seatings are at 2 p.m. and 4 p.m. The cost is $39.99 for adults and $19.99 for children 10 and under. Call 704-342-1193 for seats. Harvest Moon Grille is located at 235 N. Tryon St. inside the Dunhill Hotel in uptown Charlotte.
Passion8 Bistro and American Cafe
Chef Luca Annunziata is making Thanksgiving dinner doubly delicious by bringing the treasured holiday meal to both of his restaurants. Passion8 Bistro in Fort Mill will offer guests a three-course meal featuring Hickory Nut Gap short ribs, day boat fish from Charlotte Fish Company or Newtown Farms Turkey as the entree selections plus a choice of appetizer and dessert. Price is $48 per person. Kids 10 and under eat for free.
At American Cafe & Lounge at the Clarion Hotel, Chef Luca is offering a pared down version with three courses featuring a house salad, turkey with traditional sides and an apple turnover. The price is $28 per person. Passion8 Bistro is open 2 p.m.-7 p.m. at 3415 Hwy 51, Fort Mill, S.C Call 803-802-7455 to reserve your seat. American Cafe will be open from 12 p.m.- 8 p.m. at 3695 Foothills Way, Fort Mill, S.C. Call 803-548-1158 for reservations.