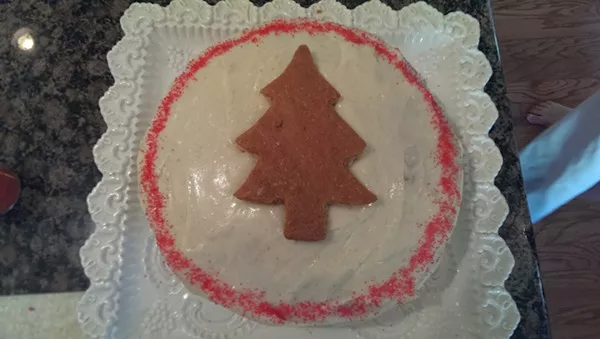 We have a weird culture of naming food-related things. First, there's the low-bar version - the TGI Fridays version, if you will - where every menu item has to scream itself at you and replace a bunch of s' with z's to make itself sound super cool, since apparently the marketing execs at these places think all of their customers come directly from Warped Tour in the late '90s. Here, you'll see such Guy Fieri-poisoned dishes as "Jack Daniels Kickin' Chicken Bitez" or "Dave's Super Hot n' Crispy Jalapeno Jammers." They always have to be in a convenient, bite-sized form so you can shovel them in handfuls at a time, and they always have to belong to a person (Dave's!) or liquor (Jack Daniels!). God for-fucking bid they should just exist as regular pieces of food.
Then there's the high-brow shit. Instead of telling you what genius in the back room of an Arby's decided to name your combo meal, these fancy places like to softly whisper the entire history of every ingredient in your meal to you. We can't just have a steak with a cocoa-rub marinade, oh no. It has to be "Grass-Fed Oregon Free-Range Gently-Petted Prime Rib with Malaysian Dusted Cocoa Powder That's Been Excavated Out of the Tomb of a Dead Prince." I don't want a damned novel, I just want a steak. Is that so hard, you Michelin-starred bastards?
In that super long-winded way I love oh so much, that's why I decided to make a spice cake this week. Because it's simple - it's a cake, it has spices in it. Done.
Here's what you need:
Cake:
- 2 ½ cups cake flour
- 1 teaspoon baking powder
- 1 teaspoon baking soda
- 1 teaspoon salt
- 1 teaspoon cinnamon
- ½ teaspoon ground ginger
- ¼ teaspoon ground cloves
- ¼ teaspoon ground nutmeg
- ½ teaspoon five-spice powder
- ¼ teaspoon allspice
- ½ butter, room temperature
- ½ cup light brown sugar, packed
- 1 cup sugar
- 1 teaspoon vanilla extract
- 2 eggs
- 1 ¼ cups buttermilk
Frosting:
- 12 oz cream cheese, room temperature
- 3 tablespoons butter, room temperature
- 3 cups powdered sugar
- 2 tablespoons vanilla extract (because we want this frosting REALLY vanilla-y)
Directions:
First, preheat your oven to 350.
Put the flour, baking powder, baking soda, salt and all those spices into a large bowl and whisk them together.
Next, put the butter, both sugars, eggs and vanilla in your stand mixer and beat for about five minutes on medium, until everything's all nice and fluffy.
Alternate between adding the dry stuff and the buttermilk to the creamy butter/sugar goodness, mixing each in on low. Don't worry about getting too scientific with the amounts, just make sure you're alternating a bit at a time and you'll be in good shape.
Get yourself two 8-inch round cake pans, line them with parchment, and spray them with non-stick spray. Dust a little flour on there too, unless you feel like playing a little game called "spend an hour trying to scrape cake bits off a metal pan."
Pour the batter into the two cake pans and throw them in the oven for 25-30 minutes. If you can stick a toothpick/fork/pretty much anything into the cake and it comes out clean, you're golden.
Let the cakes cool off for 5 minutes, then turn them out onto a cooling rack to cool completely.
Once the cakes are COMPLETELY cool, make your frosting.
Throw the butter and cream cheese into a stand mixer and mix together.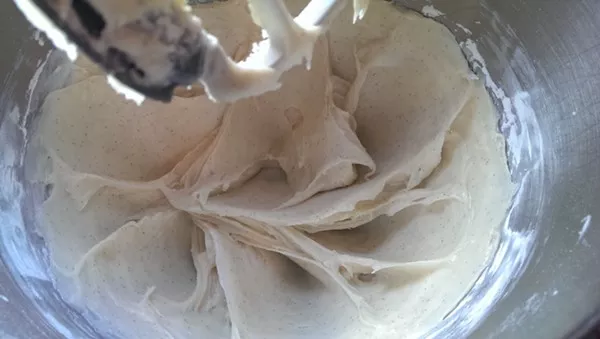 Add the powdered sugar on low until creamy and frosting-y, then add all that vanilla. If you can manage to find vanilla paste instead of extract, USE IT. It's hard to find, but it's amazing, and it'll give you all those nice specks of vanilla you see in the picture.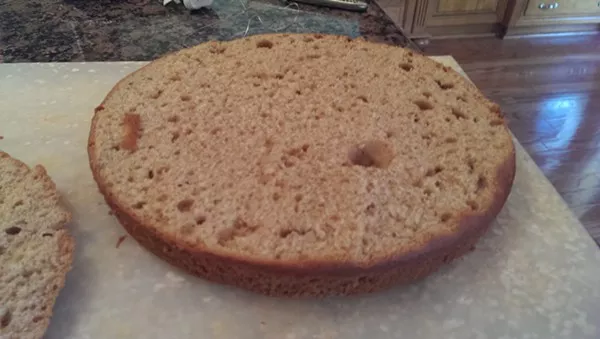 Use a serrated knife to cut off the top of one of the cakes so it's flat, then spread the frosting on top. Stick the other cake on top of that, then frost the whole thing.
All that's left is to grab a slice, a cup of hot chocolate, and some beats from Mahito Yokota, Toru Minegishi, Yasuaki Iwata, and the great Koji Kondo. Take a listen to their Snow Theme:
(Yes, I know it's from a video game, but it's wintery and adorable, and I like eating cake while it's on. So shut it.)
When Scott Greenberg isn't baking - which is pretty much never - he likes to obsess over music, play Street Fighter and yell at kids to get off of his lawn. You can find more of his recipes at Fresh Beats, Fresh Eats.