It's something I struggle with every holiday season: What kind of gift to get the men in my life?
Ladies, I know you struggle, too.
In a previous story, I made the point that, women, it's up to us to dress our men. And I stand by that. So I'm excited to tell you about a pop-up shop that's focused on men's fashion.
Ledbury + Mr. Poole Shop Holiday Pop-Up is brought to you by Capitol and Richmond-based luxury men's shirt maker Ledbury. From the launch party (see flyer) on Nov. 30 through Dec. 4, you'll get the chance to shop Ledbury at 20% off, in addition to other men's brands like Raleigh Denim, Rag & Bone, Pierrepont Hicks, Mark McNairy New Amsterdam and Wiley Belts.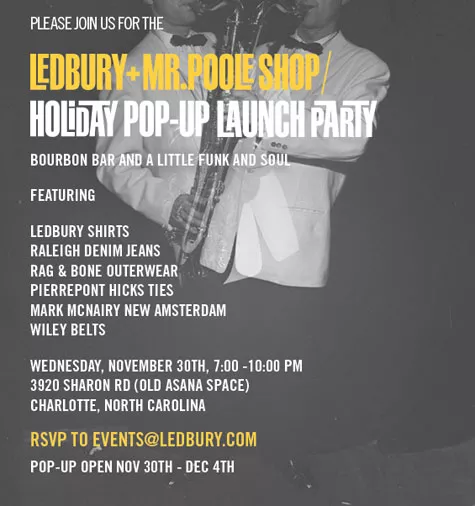 On Thursday night, Capitol and Ledbury will be hosting a party together.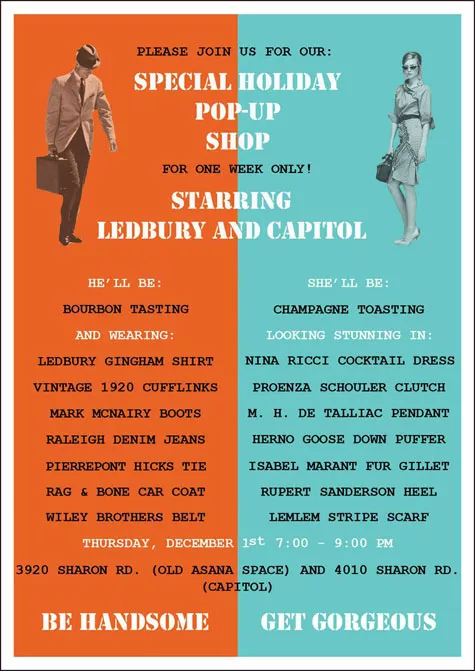 The pop-up shop is open:
Wednesday, November 30, 7-10PM
Thursday, 11AM-6:30PM, 7-9PM
Friday/Saturday, December 1-3, 11AM-6:30PM
Sunday, December 4, 11AM-2PM
3920 Sharon Road (the old Asana Activewear space)