While the hustle and bustle of the holidays has come to revolve around shindigs and shopping, it's important to take some time to reflect on the spirit of charity and gratitude that the season should be synonymous with.
Dec. 1 is World AIDS Day, a day set aside to raise awareness of the AIDS pandemic and its impact on our world. To commemorate it, this year the Harvey B. Gantt Center will host The Red Pump Project's 3rd Annual Red Pump/Red Tie Affair. The gala will be presented by JSW Media Group and Chef Jay Jones of Chateau Noir, LLC as an effort to support the Red Pump Project's nationwide mission to raise awareness about the impact of HIV/AIDS on women and girls through education and open dialogue.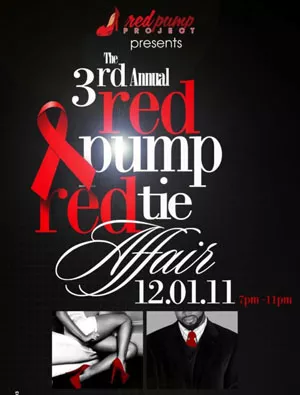 The "fashion-themed cocktail party" will offer attendees an evening of live music and entertainment, heavy hors d'oeuvres and a silent auction. A "Sexy, Stylish and Safe" runway show will also take place. Prominent advocates of HIV/AIDS awareness will also be honored for their contributions to the community.
$35 gets you general admission to the event, but a variety of ticket options are available. You can purchase your ticket here.