Yes! I finally found a way to use the phrase "geeked out" in the headline of one of my blog posts!
Maybe I'm late to the game on that catchphrase, and maybe I'm also late to the game on discovering Fab.com — but dammit, don't ruin this for me!
GreenMarketGirl, the creators of the cool eco cuff (an earth-friendly wood bracelet, if you're unaware), will have a three-day sale on Fab.com, starting tomorrow. Fab.com features daily designs for inspiration and sales up to 70 percent off. Here's the preview site for the GreenMarketGirl cuff sale.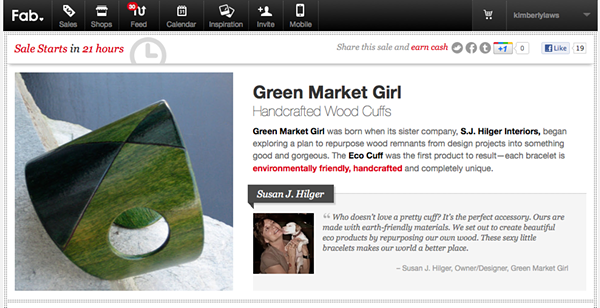 According to GreenMarketGirl's Facebook, they've recently designed seven new styles (six for women and one for men).
Sign up on Fab.com to be able to access the sale. It's going to be awesome.