I don't know what is more rare ... a faithful man or a unicorn.
click to enlarge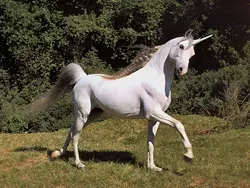 I say this because, aside from my own personal observations, I've been hearing one too many stories as of late of my girlfriends finding evidence of infidelity within their boyfriend's various communication devices. And I keep seeing women getting divorced because their husbands had an affair with the 25-year-old receptionist when he hit his mid-life crisis, like in a cliched movie. Is the young secretary the new red sports car?
And in being one of the guys, I sometimes see things I wish I didn't. Such as the correlation between a woman's attention and a man's ego. One time I watched a client I worked with go from boasting about his wife and kids to me, to kissing on some other woman's neck not even thirty minutes later, who wasn't his wife. I'm kinda losing hope over here.
So I sent a tweet: I can't decide what is more rare ... a faithful man, or a unicorn.
I got all kinds of responses:
Both are always 'horn'-y, A faithful unicorn.... 2 out of the 3 unicorns I've date have cheated on me. With eachother, no less... very harrowing experience, Both live in a far away land!
And then I got this: @KimiR_NASCAR: @BrittneyCason it's not that rare, it's just you're a "on the side" kind of chick. Seriously.
The #douchebag behind the fake twitter account for NASCAR/Formula 1 driver Kimmi Raikkonen has a point. I would never knowingly be a "side chick" as he put it, because relationships aren't threesomes. I would never consciously disrespect another woman and allow a man the privilege of cheating, especially not with my own body.
But right after I found out about my ex's notorious double life scheme, I went from discovering there was another woman, to learning that I was the other woman.
His was of saying sorry was to get an engagement ring — for her ... not me. I didn't get much more than a sorry. And after she accepted his apology and engagement, she felt the need to voice her validation to me in an e-mail, stating how much of a "side chick" I was to him. My heart knows the truth ... but that doesn't mean it didn't break it even more to hear that. Cason-Point: When it came to what he put on his plate — she was the main course, and I was merely a side dish.
So why am I only a side dish and never the meat? ... maybe because guys only see me as a piece of meat? By trying to be sexy, I am only seen as sex.
A woman's constant pursuit of outer beauty masks the inner. And usually, the fewer clothes and more makeup on a woman means the lower self-esteem. A real man wants a real woman whose confidence comes from within, not without, and no guy wants to commit to a woman who is deliberately attracting other men ... just like a woman wants a faithful man who doesn't crave vagina like ice cream — in an assortment. It's a two-way street. Guys move in with the girl next door and just want to have sex with the sexy ones.
Funny, I never had this issue until I became an NFL cheerleader.
So, not to defend douchebag McGee on Twitter, but he does pose a painful point.
If you want to be treated more like the meat rather than the side dish, then start acting like more than a piece of meat. But regardless if I'm wife or "side chick" material, I don't want to date a man who has both anyway. So again, where are all the faithful men ... are they more rare than a unicorn?