While many of us may be scheduled to hunt for eggs and tuck into a glazed ham come Easter Sunday, other options do exist for those looking to branch out and spend the day socializing outside the family tree. Intrigued? Look no further thanSunday B_Sides at VBGB .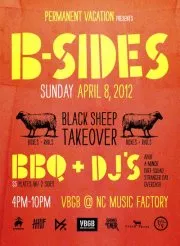 South End's Black Sheep skate shop put this together, so naturally the day will honor all things skateboarder. DJs Ahuf, A-Minor, Dirt-Squad, Stranger Day and J Overcash will be spinning the soundtrack to your shenanigans. You can also stimulate your visual senses by checking out the live painting by Carlleena 'Savnac' Person.
If you went without a family meal, or you're still feeling a little peckish, the Sunday special will be a BBQ plate with two sides for $5; vegetarian and vegan options will be available, too.
The event promises to be family-friendly, so you don't have to feel bad about bolting on the fam - go ahead and bring out your nearest and dearest.