Watch your wallets and purses, friends. Jim Bakker is at it again. The former PTL Club preacher/TV host — whose career at Heritage USA in Fort Mill brought him fame,
click to enlarge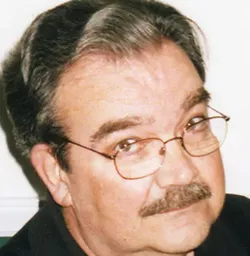 fortune, sex with Jessica Hahn, "intimate massages" from one of his top male advisers, and five years in prison for fraud and conspiracy — is back in action with a new megachurch, this time in Branson, Missouri.
After his release from prison, Bakker admitted that, as the title of his book said, "I was wrong." But now, according to the St. Louis Post-Dispatch, Bakker has found new accomplices, um, helpers — his wife, evangelist Lori Graham Bakker, and a former PTL Club "partner," Jerry Crawford — while the disgraced preacher once again sings from the same old hymnal.
Bakker and Crawford have begun building Morningside Church: A Place of Refuge — a Christian "retreat center and retirement community" located on 600 acres of land owned by Crawford outside Branson. The main building will be "world headquarters" for The Jim Bakker Show and "related ministries." The TV show is now on the air and is co-hosted by Bakker and his wife. Does any of this sound eerily familiar?
It should, because although he stresses that he's a changed, humbled man, Bakker is still preaching the same brand of happy-talk Christianity, still avoiding taxes, and, more ominously, has begun a donation campaign that seems awfully similar to the real estate schemes for which he was sent to prison.
Bakker doesn't technically own Morningside, and with good reason — he still owes the IRS more than $6.1 million. Money is on his mind, however, during the TV show, in which he asks for $1,000 "Builders' Club" donations to help finish construction at Morningside. Of course, Bakker promises donors a Builders Bible sent as "a love gift." A $5,000 gift will buy a place for the donor's name on an "Amazing Grace" plaque. If you consider that a bargain, go to jimbakkershow.com and have your credit cards ready