click to enlarge
Dunno if you've heard about our dating site Creative Loving, but it's a place where folks can post personal ads and photos in an attempt to find love ... or a variation on the theme. I found this ad on the site from a dude named mayham25:
I am 25 years old and i am looking for someone except me for who I am. Someone you is honest, kind, smart, funny and someone who like to have a good time. I like to go movies and listen to music. I also like to watch football on the tv or go to a game, Or just hang out with friends and shoot pool.
click to enlarge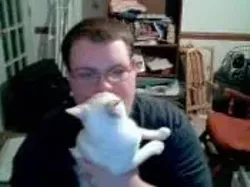 He also adds:
You will never beat me at a game of basketball

If you are a super-hero, what is your power? to run faster then a bullet

My favorite movies are starship trooper, spiderman, wedding crasher, the mask, and click
Any takers?