Check out these events going down in Charlotte and the surrounding area this weekend— as selected by the folks at
Creative Loafing.
Friday, July 1
click to enlarge
Su Casa
Dharma Lounge
The fresh-faced and funky nightlife event Su Casa is returning for its third installment — but the soul-house-Afrobeat-and-more-fueled party sports one major change this time. Instead of popping off on its usual Sunday, the latest Casa is happening on Friday, July 1. So, all you folks who have jobs and things to do on Monday morning can finally check out this shindig without guilt. And as always, the fun also includes photography by local photog Jasiatic, films and more.
• Theater Central Piedmont Community College's Theatre department likes a good thrill. In Deathtrap — performances in Pease Auditorium — there are so many unexpected twists and turns, the work has been hailed by some as a play-within-a-play. Murder, an affair, psychics and writer's block are all the hilarious crumbs leading up to the final crunch. No dead giveaways here. more...
• Comedy The Comedy Zone at N.C. Music Factory is open and that calls for celebration. This weekend Pat Godwin — a contestant on Last Comic Standing and guest on radio programs such as Howard Stern and Bob and Tom — performs. Godwin is a funny guy armed with a guitar and ready to pick fun at some of music's most popular musicians, among other subject matter. Local stand-up luminary Sid Davis opens with a hilarious set. more...
Saturday, July 2
click to enlarge
Coca-Cola 4th of July Festival
U.S. National Whitewater Center
In honor of Independence Day, U.S. National Whitewater Center is hosting three days of live music and fireworks for its Coca-Cola 4th of July Festival. It all kicks off on July 2 with performances by Jason Isbell & The 400 Unit, Riley Etheridge Jr., and Do It To Julia. Langhorne Slim (see pic), Overmountain Men and Holy Ghost Tent Revival perform on July 3 and Anders Osborne, The New Familiars and Sol Driven Train on July 4. Pretty good lineup and best of all, it's free.
• Music Mashing up elements of "Sweater Song"-era Weezer, MC5 jams and insert retro garage rock favorites here, Charlotte trio The Weekenders doesn't mess around with needless subtleties or nuance. Their 2010 release, the seven-song teaser I Want You (Kinnikinnik Records), was a catchy and promising 18-minute tour through the band's influences. This gig at Snug Harbor is a fundraiser for the August Recess Fest. With Luz, the Have and the Have Nots, and Veda Woolf. more...
• Festival The Soul Food Festival returns this weekend. The outdoor concert with soul food and music will be held at Rural Hill in Huntersville. Performers include Cameo, Barkays, After 7, Dazz Band, SWV and Confunkshun. more...
Sunday, July 3
click to enlarge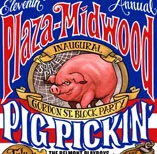 11th Annual Plaza-Midwood Pig Pickin'
Gordon Street (between Snug Harbor and The Diamond)
The shindig features food, drinks, music (Belmont Playboys, Temperance League, Sea of Cortez, Aqualads and Modern Primitives), a rockabilly car show, a Cafe Racer motorcycle show and a pin-up girl fashion show. After-party at Snug Harbor with Alternative Champs and The Poontanglers.
• Music Pack a picnic and join the Charlotte Symphony for its Independence Day themed "Celebrate America". Albert-George Schram conducts the concert of purely patriotic tunes at Symphony Park. more...
• Special Event Jackalope Jacks, Kennedy's, The Philosopher's Stone, and Sub Station II will feature live music for the Red, White and Blue 7th Street Block Party and Carnival today. In addition, there will be a dunking tank, adult water slides, a kids bouncy house, $5 fish bowls, $2 beer specials, and a cornhole tournament and hot dog-eating contest. more...