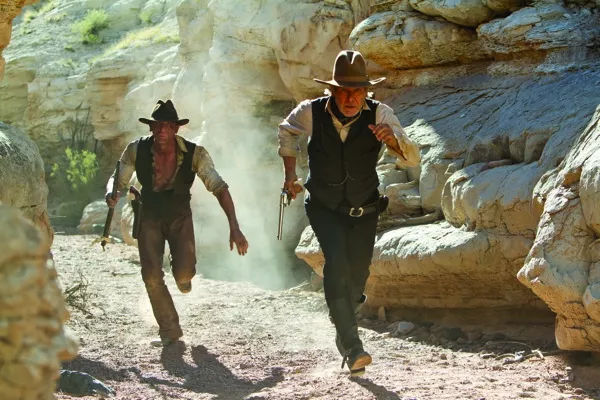 By Matt Brunson

COWBOYS & ALIENS
**
DIRECTED BY Jon Favreau
STARS Daniel Craig, Harrison Ford

Paul Dano, the twitchy oddball from Little Miss Sunshine and There Will Be Blood, plays the son of stalwart Harrison Ford in Cowboys & Aliens, and the collective thought grasping moviegoers nationwide will be that Shia LaBeouf suddenly doesn't seem that implausible as Indiana Jones's offspring. That's not meant to be taken as a criticism of this new picture — it's merely an observation, the sort that increasingly pops up to distract audiences from the fact that there's not much of interest going on during the second half of this hybrid of two genres beloved by Old Hollywood (Westerns) and New Hollywood (science fiction).
Cowboys & Aliens boasts a high-concept hook (and moniker) so obvious and promising that it's amazing this angle wasn't first tackled at least 30 years ago. Instead, this is based on a graphic novel that was released five years ago, and even at that, director Jon Favreau and his army of writers (six receive official credit; who knows how many toiled anonymously on various drafts) elected to toss out almost everything except the bare bones premise of, yes, cowboys and aliens mixing it up.
The movie works best toward the beginning, before potential gives way to actual execution. In the rocky New Mexico Territory of 1875, Jake Lonergan (Daniel Craig) wakes up with no memory of his identity or what led him to this spot; all he knows is that there's an unusual metallic contraption wrapped around his left wrist. He stumbles into a nearby town, where he witnesses young whippersnapper Percy Dolarhyde (Dano) bullying the meek citizens, especially saloon owner Doc (Sam Rockwell). A mysterious beauty named Ella (Olivia Wilde in what might have been the Megan Fox role had the latter not professionally imploded) hangs around, Percy's powerful pop Woodrow Dolarhyde (Ford) shows up to bellow at the townspeople, and before you know it, all of these oater conventions are blasted to smithereens around the same time the aliens show up and start blasting the town and snatching up its citizenry. As Jake leads a small band to rescue those who've been nabbed, he starts to piece together exactly what had happened to him — and works on figuring out a way to defeat these otherworldly assailants.
Any movie teaming James Bond with Han Solo certainly sounds like a can't-miss, and the two stars ably fill their roles: Ford especially looks so natural in cowboy garb that it's a shame the Western genre was largely kaput during his glory years (aside from early bit parts in TV shows like
Gunsmoke
, his only major genre credit is the 1979 comedy
The Frisco Kid
, opposite Gene Wilder). But the picture rarely finds imaginative ways to merge its disparate trappings — this past spring's animated yarn
Rango
did a far superior job of placing fantastical characters in a Western setting — and it soon settles into a deadening, repetitive pattern of one protagonist about to be offed by an alien before being saved at the last millisecond by another of the heroes. By the time Jake and company are tangling with e.t.'s in cavernous surroundings (in scenes eerily similar to those in the more accomplished
Super 8
), it's apparent that the picture's army of authors has elected to merely plug in conventional story devices that would have worked just as well in movies named
Cops & Barracudas
or
Doctors & Crocodiles
or even
Accountants & Amoebas
.