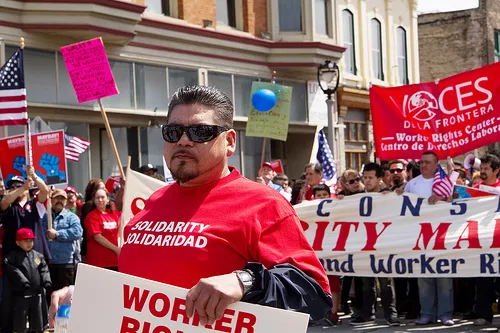 May Day 2011 Rally in Milwaukee, WI.
The Institute for Southern Studies has a thing two to say about President Obama's failure when it comes to immigration policies:
The Obama administration announced last week it will be reviewing pending immigration deportation cases in order to prioritize people with criminal records for deportation over "low-priority" immigrants. Individuals eligible for the DREAM Act, veterans, and victims of crime who are currently in deportation proceedings will, if the reviews are done as promised, have their cases stayed.

The announcement was made in response to sustained, well-organized pressure by immigrants, Latinos and allies critical of the President's deportation policies in general and the controversial Secure Communities (S-Comm) program in particular. Three hundred people walked out of an S-Comm Task Force hearing in Los Angeles on Monday, Aug. 15. Two days later, in Chicago, Task Force members were again confronted by an audience angry at the President's use of S-Comm to ramp up deportations. As in Los Angeles, an undocumented youth leader asked the Task Force members to resign, and led a walk out from the hearing. Blocking an exit ramp from the I-94 freeway, six undocumented youths were arrested.

Apparently startled by the forcefulness of the protests, the Obama administration scrambled a conference call on Aug. 18 to announce the case-by-case reviews. Though modest, it is a concrete step to stopping the deportation of DREAM Act-eligible students and victims of crimes. Women like 20-year-old Isaura Garcia, who testified during the Los Angeles hearing about calling police for help and ending up in deportation proceedings, will have their cases stayed. A sweetener: some individuals whose cases are closed will be able to apply for work authorization.

Determined, direct action by courageous and creative organizers — undocumented youth in particular — has forced the Obama administration to make a real move.

And so the chess game begins.
Read the rest of this piece, by Kung Li, here.
But, there's a lot of push back. Here's one example from California, in the latest issue of In These Times magazine:
When the current wave of mass firings of immigrant workers started three years ago, they were called "silent raids" in the press. The phrase makes firings seem more humane than the workplace raids of the Bush administration. During Bush's eight-year tenure, posses of black-uniformed immigration agents, waving submachine guns, invaded factories across the country and rounded up workers for deportations.

...

During the last few months, however, a wave of protest is starting to break that silence. In Berkeley, Calif., workers facing firings at Pacific Steel Castings, the largest steel foundry west of the Mississippi, have sought community support in a fight to keep their jobs. City councils in Oakland and Berkeley have passed resolutions asking Homeland Security Secretary Janet Napolitano to back off efforts to force the company to terminate them. Churches and immigrant rights activists have sent her letters with the same demand.

In Los Angeles, 1,400 janitors marched among skyscrapers, blocking downtown traffic at lunch hour. They protested a wave of similar firings by Able Building Maintenance, California's largest privately-held building services contractor.

The two protest campaigns come after two years in which dozens of other employers have fired workers in response to DHS demands. John Morton, head of the Immigration and Customs Enforcement agency, a division of DHS, has made serial announcements of the number of companies being audited to find undocumented employees, citing figures from 1,000 to 1,654.

Read the rest of this article, by David Bacon, here.